This is one of the simplest remodels you can do and installing chess or checkerboard floors can change the atmosphere of an entire room. This effective and inexpensive DIY renovation job can probably be wrapped up in a single weekend with a little planning. The quintessential room, of course is the kitchen. And when you pair your chess floor with red – the Smeg refrigerator being a fine choice – you get a decidedly 50s diner look most of the time (but not all). Pair it with stainless and white in the kitchen and it's a much more refined overall look.
But you don't have to stop at the kitchen. There's the living room, the bathrooms, the bedrooms. The porch. And there are many materials you can use for a chess floor – which is simply the black square checkered pattern of a chess board. In any color – although black and white is classic. Vinyl tiles are the simplest (stick and peel are even better). You can go with ceramic tile, which requires a bit more knowledge, but it's all online for you in free video tutorials. Or you could even go with painted wood. It all depends on what you're starting with and how much time and money you are willing to put in. You'll see in the living room examples below they tend to go with the 45 degree angle, so that the tiles present as diamond-shaped. Elevates the look a little bit more. Are you looking for modern? Eclectic? Retro?
And you really don't have to stick with black and white. Any color and white will do – we've shown you some examples. Not sure a checkerboard floor is for you? Worried it's a little too dramatic? You can rent a black and white chess floor / folding dance floor for the weekend and see what you think. You can take it for a test drive. No excuses. Change that room!
Two Chess Floors in a Loft – Drawing Lines

This loft in the Texas hill country has style in spades. And two separate chess floor areas that do a great job at delineating space. And they play off each other. If you live in a loft, you can see how striking a checkerboard floor is against gray concrete. And easy to install. Source
Checkered Floors: Black & White & Red All Over

You can do this in the smallest of kitchens. All this took was some tiles, a little red paint on the walls. There are red plastic tubs and one red dishcloth strategically placed. Voila, instant style! Source


A remodel of this scale may require a professional – but you can direct the action. We love how they've used the same tiles as a backsplash. This room would have nowhere near this presence without those black and white tiles. Source


This red Smegs refrigerator is just the cat's meow, isn't it? If you can afford to add red appliances, this really sets off that retro look. But there's more to chess floors than retro. Source
Add Black & White Tile to Your Stainless Kitchen

Just look at the shine on that gorgeous black and white floor – looks like marble, doesn't it? And it really glams up the kitchen. Paired with the stainless, it's a much more elegant look. Source


Another contemporary kitchen with a gorgeous checkered tile floor. It really keeps costs down when you redo a floor in a smaller room like this. source


I know we're here for the floor – and it's a good example of how marvellously this chess floor pairs with stainless. But look at that stainless. What a stove and what a range hood. And then, there's the fridge. Big sigh. Source


This is a modern gem of a kitchen – and the floor totally makes it, don't you think? All black and white, except for the flowers. Striking. Source
Checkerboard Floor in Muted Modern Home

This elegant and muted modern look is nicely set off with the addition of black and white floor tiles. It ties the whole room together. Source
Add a Chess Floor to your Bathroom

This gothic bathroom really makes the most of black & white. The clawfoot tub is a perfect addition. As is, of course, the simple-to-install checkered floor. The rattan chair is a nice touch. Source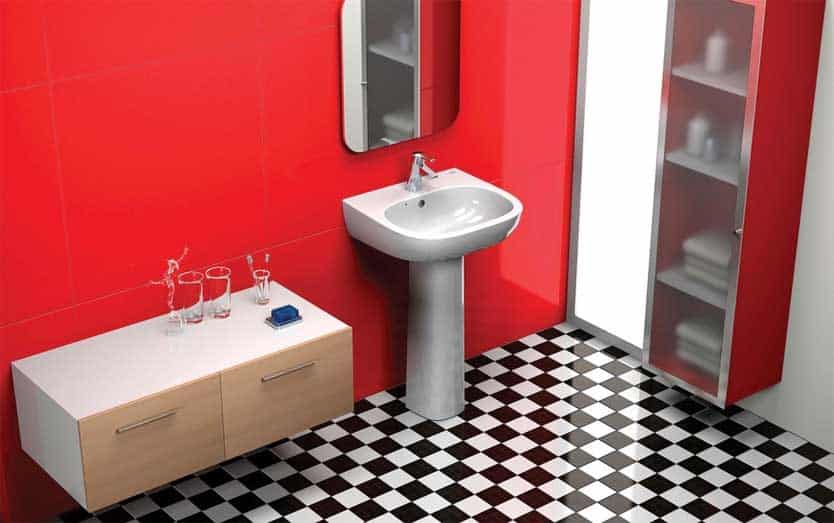 And here we've brought red into the black & white bathroom. It's not as retro in the bathroom as it is in the kitchen, is it? This is modern and simple. Nicely done, and easy to do! Source


A very elegant bathroom. The high raised tank screams deco era and of course there's a bidet. And the glossy chess floors. It would not be the same room with any other design. Source
Black & White Glossy in the Living Room

This living area is sleek and modern. The black & white tiles are positioned diagonally, to appear as diamonds, not squares. But tilt your head 45 degrees. Source


Another diamond orientation. Isn't this an upscale room? It just looks so… wealthy. Love the plexi chairs. Source
Checkered Floors are de Rigueur for Sunrooms

Solarium, conservatory, sunroom. Could this room have anything but these floors? This is iconic. Source
Add a Chess Floor to Your Laundry Room

Doing a simple black & white tile floor in the laundry room really takes it up a notch and it's a small space. That means less time to do it, and less money in materials. Source
Put a Checkerboard Floor in Your Garage

And then we have the garage, aka man cave. Isn't this just like a race car driver's hideout? Again, simple to do in the chess floors. Vroom. Source
A Chess Floor of Another Color
Why limit yourself to black and white when choosing your floor? White & anything works just fine!


You could make your kitchen a bright and cheerful place with this green checkerboard tile. Note the reclaimed crating for the cupboard facing. You could do that too. With wine crates, fruit crates – anything wooden that has a nice logo. Source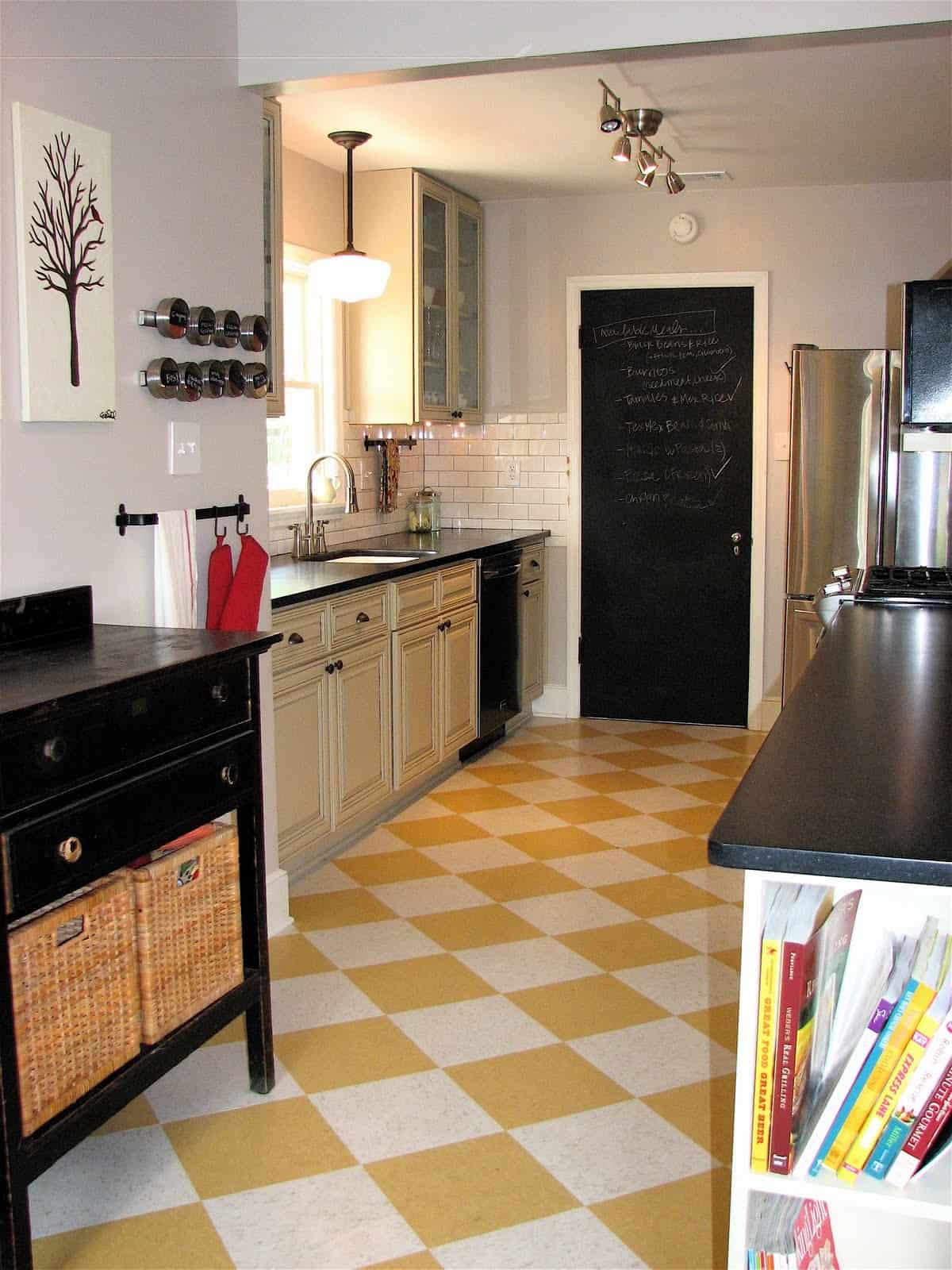 These muted yellow & white checkerboard kitchen floor tiles would be an easy job to do. Any room that's small takes a lot less effort. We love the black with the yellow. Did you notice that the door is a chalk board? Source


You might want to use a red & white checkerboard tile for your kitchen floor. Adding black stripe wallpaper gives it a design style. Also simple to do! Source


This blue & white chess floor is perfect for the bedroom. Blue is a very relaxing color and it looks great in any room. You should try a different color in your renovation if you're up for it. It could change your whole world. source
You Can Incorporate Chess Floors Outdoors

It would be really easy for you to copy this painted wood chess floor front porch. All you need is a ruler, some tape and a roller. And some paint. Go for it! Source


If you're afraid a black & white chess floor might be too much for you day in, day out, you can rent one. That's right – rent a chess floor dance floor. What a great idea for an outdoor party. Source


You knew this one had to be coming – an actual chess board. Sort of. Source
And there you have it – chess floors, aka checkerboard floors, aka checkered pattern floors – many, many examples of how you can change almost any room in the house with a little weekend project. Head out to the big box hardware store closest to you and get this project on the road!