This colorful London apartment renovated by Alma-nac features vibrant interiors which put the focus squarely underfoot, with a modern take on a classic parquet flooring treatment. These herringbone floors are finished in a rainbow of hues, each room boasting its own color family, thus boasting its own unique "mood" if you will. Sunny, dreamy, dramatic and bold, each different space is memorable for all the right reasons. This creative four-storey building is aptly used as a long-term accommodation to house the artistic guests of a record label, who would expect nothing less. Check it out!

These showpiece floors certainly complement the rest of the building design, from the outside in. The facade features this royal blue hue and colorfully framed windows that only hint at the bold palette inside.


The designer took a varied selection of vibrant hues – saturated lemon yellows, electric blues, greens and fiery reds, and peppered them with the natural wood of the herringbone design to tone it down a tad. We like to look at it as small doses of big color.


But the "colorful" character of these spaces isn't relegated to the floors. A rainbow of unexpected elements awaits – sunny kitchen cabinets here, a red staircase there, and closet interiors.


Each apartment is equally brilliant, finished in its own palette of hues. Here, the glossy black kitchen and rich red herringbone floors and closet


Love the cool color treatment which transforms this simple set of stairs into a showpiece.


Again, saturated hue combined with natural wood for a toned down look.


Even behind closed doors, colorful closet interiors welcome their fashion-forward guests.


Love the retro combination of blue and orange.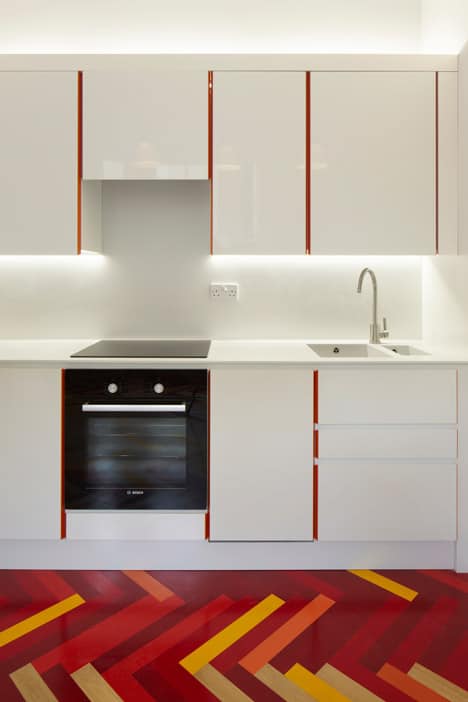 A third kitchen features minimalist white cabinets with subtle red outlines, and not-so-subtle red parquet floors.


The herringbone floors work their way up this wall and spill into a red, orange and yellow window seat.


The red rise and the creative words of the vibrant stairs lure you up through the levels. Look up and you'll be pleasantly surprised by the modern lighting display overhead – a collection of bare bulbs dangling down.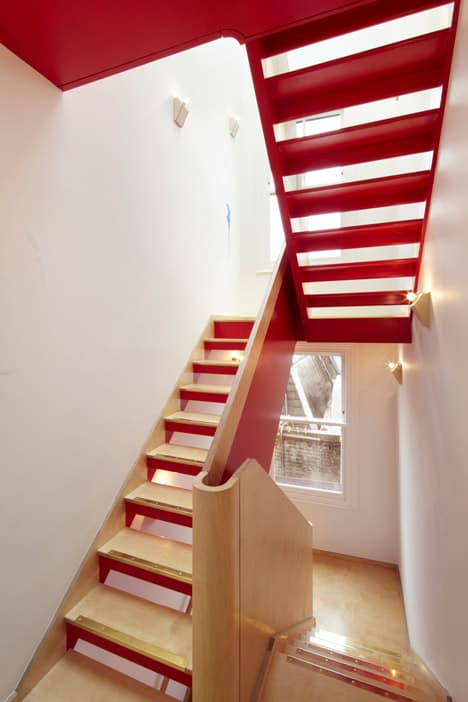 Continue upward and the stairs lead through the building's four levels, past windows that naturally illuminate the space.


And this isn't just any red – it's "stop dead in your tracks" red!


The bold colored floors aren't overwhelming, thanks to their strategically limited coverage of the total floor space. It's just the right amount of "pop".


Even the bathroom boasts it's own splash of hue – a literal bolt of yellow. How'd you like to wake up to this every day?


From the inside out, this cool, creative and colorful apartment is definitely one to see!
Alma-nac