When you think "natural" and "sophisticated" styles coming together, this Burlingame, California house strikes a beautiful balance. Toby Long Design and Cipriani Studios Design put their heads together – along with these opposing aesthetics – and came up with clean architectural lines, executed in a rustic palette of materials like stone, concrete and wood. The house has strong horizontal lines, from ground floor patios and upper level terraces, to the flat roof topping it all. Here's a sneak peek.


The generous glazing and open concept house plan promote free-flowing breezes, light and living areas.


The home presents outdoor living at its best, taking place on the terraces and patios. This welcoming barbecue area is great spot to sit, sip, savor, and enjoy a breath of fresh air.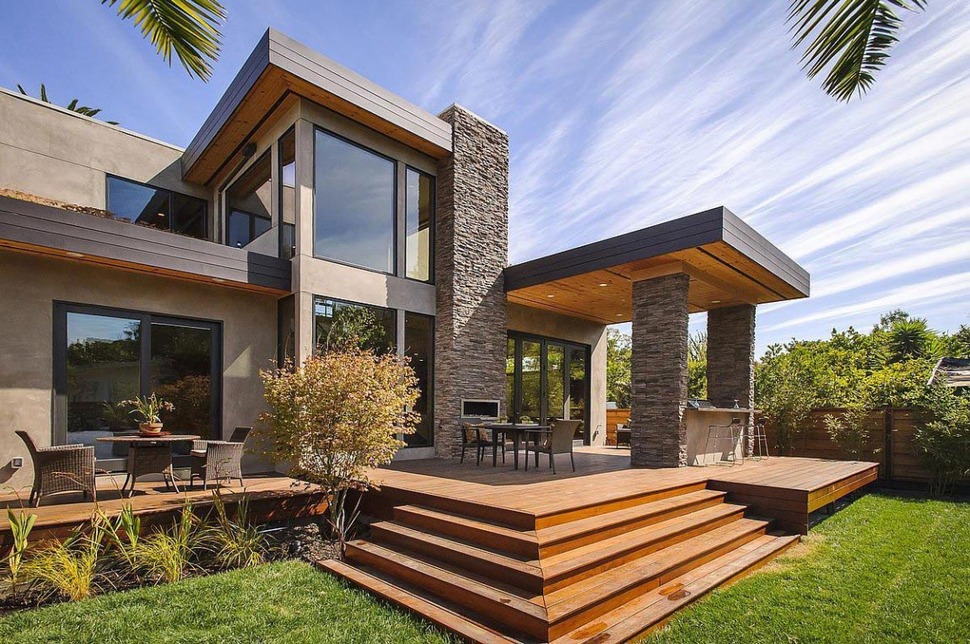 The wood platform is a step up – literally. A pair of stone pillars supports a wood roof, bringing shade and shelter to the cooking area.


And what a cooking corner it is! This alfresco kitchen has all the chef's essentials to whip up a gourmet meal, with a helping of style.


The fireplace feature is a nice added touch to this outdoor living room.


Gardens surround the home, lined with floor-to-ceiling windows that let it the light and the views.


Inside, this 3,000-sq.-ft., four-bedroom single-family home offers plenty of space. The sun-soaked spaces feature warm wood floors and framed windows, and a wood and steel staircase leading up through the open stairwell enclosed in glass.


The open concept main floor is made for mixing and mingling. We like to call this "family life with flair."


The kitchen, living and dining area are all complementary to each other – a necessity to a harmonious open concept design – and to the home's overall blend of modern and natural aesthetics.


Follow the stairs up through the glazed corner and up to the private bedrooms on the second floor. At the foot of the stairs, an interior garden is planted with a tree which reached upward through the space.


The upper level landing is flooded with natural light spilling up through the massive windows.


An intimate den where parents (or kids, for that matter) can steal a few quiet moments to themselves. The sliding glass wall opens to the terrace.


The terrace continues to the bedroom side, where a glass door leads back inside to this bright, sun soaked sleeping area.


The bathroom is a neutral space featuring a wide mirror that reflects the mirror on the opposite wall.


The glass enclosed shower separates from the rest of the space without closing it in. We love the simplicity and clean lines (pardon the pun) of the contemporary freestanding soaker tub, which is as soothing to the sight as it is to your body and soul. Ahhhhh!


A secondary bedroom enjoys private access to the garden.


Another bathroom, more modest than its 'master" counterpart but elegant all the same.


Toby Long Design & Cipriani Studios Design