Spanish architects and landscape designers Nomad Studio have put their best foot forward in their design of Zafra-Uceda House in Aranjuez, Madrid, Spain. Unusual architectural features include an industrial-style steel mesh enclosure that hints at a shield donning a broken design, adding a distinctive edge. A glazed lower level offers unobstructed views, while overhead, a glass upper level and terrace are tucked behind the grated screen. Along the sides, the solid concrete walls feature cut-outs that echo the shattered effect of the facade.


From the architects, "This house is set among a golf course on a dubious quality built environment. The volumetric trace of the building is imposed to this empty character of the surroundings and reacts only to the far away views of the distant landscape."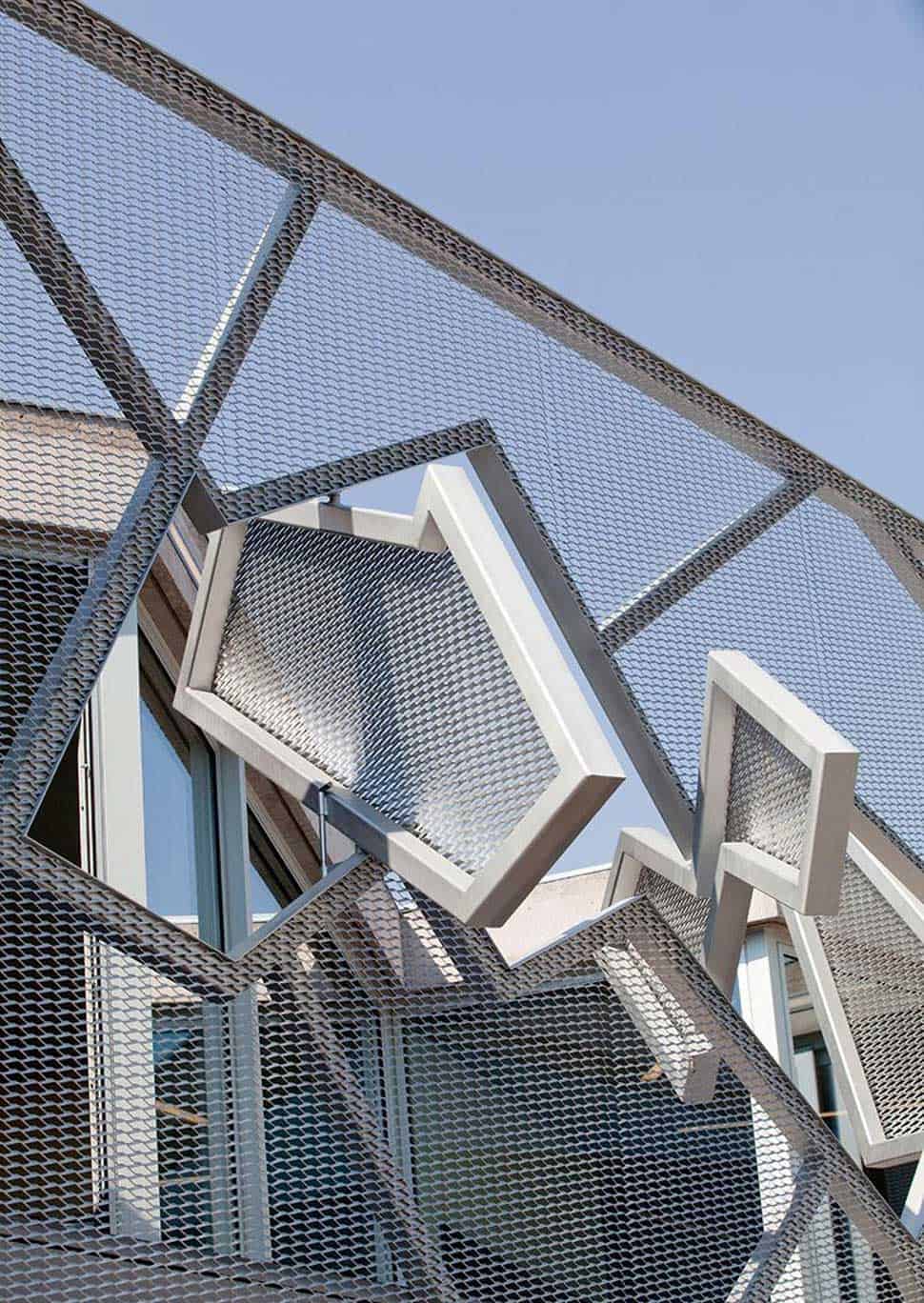 The home is often described as "crooked," from its strategically shattered steel pattern. The mesh panels swing open at will.


The perforated enclosure serves an aesthetic purpose, but it also makes a practical addition to the design, adding safety to the upper level without blocking the views.


… And what views they are! The house is situated on a golf course, so apart from aesthetics, the mesh also protects the house from stray golf balls! Past the screens, the perfectly manicured green ground is dotted with trees off in the distance, and mountains rising on the horizon. The flat planes really enhance the home's bold geometric presence. Surrounding the house, the "un-landscaped" garden mirrors the home's hard, edgy aesthetic.


This cool house is replete with small, surprising details, like this concrete facade featuring a window surrounded by a blast of white.


While the exterior is largely closed off, interiors are startlingly open and airy. The home enjoys an open layout that is almost like a maze, lacking doors but offering privacy by virtue of a long, continuous floor plan.


The two-storey living space is also connected to the second level, overlooked by the upper terrace peeking through a large opening in the wall.


A stairway leading to the upper floor is tucked behind a luminous polycarbonate wall with cut-outs that add a futuristic appeal to interiors.


The contemporary kitchen features glossy black cabinetry and a frosted glass sliding privacy wall.


The bathroom is an enigma, featuring a mirror wall that reflects the other mirrors and the cactus garden, visually doubling the space, bouncing around natural light, and multiplying the outdoor views to create a false alfresco feeling without compromising privacy.


It's hard to describe this unusual house design – industrial, ultra-modern, interesting to say the least. It's like a labyrinth, with rooms leading into other rooms, open spaces and the terrace, and extending out into the horizon. But one thing's for sure, it's definitely one of a kind!


Behind its cold, steely exterior, living spaces glow warmly through the expansive glazing – quite possibly the only warm thing about this cool house design!
Floor plans:


Nomad Studio