Having a pantry is all fun and games until you walk into it and have no idea where anything is. It's one of the spaces in your home where things can quickly change and become cluttered. You can almost say the pantry is the perfect hideaway for items that no longer serve a purpose in your home. Keeping that in mind, we have put together a guide to help you organize your pantry while changing your life.
Install a Sliding Door
If you have been thinking of ways to further enhance your pantry without taking away from the square footage that you already have, bringing in sliding doors is an option you should consider. Installing sliding doors works great when you want to give your pantry an old, rustic feel with the perfect display.
Paint Walls a Bright Hue
The pantry gets dismissed most of the time when it comes to painting walls a bright hue, this is mainly due to the idea that pantry walls do not get seen like other walls in your home. With that being said, give your pantry a new twist by painting the walls a bright hue. You want to make your pantry have a brightening staple by bringing an enchanting shade you could even consider adding a wallpapered wall for a daring twist.
Go Vintage
Having bits and pieces that are vintage not only enhances the room overall, but they bring a unique twist. If you decide to go the vintage route, consider bringing in milk crates. While they aren't the easiest to find they do make a huge statement right where you need them most. Think of it as the perfect addition that your decor that doubles as a space enhancer.
Wallpaper
Just like color can make a huge statement, so can wallpaper. Think of wallpaper as the pretty way of making a room come to life. You can almost consider it a pretty element. Line the walls of your pantry with your favorite wallpaper to make the room feel expansive while having a unique touch. Furthermore, having this element is sure to make you want to have your pantry well organized every time.
Shelving
Use shelving, whether you like it or not, shelving is one of the easiest forms of organizing your pantry. Not only will it add additional space for your items, but it keeps things in their place. Furthermore, add labeling to truly give your pantry the organization you need and deserve.
Glass Jars
When in doubt, bring in glass jars. Glass jars not only showcase what you already have, but they keep the room as organized as can be. You want to have your jars labeled for the perfect pairing in the room. Furthermore, embrace what you already have by bringing in jars of multiple different sizes and textures.
Label it
Just like glass jars can make a huge statement in the pantry, adding a label can as well. Adding a label ensures you put the right item in the space that it belongs to. It's the perfect way to reorganize your pantry without having to go overboard with your decor. Furthermore, it enables you to get putting away done correctly, and effortlessly.
Bring on a Chalkboard
A chalkboard, not only enables you to write what your list or what your pantry is missing, but it also helps you make the most out of the messages you want to be written in your home. The idea is to bring a chalkboard and make it the focus of your pantry space. It's all about getting the most out of the idea without taking away from it.
Floating Shelves
When in doubt, and need more shelving, consider floating shelves. Bringing floating shelves is one of the best forms of getting the most of the room without taking away from what you already have. Furthermore, it will enhance the shelves you already have, while making your floating shelves the main focus.
Add Hooks under Shelves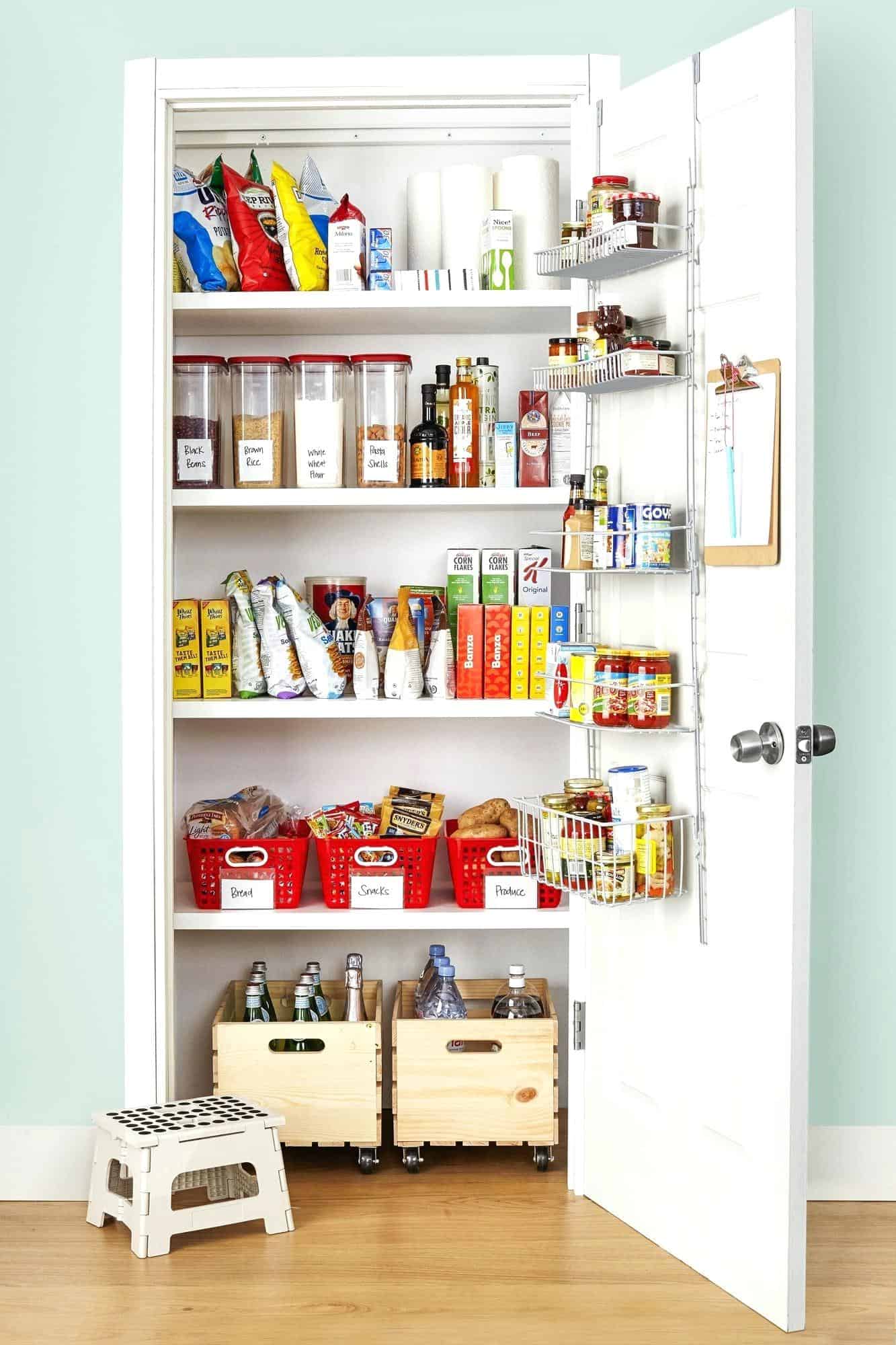 Don't waste a single space in your pantry, even the other sections of your pantry can make a huge statement. You might want to add hooks under your shelves to fully embrace every inch in the room. Having this small space will give you room for your mugs, allowing you to clear room for any of the other things you want to use as part of your pantry.
Which of these ideas do you plan on using? Share with us below.