Modern kitchen countertops are being made from more and more unusual and unique materials. Some natural materials, some synthetic, some composites. Glass is a very popular choice today and there are so many different styles from that awesome green recycled glass up to the fine art glass pieces you see in our collection below. You can even illuminate the glass. And we've got wooden counters. From the exotics like Tiger wood and Black Walnut, to the inset patterns of the intricate wooden countertops – we've found them for you. We've got cement and stone varieties – gemstones, that is. You'll find pros and cons listed for each of the material groups: glass, wood, cement and stone. So if you're looking for ideas to redo your kitchen counters, you've come to the right place to see a huge array of best styles available. Scroll down, for your renovating pleasure.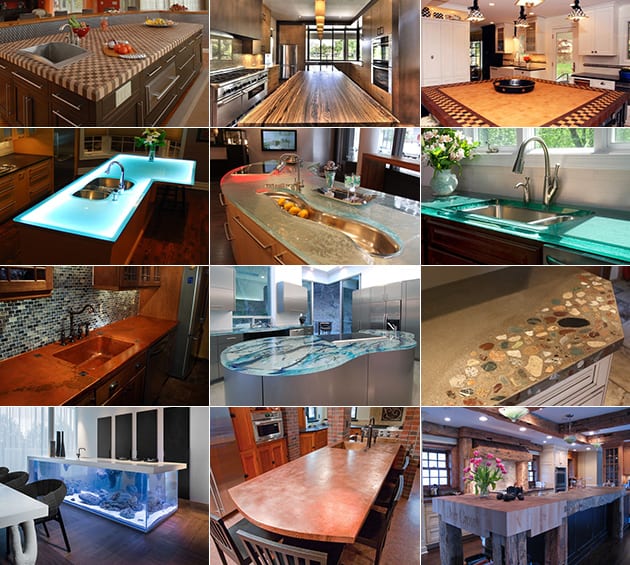 Glass Kitchen Countertops
Pros
Transparent quality facilitates lighting or artwork display
Non-porous
Low maintenance/easy clean up
Heat resistant
Highly customizable
Cons
Expensive
Repairs can be costly/difficult
Sharp objects may scratch surface
This raised glass countertop looks stunning against a stainless sink and makes for a cheerful room. Source
This is more of a raised glass breakfast bar – but it adds fantastic additional kitchen countertop space. And being transparent, you don't have to match the counter design below. Source
Related Ideas:
Breakfast Nook Design Ideas
This modern glass kitchen countertop has non-linear edges and an irregular sink – a river sink. Isn't it marvelous? Source
Another illuminated glass kitchen countertop – and backsplash. We love the incredible blue hue they've created. Source
Or you can opt for an art glass kitchen countertop – it all depends on your style. Sometimes you want the glass countertop to be the focal point, other times, you want it for a nice accent. Source
Recycled Glass isn't exactly glass – the surface has far different texture and properties, but is is 85% glass content from broken bottles. Vetrazzo
For more information, see our article on this Vetrazzo recycled glass countertop material.
Copper, Stainless Steel & Zinc Kitchen Countertops
Pros
Non-porous
Easily integrated with metal sinks
Durable
Heat tolerant (Zinc is less heat tolerant, be careful with that material and hot pots)
Easy to clean
Stainless will stay shiny, Copper and Zinc will develop patinas
Zinc and copper have antibacterial properties
Cons
Can scratch easily (especially stainless)
Can dent easily
Can be noisy – if you do a lot of cooking, stainless particularly can be noisy with cutting and chopping and contact with pots and pans
Copper and Zinc will both react to acidic foods such as lemon
A copper countertop gives such an incredible warmth to the kitchen. If you opt for a textured copper, you'll notice the dents less. Source
You can jazz up your copper countertop with insets of small tiles at the corners of the sink, as they have done above. Source
This smooth, sleek and modern stainless steel countertop and sink are a continuous piece and make an elegant statement. Source
Oh wow, if you get invited to dinner at this house – go! What a chef's kitchen this is, all decked out in industrial style stainless steel. Source
Related Ideas:
Industrial Style Kitchen Design Ideas
Zinc is a popular new choice in modern kitchen countertops. It won't tolerate heat as well as other metals but has a rich texture that ages well. Source
Zinc can dent easily, so a textured surface helps lessen that impact. Source
Wooden Kitchen Countertops
Pros
Wide design and color choices
Warm look
Excellent cutting surface
Cons
Requires proper sealing
Possible water damage
Possible scratches and/or gouges
This rough-hewn Alderwood kitchen countertop is a real focal piece for the room. Source
This inlaid patterned wooden countertop is a whimsical choice for the kitchen. We love how it matches the pendant lights above it! Source
This modern kitchen wooden countertop incorporates a sink at one end. Choosing a sink with a lip minimizes the danger of water damage, one of the cons of wood countertops. Source
The exotic Zebra wood kitchen countertop is a design piece, no question. Don't the gorgeous wood grains carry your eye right down the length of the countertop? Source
The Hickory & Black Walnut Butcher Block style kitchen countertop is perfect for a modern kitchen. After all, a butcher block is just like a big cutting board now, isn't it? Source
Concrete and Stone Kitchen Countertops
Pros
Durable
Stain resistant when sealed
Wide variety of color and design
Heat resistant
Cons
Can chip
Requires regular sealing
Concrete is porous – must be vigilant with sealing
This modern kitchen has more than a cement countertop – the whole place is cement and stainless. Cement offers an extremely durable surface that can be the plain industrial style look above, or painted a myriad of colors. Source
Polished concrete is a decidedly more modern look for a kitchen countertop. Source
You can add rocks to your concrete for a custom look and a bit of variety, without losing that gray cement style. Source
Or you can speckle it with chips of ceramic or glass. Sometimes, you don't want more than a subtle cement color and style, because you're trying to show off another element. Like the backsplash. Source
White concrete is a great, minimalist look. And other huge advantage is being able to build the sink right in. With its own draining board. Source
Or maybe black is more your style?

Stone kitchen countertops aren't just stone anymore. They're gemstone, too. This gray agate is a gorgeous natural semi-precious stone. And it's available in many colors. We featured a full article about this modern and artful kitchen countertop with more details.
Prexury is a line made from semi precious stone and other natural materials. It really is the star of this modern kitchen. Stunning countertop. Source
Stone, Glass, Wood & Light: Multiple elements combine to create a modern kitchen countertop with good lines. Source
And then we have the stone kitchen countertop that doubles as an aquarium roof. We're not going to give you the cons here, you surely can figure those out. But the big pro? Entertainment value. No boring dinner parties here, if the conversation lags, the fish can amuse. And did you notice (an aside) – that the dining table legs are made to look like coral? Nice touch. Source
Any of these rocking kitchen countertops would be perfect in a modern setting – you can make the countertop the focal piece or use it as a compliment to another feature of the kitchen. How much you cook, and how much you entertain is also another consideration. The material depends on your lifestyle, the design on your taste. Bon Appetit!