Concrete is everywhere these days. It's cheap and versatile. It's no wonder most projects make good use of it. The material doesn't discriminate spaces by purpose either. It can make a beautiful contemporary house, a business venue, or a pavilion. If you've been planning and considering using concrete, these stylish concrete interiors will convince to go for it without thinking twice.
Concrete Floors
Concrete floors are practical, if not warm and homely, especially for indoor/outdoor spaces. They are just easier to maintain. If you're bothered by concrete's rough texture, you can have them polished to be safely smooth.
Besides getting a nice sleek polish, concrete floors can also be stained to give them beautiful veins and marbling effect as well as bright colors.
It can also be painted partially to play on the contrast between paint and natural concrete texture and color.
Concrete Walls
Concrete walls often look rough and come with characteristic holes. But don't hurry to polish and seal them just yet. This brutal aesthetic can play well with the wooden ceiling and frames, marble floors and slate.
Concrete's natural roughness can make a cool pair with such materials as polished wood, velvet, crystal, and metals.
Glass is also a fitting material to use together with the concrete, as it smoothes out the rough aesthetic, adding to it a reflective contrast.
Textured Concrete
Some concrete is more textured than other. Slabs with tie hole plugs tend to be smooth and uniform in color. Different types of blocks and bricks are rougher around the edges, and come with all kinds of discoloration.
If you don't appreciate too much discoloration in concrete, though, you can use the more uniform type of concrete or simply minimize its presence in design.
And since the material is quite plain, you'll have to inject some glamour into the interior to negate that utilitarian aesthetic it brings along.
Contemporary Concrete Interiors
When you're thinking about a decorating style, contemporary aesthetic works best with concrete. Together with minimal furnishings and accessories, it creates a sleek modern look that is stylish and ages well.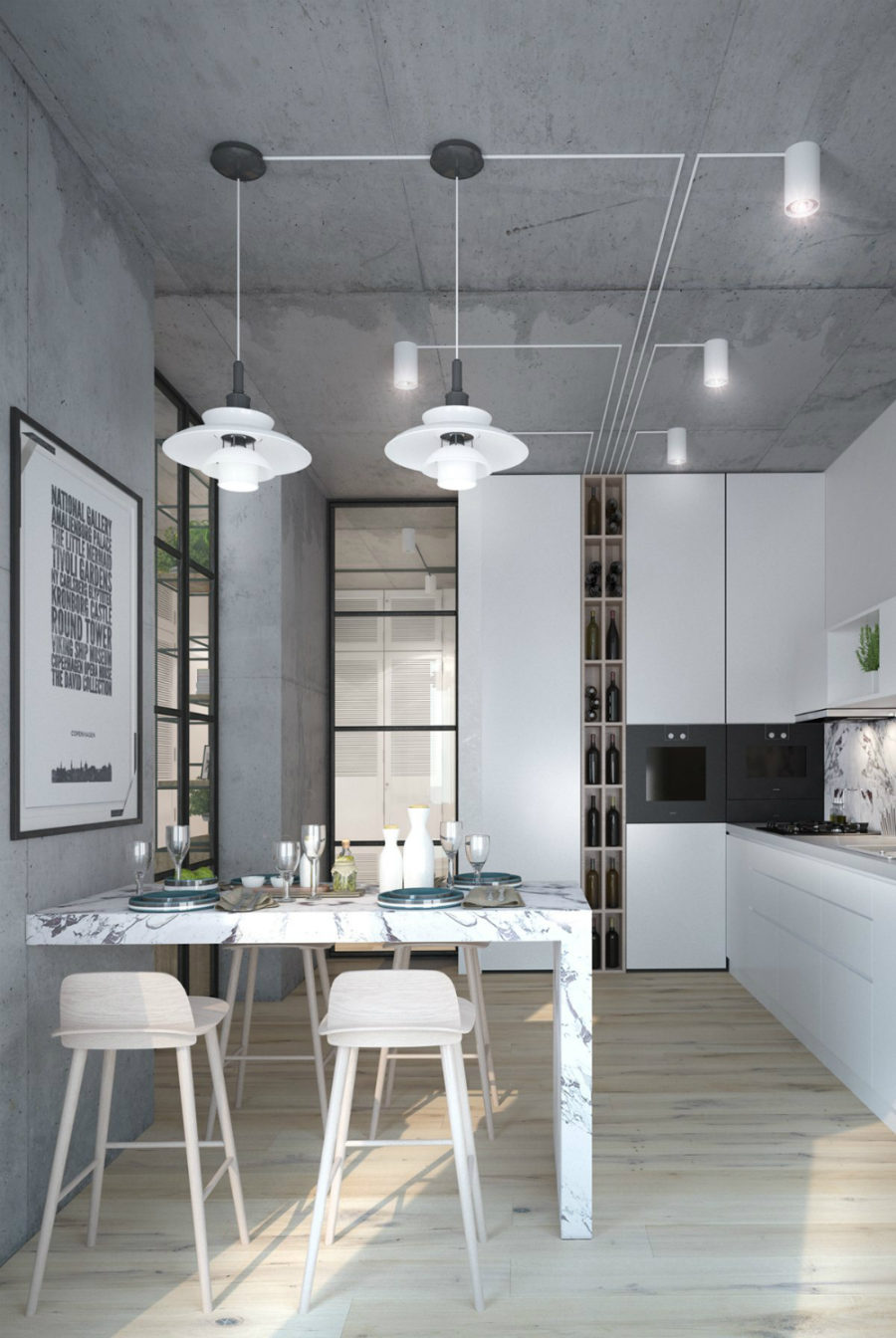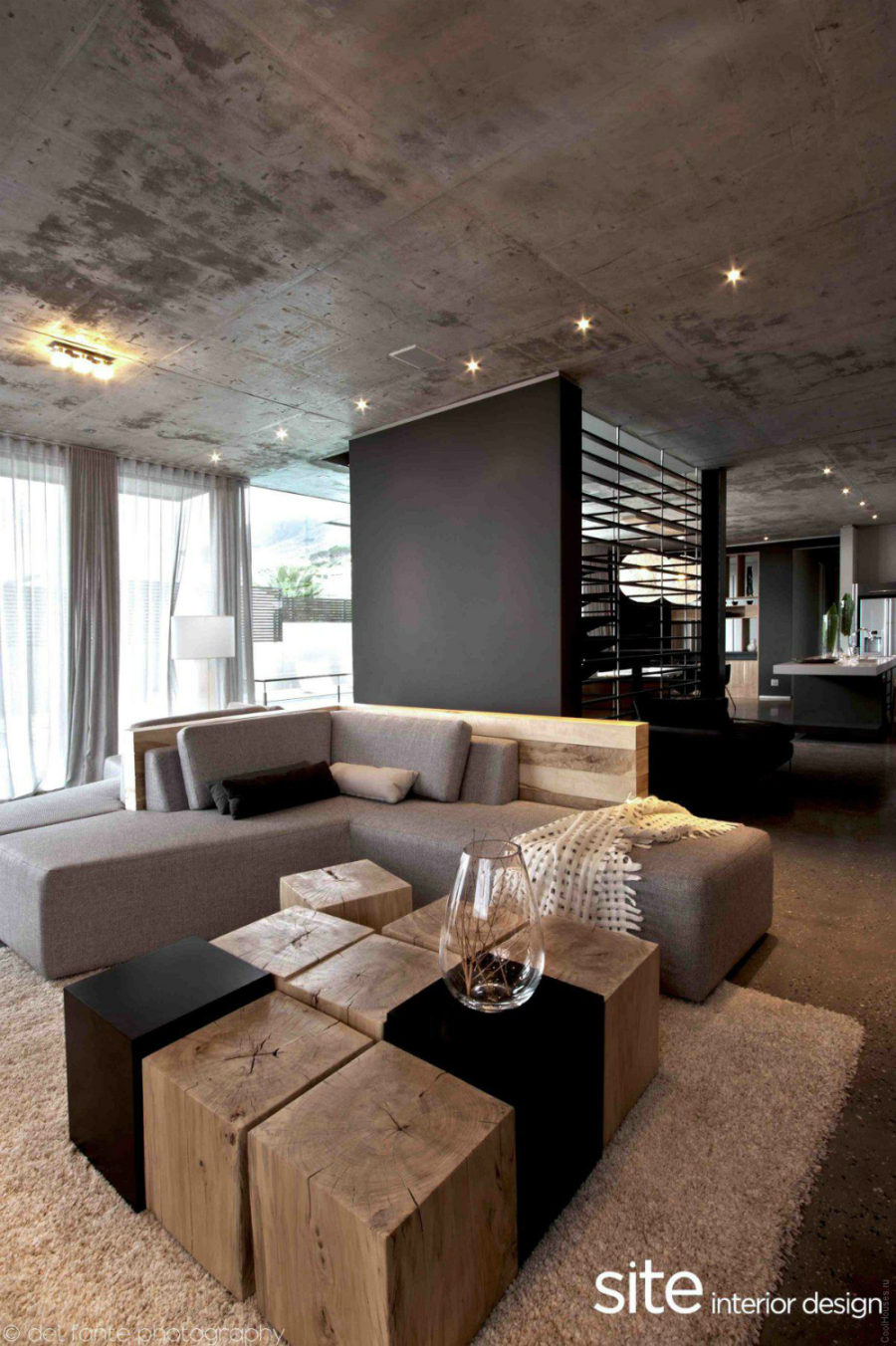 Thanks to its versatility, concrete can handle combination with any other material be it natural wood or hammered metal.
To add a bit of homeliness to your contemporary concrete home, opt for fuzzy rugs, knitted throws, and planter pots with your favorite greenery.
Concrete Kitchens
Kitchen is one of the costliest rooms to remodel. Countertops alone can set you back for hundreds, even thousands of dollars. Concrete is not only fit for floors and ceilings. You can save a lot by opting for concrete countertops and kitchen islands.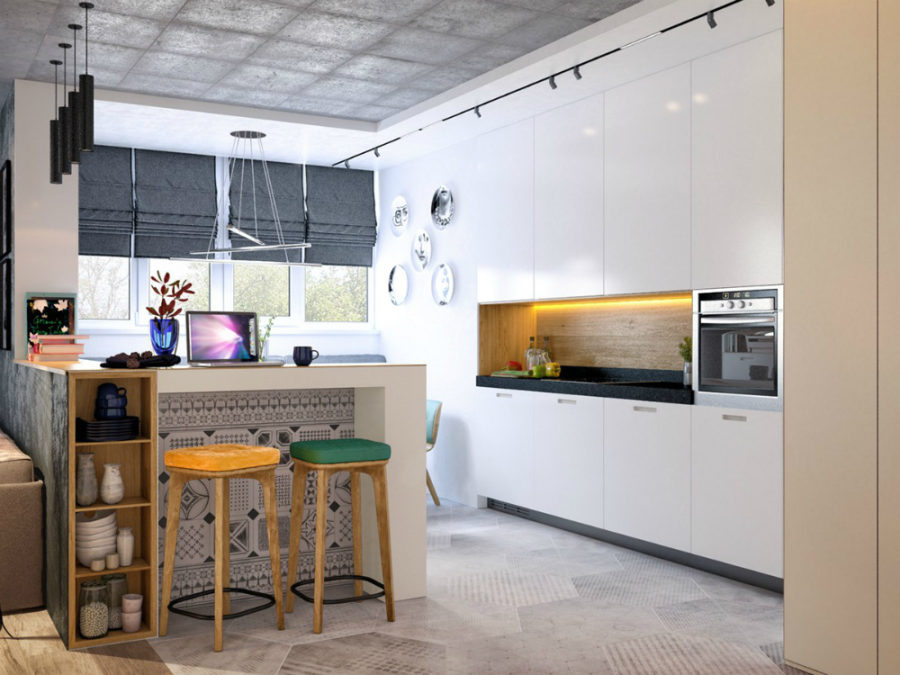 Concrete is not indestructible, but it's very durable. All you have to do to maintain its look is prevent the spills or seal the surface of your tops.
You don't have to sweat about trying to combine it with other elements, as concrete is neutral and goes well with everything.
Concrete Showers
When it comes to building with concrete, so many more design possibilities arise. Take a shower stall, for instance. It's just too easy to build with concrete. And you can have anything from a bench to a footrest in there, if you want.
To avoid an untidy look in your concrete shower, opt for non-concrete floors and decorative hardware.
Wood is a perfect opposite for cold concrete, and shiny metallics bring glamour anywhere they are installed.
Concrete Baths
But you don't have to stop at a shower stall, if you want to take advantage of cheap but stylish concrete construction. There are so many things you could do with it.
A bath island, vanity, storage shelves, platforms, and seating spaces can all be built with concrete to give your bath an unusual look.
Complement it with marble and wood, if you want a more designer look or add ambient lighting to give it more color.
Concrete Interior Architecture
Again, you don't have to stop with the bathroom, if you can build an entire home out of concrete. It is a popular trend in architecture today.
Modern houses built with it, often feature concrete interiors as well. To make it look more home-like, such interiors might require wood floors and a collection of soft furniture.
Concrete & Brick
Did we mention that concrete goes with everything? This includes brick as well. Together these two make for a cool industrial look that can fake a New York-style loft in any home.
Interestingly enough, brick of any kind works with different types of concrete. How cool is that?
Brick can also bring a bit of warmth to concrete interiors. Opt for red brick veneers for a more classic industrial look with a hint of warmth.
Concrete Wallpaper & Tiles
You don't have to rebuild your house in order to incorporate concrete. Wallpaper designers took care of that, and offer an easy and practical solution instead.
Cover a feature wall in your living room with a concrete wallpaper design, and it will instantly give you the look you're after. There are also porcelain and ceramic tiles that look like other materials, including concrete, so you can use them in places like baths and kitchens.
If these stylish concrete interiors couldn't convince you to take this bold design move, maybe this modern house made from recycled concrete blocks will.