Tired of same old marble countertops and catalogue kitchen ideas? Well, there are quite a few materials out there that can make for designing, unusual kitchen countertops. Even if you've already considered some of these, you may not realize how many more ways are there to use them in worktop design. Take marble, for instance. You may think it's all white and predictably expensive, but you'd be wrong at least in part about that sentiment.
Not Your Typical Marble Countertops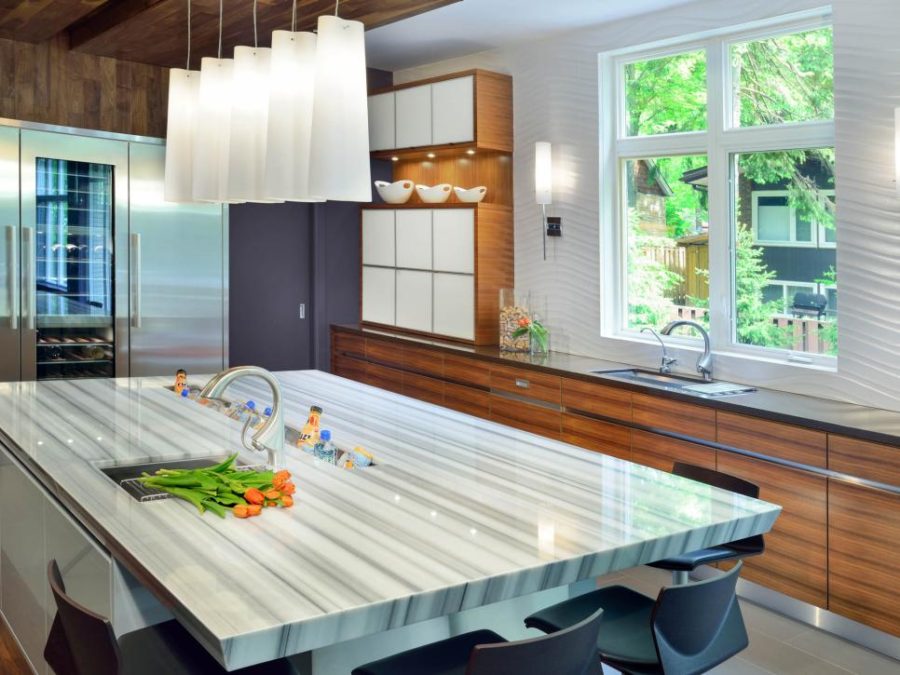 Here is an attractive striated marble countertop that plays well with the natural wood cabinets that also show the striations in wood texture.
Black and white-colored kitchen island worktop is a perfect addition to the contemporary cook room with a slight hint of mid-century nostalgia.
Green, pink, and blue – marble comes in more than one hue. And even those colors may vary in their intensity and shade.
Marie Hebson combines the swamp green countertop with the blue mosaic backsplash and white cabinets. The result is unusual but just as beautiful.
Marmoreal is an engineered marble,  that looks like an artistic version of granite or quartz, created by the British designer Max Lamb.
Bearing colorful spots, Marmoreal is a great addition to any modern or even traditional home. You can use any color from the colorful pattern to paint your cabinets and tie your new countertop to old cabinets.
Quartz & Quartzite
Quartz is another popular kitchen countertop material, but it may also look unexepected, fresh, and different. Comprised partially of resins and pigments, quartz can be as unusual as you'd like.
Here is a dark quartz countertop that also features rough edging. Highly practical, quartz can, too, look smart and cool.
Thanks to various pigments quartz can pose as other stones. Caesarstone specialize in unusual kitchen countertops that look like they are made of something else.
Amethyst color is a rarer occurrence in natural stone used for countertops, so if you want your worktop look precious, quartz is the way to go.
Quartzite is a metamorphic rock that is formed from sandstone with the help of immense heat and pressure. It looks incredible, and it's quite durable.
While a purer quartzite can be simple in pattern and color, the more minerals it has, the more colors it will give your kitchen design. It will require sealing and pads to protect it from heat, but you may not worry about scratches.
Special Granite
Again, granite doesn't have to be boring and catalogue-like. How about Palomino granite that looks exotic and far more intriguing than your average marble slab?
It's also everlasting. So if you want the benefits of the stone with a more interesting look to it, then Palomino variety is the best choice.
Blue granite? Yes please. With such a variety of blue granite options, it's surprising to see so little kitchen designs incorporating this beauty.
This kitchen island brings unparalleled dynamic to the neutral white kitchen designed by Michelle Beamer. What a treat for the eyes!
Onyx & Other Stones
Onyx is getting more and more popular in interior design, namely in kitchens and bathrooms. And one look at this grey onyx worktop will tell you why.
Although many designers go with backlighting when using onyx to show off its beauty, it doesn't always need additional help to take your breath away.
This is one of the most unusual kitchen countertops we've seen, and it's all thanks to brown onyx. The stone is so versatile, it can be used in many different designs.
This half-outdoor kitchen benefits from the brown color scheme. And even the stainless steel tech cannot ruin the look that the stone creates.
This Lumix kitchen installation draws special attention to the stone elements with backlighting, which definitely makes the stone stand out more.
In our opinion backlighting works better with this kind of modest stone, while more intricate varieties can stand well on their own.
Agate is another exotic semi-precious stone that gets a preferential treatment from homeowners who like something special in their even most practical of spaces.
Brown, blue, and purple agate is a beautiful addition to any part of your kitchen, especially when combined with backlighting.
Colored Glass Worktops
Glass worktops can look pretty basic, but they can also be among the most unusual kitchen countertops you'll ever see. Like this one.
Artistic doodles trapped inside resin or glass make for an unexpected look in such a functional space as kitchen.
Colored glass is among the better options, if you want something in between. Purple, blue, red, or yellow these will add a pop of color to your neutral kitchen.
Crashed/recycled glass countertops are also quite colorful and intriguing when it comes to kitchen design.
Wood Classics
Thick timber countertops are not only attractive but also give the kitchen this warm, inviting look.
They surely aren't the most practical or convenient, but when it comes to natural materials, everything requires a certain degree of special maintenance and care.
Wood doesn't have to come in its natural state or color, however. It's easily paintable, so you can take advantage of this quality, and paint your countertops bright for a change.
These retro orange worktops look great in contrast to the white glossy cabinets that add to the retro aesthetic of the interior.
Speaking of wooden worktops, we cannot leave out the trendiest tabletops yet. Live-edge designs made of whole tree slabs with rough edges and bark don't just look unexpected but somehow have a designer quality to them.
The sheer contrast between sleek contemporary kitchen cabinets and tree irregularities, wood texture, and those rough edges is too great to pass up.
Ambiguous Materials
This countertop, in which wood and resin are fused together, is definitely one of the most unusual kitchen countertops (or any countertops for that matter) that we've ever seen.
Irregular wood patches and resin patterns are so gorgeous they're probably not very practical. But can anyone resist such beauty in favor of practicality?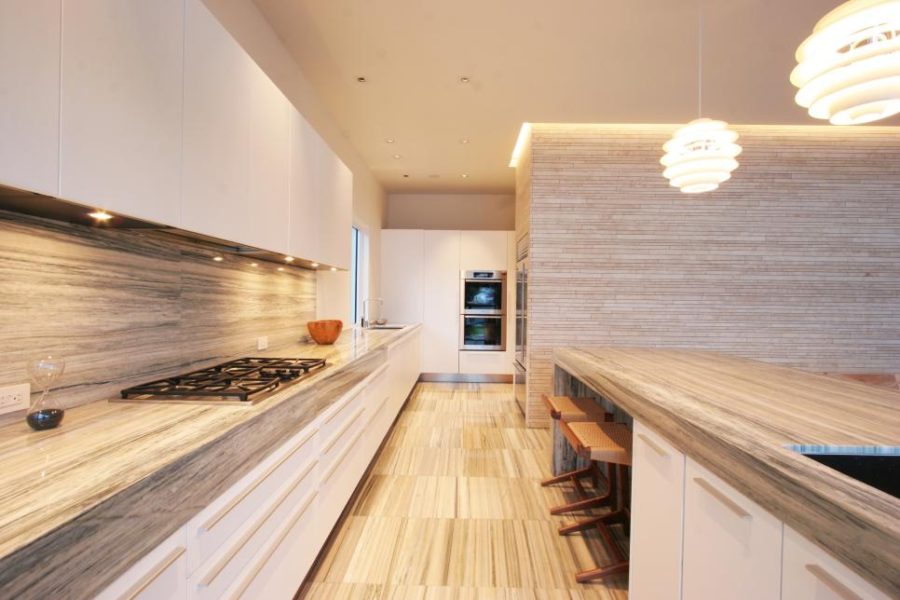 Stone that looks like wood is more common than you may think. And it might just give you the best of both worlds – the look of wood and durability of stone.
Tana Nesbitt plays with various stones to create a dynamic galley kitchen that looks as warm as if it was designed in real wood.
Concrete is something else when it comes to interior design. More often than not it looks like its own robust self, but sometimes it may pretend to look like something other.
For instance, in this Bruce Johnson kitchen, it looks like grey sandstone. It is surprisingly stylish and unexpectedly fresh, if we might add.
Not-so-Precious Metals
McLaren Excell were designing a loft on a budget, using honest and low-cost but hardy materials. Thus the golden brass kitchen countertops.
Looking unsurprisingly luxe and stylish, they add a touch of glamour to those plain kitchen cabinets.
Another metal that is very much in favor right now is copper. It is mostly used in accessories and decorations, but how cool would they look in countertops?
Well, Lorin Hill tried to incorporate into this San Francisco home, and it turned out beautifully. The contrast with the aqua blue cabinets works especially great.
Tiles & Mosaics
If tiled countertops make you cringe, here is one that will make you wish for one. Laura Gummerman measured her old countertop right down to the inch to avoid using a saw, and with the right type of tile she went on to renovation town.
The resulting look is clean and uniform thanks to no cut tiles. It's also easy to clean and no doubt durable, but the main thing is that it looks gorgeous.
Penny believers look away. Here is another project that uses pennies as mosaic tiles, and it officially goes on the list of the most unusual kitchen countertops.
Although for some, a kitchen is a practical den, others are pretty scrupulous when the kitchen design is in question. Unusual kitchen countertops bring a welcome break from tradition, and give the latter more decorating tools to create a kitchen of their dreams.