Grab your forty winks in style with these modern and creative bed designs. There are so many interesting bed designs out there and we collected some of our favorites to inspire you to make your sleeping quarters extra special. Typically, people don't seek out unusual bed designs when planning out an interior bedroom scheme. It seems that a bed is a bed and we are generally quite traditional when it comes to them. Instead we get expressive with the bed linens, or with different furniture pieces all together, like chairs, for example. But the beds featured here show us just how expressive, creative and innovative bed designs can be. So scroll along and enjoy.

This first bed, Fluttua C by Lago, is really amazing because not only is it suspended, but it's round – both excellent features that make it super special. Its round shape means you can sleep on it in any direction you please and the bed height is adjustable. Additionally, it is equipped with a lighting system underneath that really enhances that floating illusion.


This next bed, called Burlesque by Romeo Orsi, shows us that headboards are a great way to get bold and beautiful in the bedroom. The unusual shape and the more classic feel of the button tufting provide a wonderful contrast that makes this headboard extremely unique. Its passionate red color is show-stopping.


Apart from looking really cool with that glowing base, Dream bed by Slide, strikes us as an excellent idea for lofts or open floor plans. A platform base with such great presence is ideal for visually defining the sleeping area. This bed is quite modern and magical.


Lago has another great idea with their JustMat bed – a mattress on wheels with a folding section at the head. Different kinds of covers are available for a variety of looks or style expressions and because the bed is on wheels it's easily maneuverable. The bed idea is quite simple but by no means usual.


A double bed and two single beds in one! A perfect idea for guest rooms because the bed design allows for easy adaptability. Plus, it looks pretty cute, with its rounded edges and cherry wood frame. It is the Petalo bed by Azucena.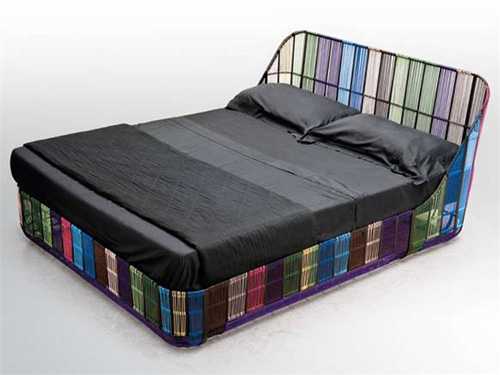 The Sest bed for Elite has a very unique appearance. The frame, with its nice high headboard, is made of metal. But what makes it special is that the frame is meant to be adorned by meters and meters of string, which allows for a handmade quality with customized designs and color schemes. It took the artist that put the bed together for the Milan Furniture Fair 136 hours to complete – pretty special.