Every year new, exciting interior designing trends come to the light and this 2017 was no exception. In fact, the year 2017 brought us multiple different trends that we have come to love and want to incorporate into our home. However, incorporating multiple different trends in one home can seem a bit overwhelming and even scary at times. Here are 10 ways you can pull off all the 2017 trends you have read about without overwhelming the space in your home.
Black Walls
We recently did an article on the biggest trend for 2018 being the color black. If you want to incorporate the trend starting now. Consider painting a wall black. Black walls may seem intimating and even scary. But when done properly, they are chic and very much on trend. The key to having black walls that do not overwhelm your space is painting one wall black and leaving the rest of the walls a neutral tone. This will make that wall the focal point of the room.
Beach Chic
Beach chic is another 2017 trend that really caught our attention. Consider changing your crystal chandeliers to chandeliers that have shells on them. A shell chandelier generally comes in neutral tones. Therefore, it will work very well in any room it is placed in and give the beach chic vibe you seek.
Bright Green
The color green just like the color black can be a bit intimidating. Although they work well in multiple different areas of the home they are extremely powerful colors. With that being said bright, cheery green is very much on trend. Just like the color black consider painting one wall, bright green and keeping the rest of the living space neutral or with tones that will enhance the color. The color green gives the room a freshness and vitality that is always nice to have.
Mix Patterns
Mixing patterns is no longer a fashion trend it is now coming straight to interior decor as well. Mix multiple different patterns with the same color scheme for the best effect in the room. Add patterned curtains or cushions in multiple different patterns to have the trend in your living space.
Texture
Texture has been huge this 2017. In fact, this entire 2017 has revolved around adding texture into your home. Adding texture to a home is quite easy. In order to do so, you want to add a textured couch, rug or textured accessories and make them the focal point in the home.
Focal Point
Creating a focal point in any room of your home has remained a constant trend. And this year was no exception. A focal point will help enhance the rest of your décor while still expanding on the space. Reupholster your accent chair in a cool pattern to make them your focal point or add a bright touch to the space.
Navy  
The color navy has always been underestimated by many. However, the color navy has become the new neutral as it is easy to pair with and works well in every room. In fact, many interior designers are considering navy the new black. Paint a wall navy or even your kitchen counters for a pop of color.
Wallpaper

Wallpaper used to be considered old and not a trendy item to have in your home. However, that has completely changed recently as wallpaper is now considered trendy. In fact, wallpaper is a great option when it comes to painting the walls of your home. And it can be used in every area of the home including the bathroom.
Less Formal Dining Table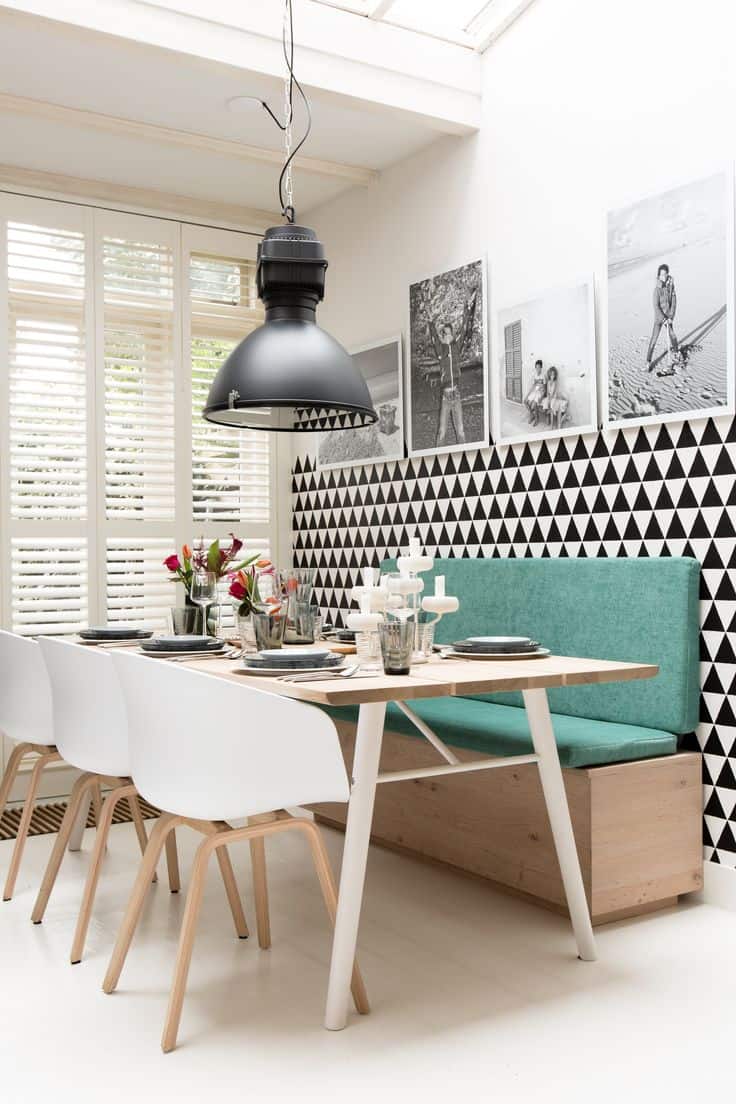 One of the trends that we personally loved from 2017 is having a less formal dining table. More and more families love the idea of having a less formal table for the dining space. This creates a sense of being able to use the table for multiple different things such as homework, or work instead of having it exclusively for dinner time.  Consider mixing and matching chairs to achieve this look. Or even bring outdoor patio sets indoor for an intricate take on this trend.
Yellow
The color yellow is another color that has been huge in 2017. Yellow is a great color to incorporate into your home when you want to brighten up a space. It can be used in your kitchen or living room as an accent color. Consider using different shades of yellow to fully embrace the trend.
Adding different trends into your home is a great way to have a modern and trendy home without fully changing your current décor. Although, there are numerous different trends for 2017. Please let us know below which of these are you most excited to incorporate into your home.