While having a pantry is more of a necessity than a luxury, that does not mean it has to be boring. The panty can be quite fun, especially if you decorate it the right way. Whether you're considering revamping your entire kitchen or simply want to update an area or two changing up your pantry door could be just that hint that is needed. The following ideas are not only perfect as a revamp, but they work exceptionally well overall. Here are smart pantry door ideas you will be just as obsessed with.
Built-in Pantry Shelves
While we are focusing on pantry doors, there is an element that will further enhance them- pantry shelves. Pantry shelving works due to enabling you to add more space to your kitchen. By adding more shelving and space to your panty, you will open up areas in the room. It's all about creating a balance that makes your pantry come to life. Pair with a classic wood pantry door to complete the look. Furthermore, it enables you to never have a cluttered pantry, which is exactly what you want to achieve.
Etched Glass Door
If you want to give your kitchen a unique, personalized look bringing in etched glass doors is the way to go. Not only do they look good by they add that extra flair that makes the room feel new. No matter what area of your kitchen has a pantry, having etched ones will instantly upgrade the area. Furthermore, it's an excellent way of adding character, color, and even texture seamlessly.
Smaller Space
Though this is all about having smart pantry doors, not all of us have the luxury to have a large pantry, some of us have smaller ones instead. If that is the case, turn a small open shelf space into a pantry by bringing in half-size sliding doors. Having sliding doors that are half the size of traditional ones will make your new, reinvented pantry feel just that- refreshed and new. It allows you to have a space where you can have your pantry right on hand, without taking away from the room overall.
Chalkboard
Chalkboard paint I always a good idea. It enables you to have any wall in the home instantly become a chalkboard. So not only does it look cool and modern, but you can write to-do lists on it, you can write cute messages or even leave your children their chores. It simply makes sense to have them. As for bringing in a chalkboard door, you want to paint the entire door and let it be the focus. Whether you have it laid out as the main focus of the room or you decide to have a small section that is completely up to you.
Vintage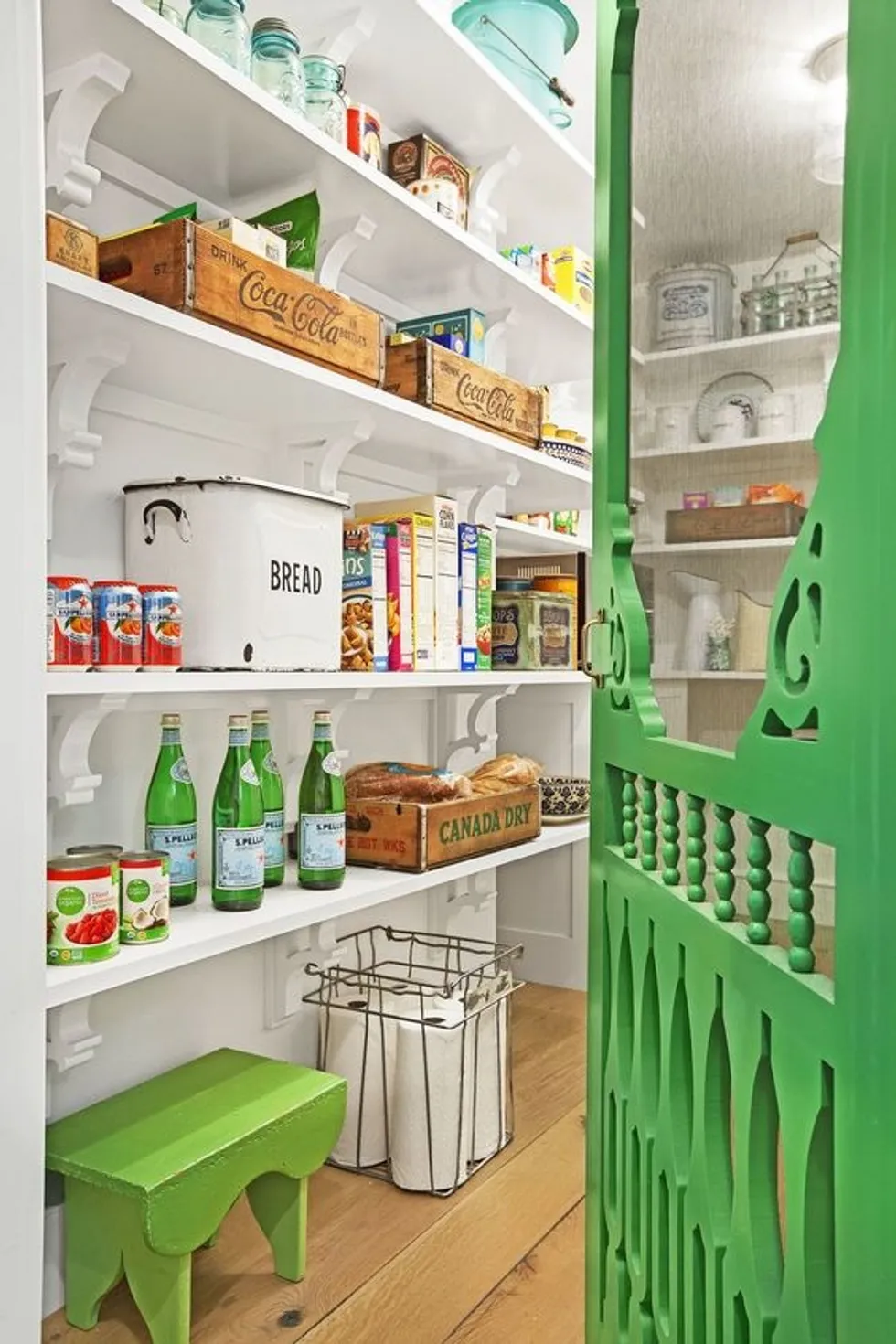 Sometimes a true classic is needed, that is where having a vintage, iconic touch. That is when using a vintage screen door will come into play. When it comes to bringing in a vintage touch you want to use color. Color is one of those items that take anything and every item and transform it into luxury. Though you are working with a vintage touch, you still want to bring in a hint of modern. To do that, consider having a carved, vintage door to truly make a statement.
Large Barn Doors
There's nothing that makes a statement quite like having a large, bold item as part of your décor. When it comes to the pantry, having large barn doors is an excellent way to go. The key is working with large sliding doors is having them become the main focus. To do that, you want to use dark sliding barn doors, the darker the wood the better. Having dark wood will not only give the room a cozy feel in a grand way but it will further enhance the idea of them being the emphasis of the room overall.
French Doors
On the contrary, if you want to add a softer touch that is also feminine and sleek, bring in French doors. French doors have a charming bit that will overall make the space come to life overall. Add those French doors and pair them with a sleek, light fixture to truly enhance the room, providing a feminine appeal. It's all about making the room have a sleek feminine feel.
Butler Pantry
Sometimes you don't have the space or the room to have a full-on pantry, and that is okay, but when that is the case you want to take it upon yourself to create your butler pantry. A butler pantry is a bit smaller, which is why some people aren't fond of it. Furthermore, a butler pantry can be used in any room regardless of how big or small the kitchen is.
Bring on the Color
If you already have a set of doors, set up that work exceptionally well and are the style that you prefer, it's time to give it a quick makeover by painting them. The simple act of painting your doors will instantly upgrade them. You can almost consider them brand new. Furthermore, they work great when you don't want to waste too much money on making your kitchen come to life yet want a refreshing touch.
Sliding Shiplap
Shiplap has become one of those materials that makes a statement while adding charm. It's all about what it can do for the room. Shiplap works due to the abundance of texture that it provides. Painting your shiplap makes the room feel grander as it brings color, and texture all at once. Furthermore, shiplap blends with your walls, making it that much more endearing to the room.
Which smart pantry door idea are you most interested in? Share your ideas below.