This striking alfresco house was clearly designed as an ode to its surroundings here in Sao Paolo, Brazil. Perhaps it's the interior courtyard, the floor-to-roof glass walls, or the interior and exterior of exposed concrete that give it that outdoor feel. Regardless, Itahye Residence designed by Brazil architecture firms Apiacas Arquitetos and Brito Antunes Arquitetura is bright, fresh and airy, just like its earthy inspiration, only with a distinctly contemporary edge. Here's the tour. Enjoy!


The home takes shape as a pair of overlapping perpendicular prisms – the first one parallel to the street and in contact with the ground, and the upper volume one overlapping it. While from the up-side of the hillside, the house appears as a smaller scale structure, with its lower levels are carved into the earth.


The home's exterior of concrete walls gives it a shield-like appeal, with privacy and protection of its interiors – largely an introvert.


Once past the tough shell, you quickly see how light and bright this home really is. An interior courtyard rises at its heart, surrounded by glass walls that enhance the home's sense of openness and connect its two distinct volumes as part of a greater whole.


An upper level terrace overlooks the interior courtyard and the exterior world, the leafy treetops blanketing the earth and giving this rooftop deck the look and feel of total seclusion from neighbors and activity.


A bridge leads from one glazed volume to the other. The separation of spaces adds to the home's sense of serenity, while its glass walls keep it connected.


From the architects, "The gap between the living room and the kitchen forms a suspended courtyard, facing the main view of the house: a large nature preserve that draws the landscape and turns out to be an important element guiding this project. The house was built in reinforced concrete and metallic frames, glass, and wood."


Living areas are laid out across a series of three levels, which cascade down and around with organic ease, like water.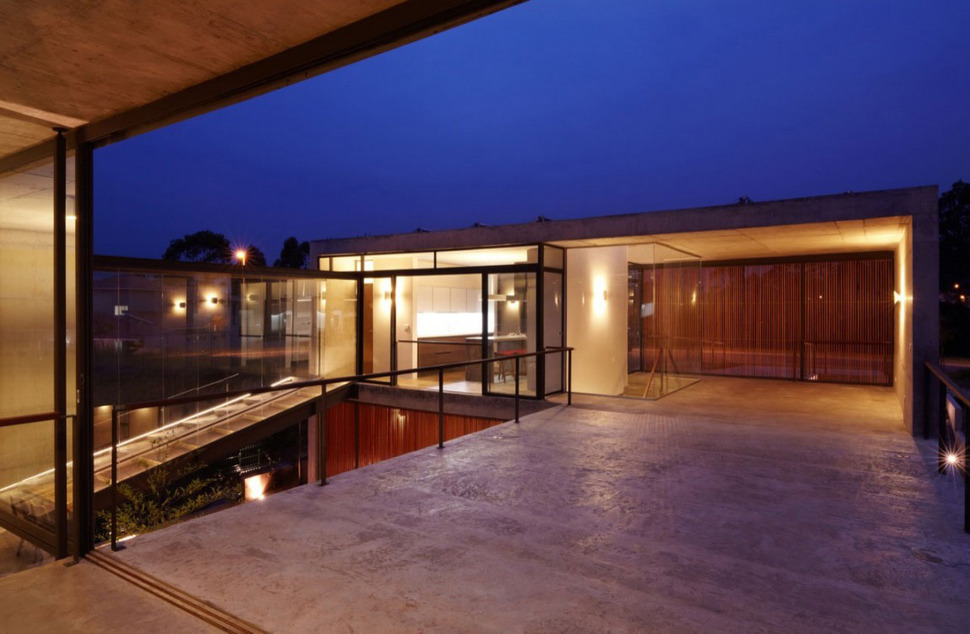 You get a similar sense of flowing outdoor living areas, with the rooftop deck occupying the upper level, the garden courtyard at the center, and a pool at the base of it all. Sliding glass walls blur the boundary between indoors and out, connecting the two at every level.


When viewed from downhill, you really get a sense of the home's complex composition. Its various volumes are artfully combined, as a series of protruding parts and voids, which give the home's its architectural interest and integrated experiences of the outdoors.
First level:


Second level:


Third level:


Elevations:


Site plan:


Sketches:


Apiacas Arquitetos & Brito Antunes Arquitetura
photo credit: Pregnolato & Kusuki