Chile architecture firm Raimundo Anguita designed this U shaped plan around a central courtyard that artfully connects indoors and outdoors, public and private, open and closed – it's a lesson in opposites, singing in perfect harmony. The owners – a young couple with a large family – wanted a home that would promote family living and socializing. Thus, the designers created this contemporary style home here in Chicureo, Colina, Santiago Metropolitan Region, organized in two levels – a traditional layout and conventional living spaces, but executed in a modern, forward-thinking way, complete with a central courtyard, and a rooftop terrace. Check it out!
A traditional two-level design takes on a modern, complex form boasting a perpendicular layering of the first and second floors, a private courtyard, and an exterior stair leading to the upper terrace.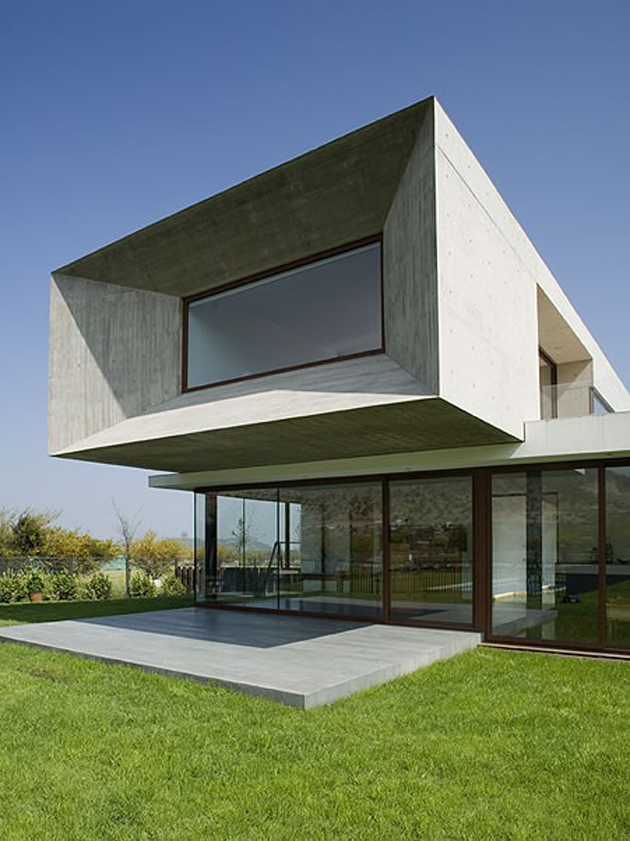 The upper floor is a cantilevered concrete volume perpendicular to the glazed lower, which creates a faux "floating" effect and further connects indoors and out. Follow the outdoor staircase up the side of the house…
… And past the private courtyard – an outdoor living room makes the most of this warm climate and rivals the interior living rooms in comfort and style!
Beyond the courtyard, lush landscaping envelops you in its natural embrace.
The clear and open concept main floor houses the social spaces – a central hallway, kitchen, dining room and a living area that opens to the terrace and courtyard.
Interiors also enjoy the natural vistas, thanks to the floor to ceiling, wall to wall glass. An earthy palette of natural wood and stone is natural, yet refined.
The kitchen is a smartly designed space where efficiency is served up with a helping of style. Wood cabinets feature frosted glass doors that conceal their contents while maintaining a light aesthetic. Stone tile floors and concrete ceilings add to the warm, organic look of the space.
Contrasting the light and airy glass lower level, the enclosed concrete volume overhead cradles the private areas of the home – bedrooms, bathrooms and quiet living spaces.
Inside or out, the exterior courtyard becomes a natural focal point for the home, overlooked by its large expanses of glass and hugged by the U shaped design.
Concrete versus glass – a beautiful balance between open and closed; light and dark; public and private.
Ground floor plan:
Second floor plan:
Sections and elevations:
Raimundo Anguita
Photo credit: Oliver Llaneza