Those who have a smaller kitchen know how exhausting it can be to find just the right amount of décor to bring character and texture to the room without shrinking the space simultaneously. Essentially, it's become a task to enhance the room yet have everything you need in it. The key is working with versatile pieces that not only embrace the room, but give you that hint of modern. Keeping that in mind, we bring you a guide on how to do just that! Let us guide you into embracing your small kitchen and finally get the décor you love into the room.
Upscale Charcoal
Darker charcoal cabinets are an excellent addition to a smaller kitchen because they bring contrast right when and where you need it. The idea is to have the dark hue create an edgy feel when the lighter bits brighten the room overall. Add marble bits to enhance the light hues and to bring a unique twist.
Multipurpose Décor
When it comes to small kitchens, you want to have as many multifunctional decorative pieces as possible. Doing so allows you to have multitasking bits in the room that work twice as hard without taking away from the room. Consider having a built-in bench to bring extra seating and storage to the room without taking up floor space.
Dark Lighting
Lighting is everything, but it can be a bit difficult to decide on which light fixtures to use. When in doubt consider using darker light fixtures, doing so will illuminate the room while giving it an elevated touch. The higher the light fixtures are displayed the grander the room will appear and feel.
Modern Touch
Adding a modern touch is a great way of making the room feel expansive and put together, even if that is not necessarily the case. For a modern touch, you want to add a simple appeal to the room in a metallic finish. The metal finish helps the space feel modern by simply changing one thing in the space.
Cute and Colorful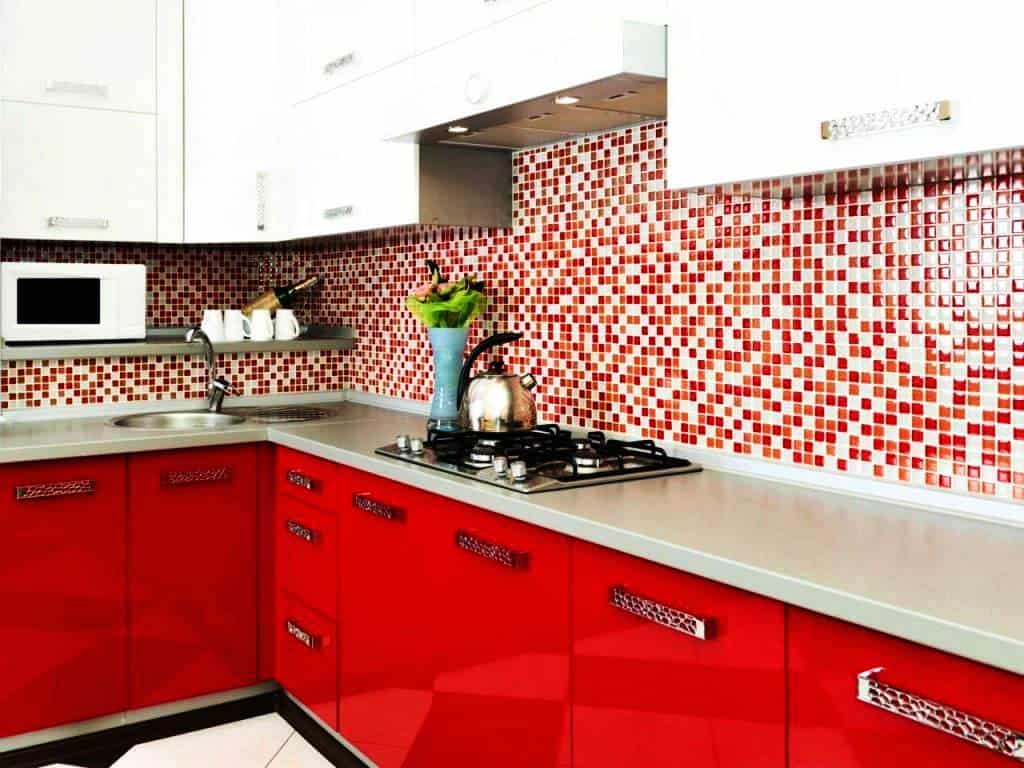 Whether you add color only as part of your cabinetry or you add it to other areas of the space, adding a colorful twist is one of the best ways of enhancing a smaller kitchen. There is something about it that makes the space feel put together yet open and new.
Keep it Open
Let's take a moment and talk about the layout of your small kitchen for a moment- there is nothing that makes a room feel grander than to have an open layout. If you happen to have a more closed off layout, consider changing it a bit to open up the room in a simple manner. In order to open the room, you want to decorate in an outward motion.
Stylish yet Simple
While we are advocates of adding as much as décor as possible, we are also lovers of all things simple and this idea is just that. The idea is to have a cohesive smaller room that has a stylish twist. Whether your stylish twist is intricate seating stools or an accent wall is up to you. However, remember to not overcrowd the room and have a hint of beauty.
Artwork Display
When in doubt consider adding artwork. Artwork is always a good idea when you want to bring beauty and character to a room, particularly a small room. Bring multiple layers of art to make the room look put together regardless of the size.
Breakfast Nook
Even if you have to move a few things around adding a breakfast nook is a great idea. It allows you to have a space designated for eating and sharing with family and friends. Furthermore, there's an element of familiarity in the air when you have a breakfast nook that gets things done.
Open Shelving Cabinets
Open shelving allows you to display what you like and hide what you dislike all while making the room feel larger. There's something about removing your large cabinets that simply make a room feel larger in a sense. Think of it as the ultimate form of having shelving without the bulky element.
How do you decorate your small kitchen? Share with us your ideas below.