These dual purpose pieces help maximize available space in a home and also get twice the use because of functionality. Invest in thoughtful, innovative furniture and design solutions to help a space function better. Whether your family has clutter that needs to be stored or you want to hideaway your desk at the end of the workday, multi-purpose furniture optimizes your space. Try out these solutions in your home!
In a home with limited space or no extra bedroom, why not tuck your desk away in a cabinet? At the end of a busy workday, it is easy for you to simply shut the doors and focus on relaxation. This feature also helps your home stay free of clutter from your workspace.
Did you notice how this is a breakfast nook? If you haven't gotten your day started but you want to get some work done, pull out this desk surface. Whether your space is not large or you love your light-filled kitchen, this feature is awesome. It can also hold your cookbooks as you try out new recipes.
A home with children doesn't have to be cluttered. These functional ottomans store toys and other clutter until it is time to play again. Clean up is easy and these ottomans also make great footrests.
Why invest in a recliner, a couch, and a guest bed when this couch does it all? The back of the couch can be adjusted into a recliner position. In addition, the ottoman is easy to place for relaxation. It also can transition into a bed when guests are in town.
Divide a small room or apartment with a shelving unit that doubles as a desk on the other side. The light therefore functions in two ways, once as a bedroom lamp and once as a desk lamp. Sleep peacefully with your desk out of your line of sight.
On the far right of this room, there is plenty of window seating to enjoy. This seating also provides ample storage for the books you need to hide, the magazines you read by the window, children's toys, and more. Seating and storage solutions like this one are available in numerous shapes and sizes.
Maximize every inch of space with this bed, trundle bed, headboard, and desk combination. At night you flip up the the wooden tray and the headboard turns into just a headboard. With a setup like this, you practically don't need to leave bed to get anything done.
Perhaps on the most popular pieces of dual purpose furniture is the ottoman that serves as a coffee table. If you want a stable ottoman, put decor on a tray.
An easy to move cushion on this bench allows the user to maximize his or her table space on either side. Essentially, this bench has a built-in end table.
Outdoor seating around this fire pit is made better with these storage benches. You can keep extra blankets here in the winter and pool toys inside the bench in summer.
Adding a chalkboard accent wall is an inexpensive update that is easy to add to any home. The accent wall doubles as a board to write messages and decorate your space.
In once piece of furniture, you get outdoor seating, outdoor storage, and even shade for direct sunlight. This chair is perfect for reading while you relax in the sun (without overheating).
A Murphy bed is easy to put away after a night of rest. This bed is conveniently tucked behind the couch and actually blends in with the wall when put away.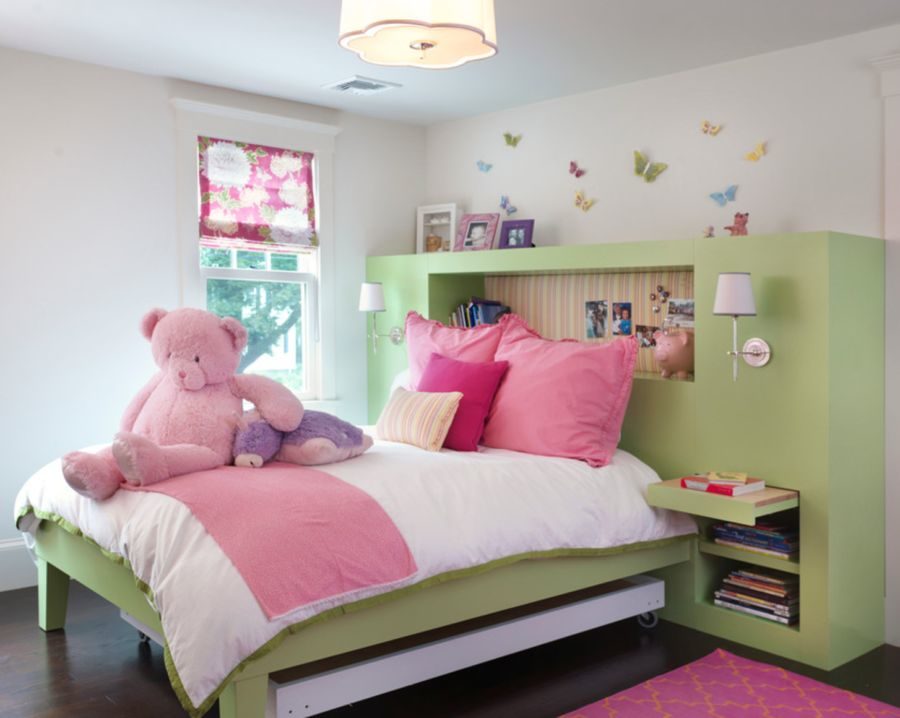 This headboard provides much needed shelving for a child's room. The side tables can be pulled out easily and there is space for books to be tucked away. In addition, there is even a rolling trundle bed underneath the bed frame and headboard.
Adding seating to a kitchen island is common, but this seating is unique because it is lower than the kitchen island. This wooden section is perfect for both seating and serving. In some homes, you could use this for eating meals on a daily basis.
This mature headboard option is much like the solution in the children's bedroom above. The headboard houses reading lights, shelving, and even side tables. Buy one piece of furniture and get seven functions out of it!
At the end of your master bed, add seating and storage for your use. This is the best place in the house to pull on your shoes and lay out extra blankets for cold winter nights.
A Murphy bed is one of the original pieces of multi-use furniture. You flip up the bed during the day and it is easy to use your space as you wish. At the end of the day, pull the bed back down and get back to sleep!
Invest in multiple pieces of furniture that have dual-purposes. This way, your home will fully suit your needs, whether it is with storing toys or adding much needed seating. If space is limited, you can have everything you need in your home or apartment.