Alexander White designed another stylish contemporary apartment in Stockholm. Using his signature style of casual luxury, he turned a small dwelling into a fancy living space full of character.
Grey is dominating the living room. Its monochromatic color scheme takes advantage of rare red and lively green accents. Brown furnishings play nicely with wooden flooring.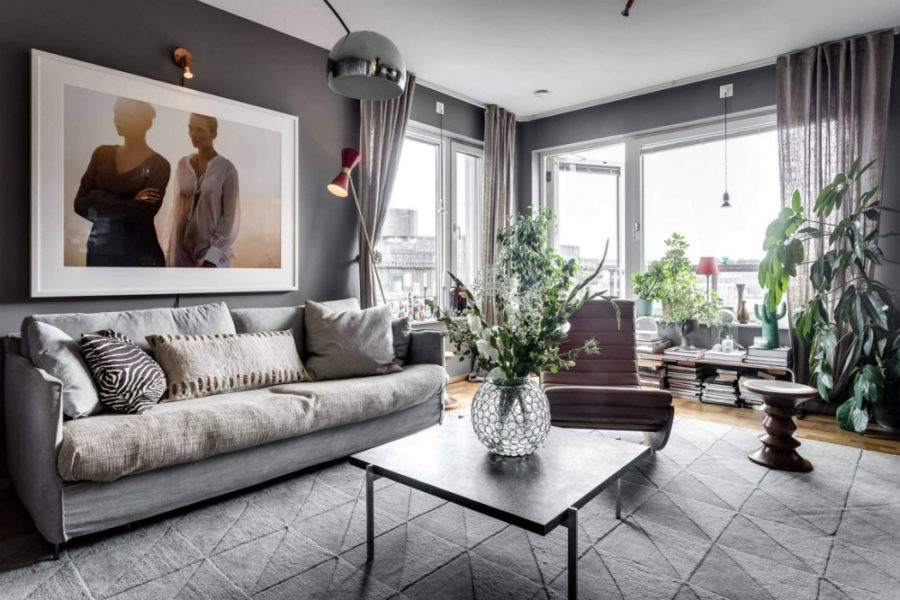 The designer opted to separate the hallway, living area, and kitchen with different color furnishings. Black wooden kitchen cabinets contrast beautifully with grey walls partially covered with marble. In the hallway, a bright purple chest of drawers makes a fashionable statement.
In a separate room, that serves as a dining area, paint color changes to muddy green. Thanks to big windows that allow plenty of light in, it looks great. While the kid's room features walls in the same color, bedroom comes in powdery pink. A chic bright green throw echoes greenery around the dwelling.
Pristine white bathroom in square white tiles is a regular feature of Scandinavian apartments. This one, however, combines a tub and a shower in one big stall, which definitely makes it stand out.
As most apartments in Stockholm, this one has a balcony spacious enough to function as an outdoor terrace. Green potted hedges give it privacy, while a big window allows visual connection between indoors and terrace.
Stylish Contemporary Apartment in Stockholm