Dramatic hallways are always the ones to make a long-lasting impression. It's the first area we see without even stepping into someone's home. A slightly open door will reveal it in all its splendor or total bore. Even though many hallways are small, tight, and dark, you can find an element or two that will turn a plain entryway or corridor into a pleasant transitional area, where your guests or maybe even you would want to linger.
Drama in a Narrow Alley
Long narrow hallways seem to be a rule, especially in apartment housing. And while they don't allow for decent furnishing, they are not as hard to decorate as you may think. Walls, floors, and ceilings have enough surface space to accommodate any depictions and colors you choose.
Color is one of the best ways to add drama to a hallway that has enough space for one person at a time. To accent it, you can keep it to one particular area like a featured wall or ceiling. Hotels often put a lot of effort into designing their dramatic hallways, CitizenM Hotel Glasgow achieved the same level of drama with just the color.
Unusual flooring will also add it (the hallway) some style points. A half-tiled corridor is a great way to separate an entryway from the rest of the corridor.
Chic Foyers
A foyer is always more spacious, hence you can do almost anything with it. Many designers like to place a table right in the center of a foyer, creating a welcoming focal point. You can furnish it much more elaborately than a narrow apartment hallway, too.
If you feel, however, that foyer furniture is a waste of space, we recommend looking into decorative displays. They can be ornamental boulders, potted plants and trees, sculptures, or even a Zen garden.
A foyer bench is a useful piece of furniture, because it makes for a more inviting look. And you can use it to peer outside when the weather is wretched, and you just want some time away from technology.
Brightly-Colored Drama
Brights are great at energizing space. Take advantage of this property, and liven up your hallway. We like the idea of bright artworks and wall art, but there are many more ways to do it.
Your front door may be one of the bright accents in your hallway as can a chest of drawers or a glass chandelier.
Dramatic hallways in bright colors look especially impressive. Remember, though, that the colors you choose will set the tone for your entryway and all immediate rooms, so you want it to reflect the general theme of your interior.
Neutral Ground
Neutral hallways can also look dramatic. The blinding shade of white is equally dramatic to the pitch black, especially if you complete it with a golden brass accent or two.
Black definitely makes space look tighter, but there is more decorative value in it. And with some proper lighting, it can look more designing than claustrophobic.
There is no doubt that marble looks spectacular anywhere, but even with wooden floors, your dark hallway can make quite an impression.
Ceiling Focus
If you don't want to visually rob your hallway from dimension, you can always focus on the ceiling. A simple coat of bright paint will instantly make an impact on the entire design. Same goes for patterned wallpaper.
Backlit ceiling can be a perfect solution for dark corridors. You can choose a certain pattern to complement your hallway as well. Skylights will work equally well in bringing light and drama to it.
There is also an easier way to put focus on the ceiling – a statement chandelier. A dramatic pendant is a sure way to make the hallway appear sophisticated and chic.
Wall Decor
You can always rely on wall decor to bring color and dynamic to the space. It can be a Salvador Dali painting or even just a contemporary art print. They will give you a different look and feel, but the essence of the dynamic that they bring is practically the same.
Patterned wallpaper is a more effort-heavy way to decorate walls. It also fills up the space with visual detail, which isn't always good. If your hallway is small, you may want to keep it to just one wall.
Wall decor doesn't have to be purely decorative. Wall light panels are perfectly ornamental but will also enhance illumination in a corridor or entryway.
Contemporary Style
We like contemporary style, as it's perfectly suitable for modern day living thanks to simplicity and pure style. Though it's not the most dramatic decorating style, you can use decor tricks to stir up some drama.
Think spiral metallic staircases, wall molding, oversized artworks, and unique furnishings. No need to be too ascetic. Contemporary style allows plenty of decorations.
If space allows – and in contemporary architecture it usually does – you may not even hang your framed wall art. Showcase it showroom style – on the floor, leaned against the walls.
Mix of Things
Fusion of styles is always interesting to see. Even if you're determined to stick to one particular aesthetic, you can still throw in a few accents just to make things more interesting. Rustic modern mix seems to be in favor right now, and has more than enough drama to show.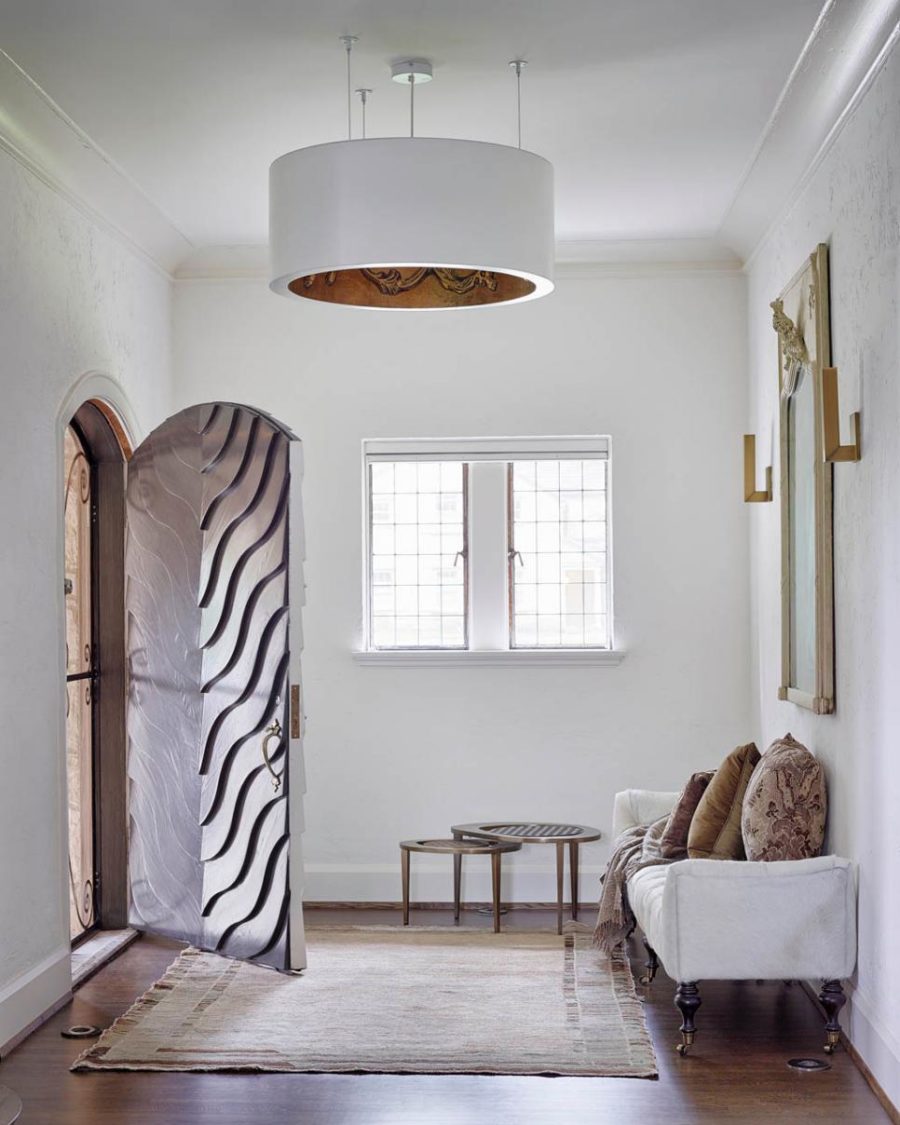 The beauty of this particular aesthetic is that you can repurpose flea market finds and save on big purchases like furniture and lighting.
A mix of traditional molding and untreated wooden floors also has an interesting vibe to it.
Furniture & Accessories for Dramatic Hallways
Even if your entryway is pretty simple, a dose of dramatic furnishings will instantly transform it. Consoles aren't as storage-friendly as dressers, but these come in some spectacular designs that employ natural stones and metal for aesthetic.
A console with a pedestal is an instant eye-catcher, but you have to use it carefully. It will look best in a spacious foyer rather than a small entryway.
Dramatic mirrors are great on their own, but in a pair with a console it can truly look fantastic.
Modern Dramatic Hallways
Modern dramatic hallways may have completely different attributes. While some employ more conventional decorations, others show an unexpected mix of things.
A mid-century modern console is the best when it comes to bringing the modern aesthetic to decor. You may also flirt with Art Deco accents, if you want it to look a bit more chic.
Dramatic hallways can look very different, and do not necessarily require expensive decorations. A simple art print, patterned rug, or reclaimed bench can make a pretty picture filled with chic and drama.