Unique ceiling designs in residential construction may be less impressive than those in commercial buildings, but they, too, can look beautiful and eye-catchy. Modern designs are all about complex structures and unconventional solutions. Swirling wooden slats and angled plaster have largely replaced the coffered and vaulted ceilings with beams. Follow our string of incredible pictures that will tell the tale of just how unusual a ceiling can be.
Wooden Splendor
Wood is as popular material as ever. It is used everywhere from siding to interior architecture and design, so it's not surprising to see wood-clad ceilings in modern homes around the world. They can look more than designing as well. See for yourself.
Fins and beams are truly gorgeous albeit simple at times. There are a lot of ways to use these wooden elements for a decorative ceiling design.
Wood can be quite ornamental on its own, though. If you find a beautifully textured variety, you may not need to start the hassle arranging fins and beams.
High Contrast
Contrasting ceilings are a huge trend in design. They may just be painted or made of unconventional materials like charred wood. There is a great chance to find such designs in converted buildings. You'll also find many great ideas on creating such designs.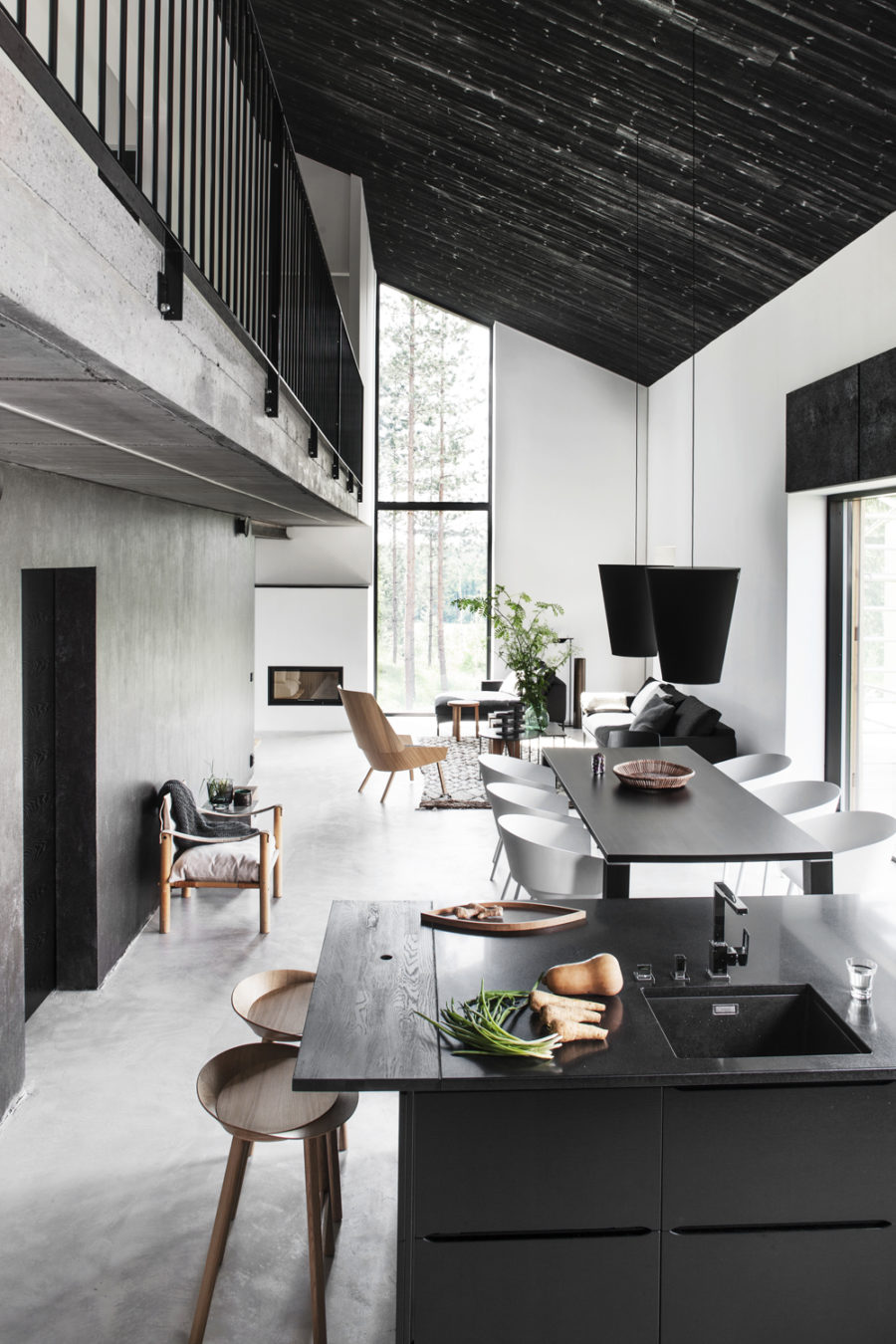 While commercial interiors use various unconventional materials for ceilings, the same could be done in converted houses.
High ceilings allow for additional architectural elements to be added thanks to their double height. Think origami cover or chunky decorative molding.
Complicated Unique Ceiling Designs
Complex ceiling designs are also the attributes of public buildings. Even the most contemporary designs enjoy an unusual twist up above. If you're tired of same old solutions, taking your creativity to the ceiling surface may be a way to go.
Modern resorts are a great source of inspiration for those seeking ideas for unique ceiling designs for their home. Restaurants are also ahead on across-the-board interior design.
HouseWING by AnLstudio shows a way to build in lighting into your ceiling. It goes way beyond chandeliers and pendants, you know.
Bright Ideas
Putting a focus on a ceiling isn't difficult, if you have a brush and a bucket of paint. Just choose the color you will love for a long-long time. You may also paint it partially, using templates and patterns. And if you want something more elaborate, there's always wallpaper.
Complex indented ceilings may sound traditional, but they can actually look very in with the times. Certain decor and color can make even classic molding look fresh and contemporary.
Modern construction allows all kinds of mock molding that cuts down on building costs and time.
Sculpted Surfaces
Speaking of sculpted surfaces, ceilings allow for very different elements in terms of shape and scale. Want a small ring around a chandelier? It will look as impressive as the coffered ceiling.
Textured tiles are an easier way to create a sculpted ceiling surface. They play well with various styles, including English cottage and rustic modern.
These can be easily combined with all kinds of molding. And here you can be as traditional or modern as you want to be.
Ceiling Lights
There is a great middle ground to be found between conventional ceiling lights like pendants and built-in lighting. It is when the lights are a part of the actual ceiling design. They may also be the accents that amplify the form or certain elements of the ceiling.
In a house of Casbah Cove, the Moroccan style dictates the very architecture of the interiors. And while thematic pendants decorate the ceiling, it also features deep star-shaped skylights.
In the Televisor office by WWAA, lamps are contrasting the puzzle pieces of ceiling design. Oddly-shaped, they are definitely more than ambient lighting, but also far from conventional.
Shapely Accents
Shapely accents and design elements are what what many modern unique ceiling designs are made of. Party Space Design added wooden cog-shaped hangings to their Villa De Bear project. And AHL architects associates went for wooden ventilation shafts.
3D wall coverings like panels and tiles seem like a perfect addition to any contemporary ceiling, if you don't want to invest too much money into custom design.
You may as well achieve the same effect as in SHoP Architects's Mulberry House with some very stylish 3D tiles available on the market today.
Raw Results
Wood isn't the only raw material to achieve the modern rustic glamour. Brick and brick veneers make for a perfect textured surface that will bring the right contrast to the scene.
In the last example, Joey Ho Design decided to take advantage of the raw industrial ceiling by only partially hiding it with a hanging cover.
Unique ceiling designs are the new unusual floors. They instantly make the most minimal space look special and cool. Even the low ceilings can benefit from a splash of ultramarine or golden leaf.