New York City is the place to be for creative, contemporary loft interiors, and lucky for NYC this beautiful apartment by Axis Mundi happens to be on Manhattan's Bond Street. This eclectic living space features an intriguing mix of modernism and luxury. Earthy textured wall tiles and contemporary art are seen between the classical Romanesque columns, summing up this interior's assorted style. Window walls invite light and the lively city skyline inside, by day and night.

Contemporary style furnishings are lovely to look at, yet livable – the perfect combination to achieve fashion and function.


A quiet den at the rear features a wrap-around couch which follows the wall of windows, blurring the boundary between indoors and out. Kick back and let time slip away from you, as you watch the world rush by outside. Plush pillows cushion every curve, and a thick, luxurious carpet pampers your toes. The windows feature pull-up charcoal shades, offering views or privacy on demand.


We love the combination of warm wood floors and these concrete block walls, and their organic appeal offset by ultra-modern, flamboyant furnishings and art.


The variety of materials within this open concept living space make for interesting interiors. From the aforementioned glass, wood and concrete, to the stainless steel kitchen, and the open yet strangely defined dining area, it's certainly an eyeful.


We love the dining area set up – a long wood table design, featuring a rich, deep hue and smooth finish, accompanied by pairs of benches on either side and a leather-upholstered dining chair at each far end. The space is topped by a delicious grouping of glass globes, providing decadent dropped display of illumination. Vibrant artwork adorns the crisp, white walls. Bon appetit!


Overlooking the dining area, the kitchen dishes up a clean, contemporary aesthetic. The stainless steel backsplash, appliances and lower cabinets anchor the space, while two-toned uppers bring added drama overhead.


Behind the kitchen's concrete wall, a recess is occupied by open coat storage – out of the way yet easily at hand.


And at last, in the private depths of this dwelling – the bathroom… The designers upped the dose of drama here, with a gently rounded, freestanding bathtub set against a backdrop of cocoa-colored tiled wrapping the space.


The second of four bathrooms features a frameless glass shower which offers some separation, but maintains a sense of openness and space.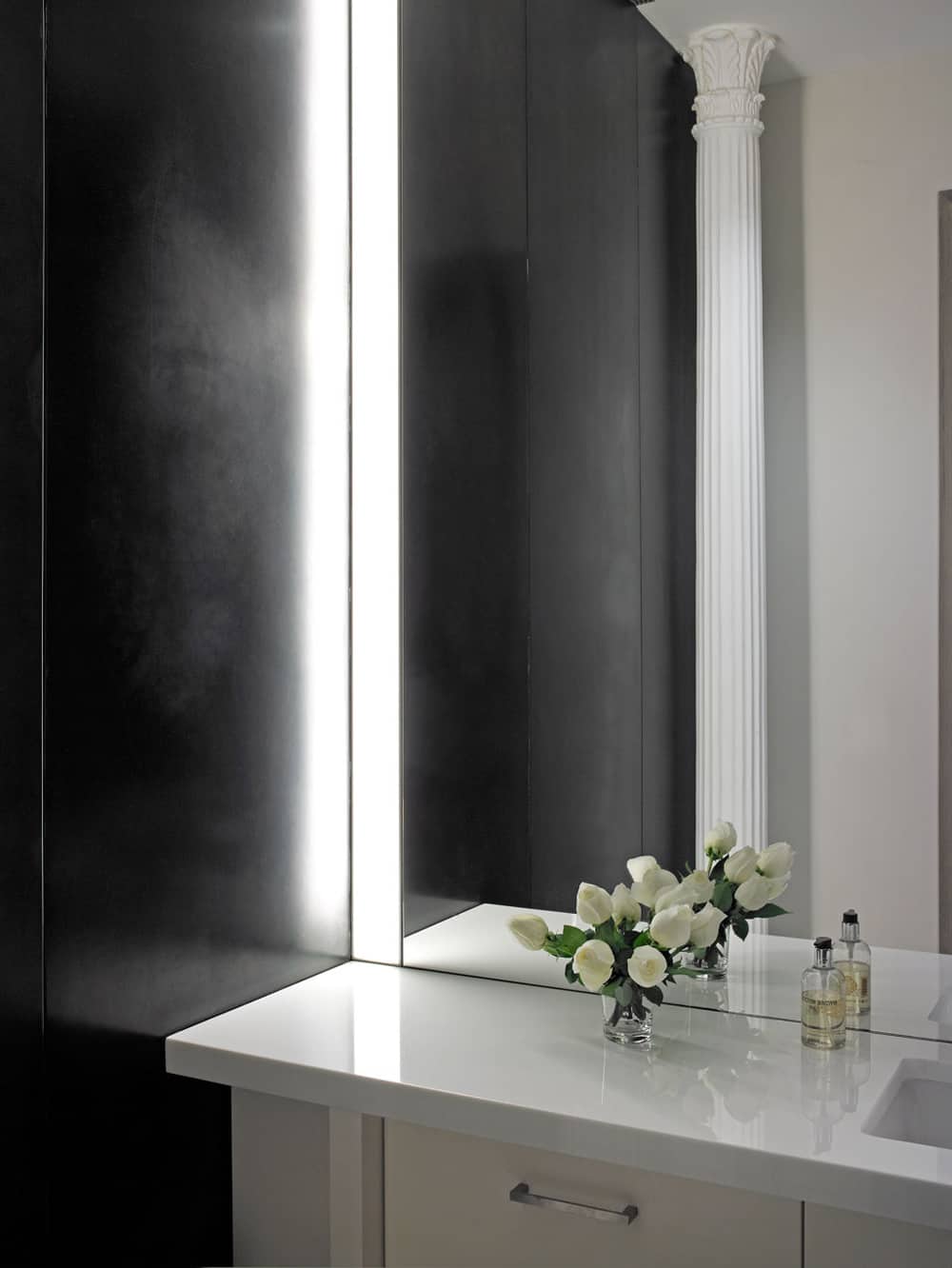 Mirror, mirror on the wall… Elegant integrated lighting beside the vanity is a modern, yet functional feature.
Floor plan:


Axis Mundi
via Home Adore
photo credit: Mark Roskams