We love the organic architecture and the natural surroundings of this modern mews house by London-based Andy Martin Architect. A trio of arched bronze French doors lead into this graceful courtyard home, where quality surpasses quantity at every turn. Though small, the house boasts beautiful details, from its classical English garden courtyard through the vaulted conservatory and into its elegant, garden-inspired interiors. This luxury house is worth a tour, check it out!


The entrance foyer features a hand-cut tile mosaic floor – an elaborate contrast against the clean white walls.


These fabulous, insect-adorned glass doors carry the garden theme inside without being overtly obvious.


A floating staircase separates the two homes inside the building.


On one side of the expansive glazing, the classical gardens feature perfectly manicured trees and shrubs, that become leafy, living sculptures – a fresh focal point to the home.


On the other side of the glass, three arching skylights overhead follow the lines of the doors and create a bright, open interior.


This sunny spot is a beautiful place to sit and enjoy the green garden view.


Come on in, where living areas boast a warm, welcoming aesthetic, coupled with contemporary furnishings, modern art and high-end flair.


The sunroom leads through three doorways and into a modern sitting room. On the opposite wall, the glass bug doors lead out to the front foyer.


The furnishings are an eclectic collection of comfortable, contemporary, and edgy.


The tall ceilings and white palette enhance the home's awesome sense of space. A lounger, sofa and a couple of tangerine armchairs focus around a floor-to-ceiling built-in bookcase – a great reading nook, no artificial lighting necessary!


The long and lean galley kitchen is lightened up with glazed cabinets and countertops on either side, pointing toward a window on the back wall.


The bathroom may be small, but it drips with luxurious touches like the marble walls and fixtures. The grey and white veined marble is sumptuous, yet natural. The soaker tub is a sculptural feature that will attract you as much for its spa-like lure as for its striking silhouette. The wood floors warm up this otherwise cool space.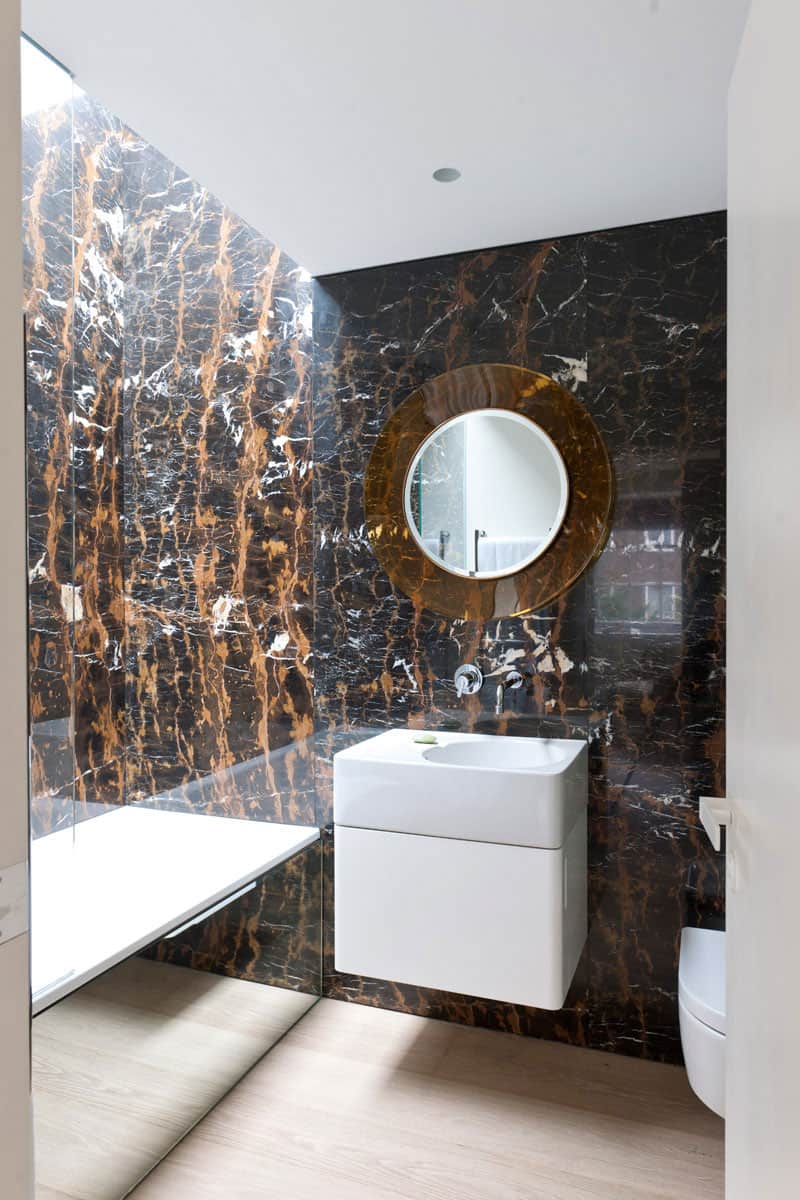 This powder room is the absolute opposite in terms of look and feel. The dark brown and black marble delivers a hefty dose of drama. The only thing thats the same between the baths is their sense of luxury.


Andy Martin Architect
via Digs Digs