So, your bathroom is feeling a bit like a drab, maybe it's in need of a little facelift? That is where a remodel will come in handy. However, home remodeling can be expensive and let's face it, not all of us have thousands of dollars to spend. But, contrary to other spaces in the home, the bathroom is quite easy to significantly upgrade without much décor or money needed. With that being said, we have put together a guide with remodeling ideas to help you create the bathroom of your dreams without the price point.
White & Modern
Shades of white have become quite popular since 2017, and they show absolutely no sign of slowing down any time soon. Subsequently, white is an excellent hue for the bathroom, especially when it is paired with a modern twist. Crisp lines, white hues, and a few organic bits that make sense of the room is all you need.
Minimal Spa Feel
Every now and then luxury does not need to be daring and in your face. Many times, all it really needs is a minimal feel. For this upgrade, you want to keep your bathroom open and airy with simple hints of marble, greenery and a sleek chandelier. Having these simple items allows the room to have that fresh feel that is almost spa-like.
Daring Walls
If you simply want to make a statement without so much work around it, add a wallpaper. A daring wallpaper with a pattern will make a big statement on their own. The different hues in your wallpaper will make the room feel grand and fresh while still having a selective color palette blended into one item. In this bathroom, the small touches will make the biggest statement.
Brass Accent
You wouldn't believe how expanding, charismatic, and enchanting the simple use of brass can make. Metal finishes are not only trendy, but they are bright and fun all at once. Furthermore, they never go out of style one of the greatest pieces of advice- choose items that are always on trend, so you don't have to upgrade your décor often.
Change Your Tub
While this might be one of the most expensive change's you can make, changing your tub can make a huge difference in the room. Whether you change your tub to a stand-alone shower or a freestanding tub you want the item you select to make a big difference in the room.
Different Tiling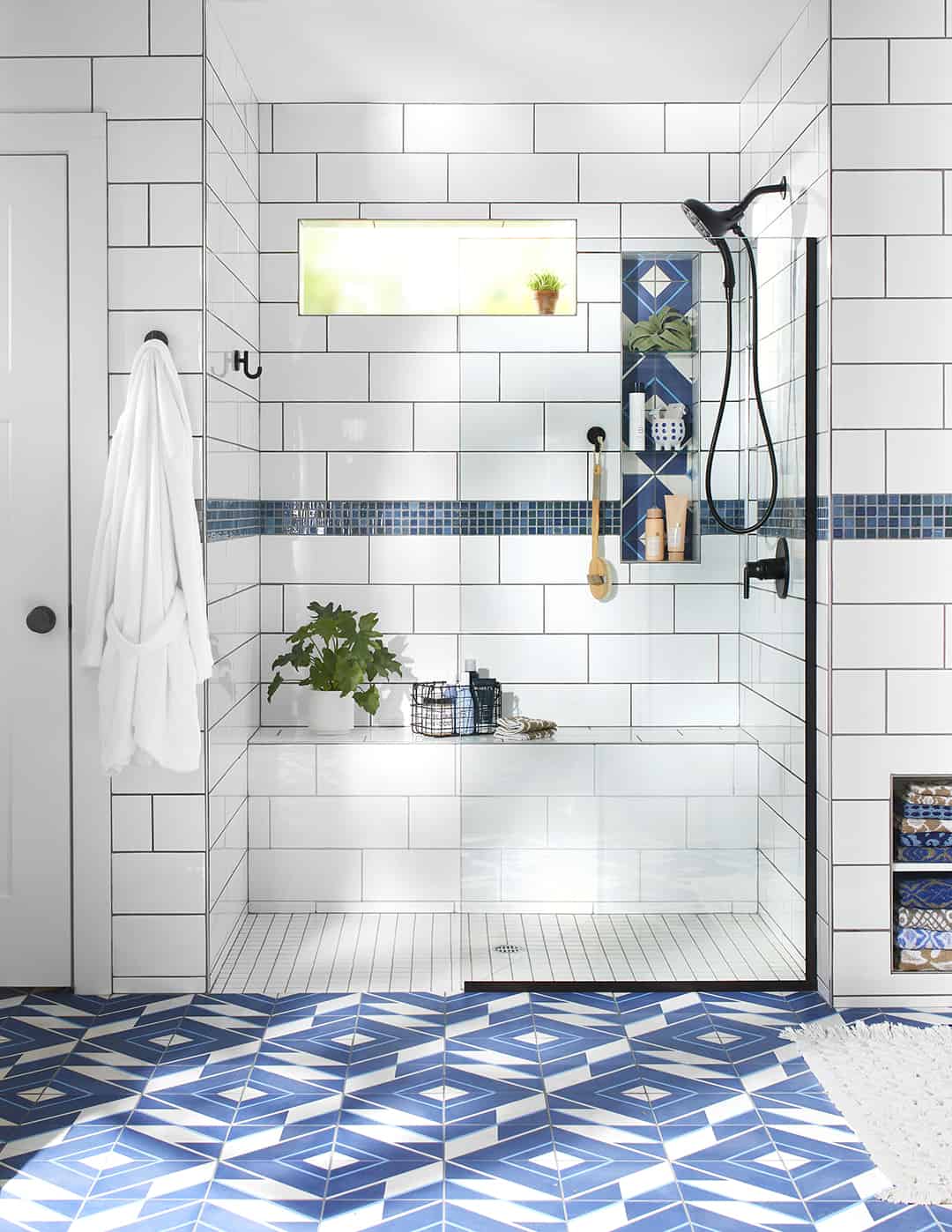 Whether you enjoy one type of tiling or multiple types of tiling, for this type of bathroom upgrade you want to add a plethora of different tiles. In order to do just that you want to remain in the same color palette. Doing so will ensure you don't have an overall overwhelming feeling in the room.
Blond Wood
If you are seeking a peaceful bathroom with just the right amount of spice, adding blond wood is the way to go. Blonde wood has this natural feel that is quite calming and enchanting while still giving the room a dose of personality. The idea is to bring something new while still being put together and cohesive.
Pendant Lighting
Whom would we be if we didn't dedicate a section of our guide to light fixtures? Pendant lighting is quite the item to have, not only do they upgrade a room in an overall manner, but they add texture without the need for multiple items. You want to take into consideration how much lighting you want and need, the smaller the bathroom the brighter the room should feel, therefore; your light fixture should be just as grand.
Sleek and Sexy
Slate tiles, tankless toilets, and a modern tub can make a huge of a difference in a bathroom. The simplest use of these elements brings a sleek and sexy approach. Keep your décor simple yet edgy for that beautiful display that makes the most sense to the room.
Shades of Blue
When it comes to hues that work in any room, blue is the ultimate shade. This is mainly due to how diverse the shade itself can be, especially when it is paired with multiple different hues- even bold ones. Add neutrals for a beautiful contrast that makes sense to the room with little to no effort needed.
Is your bathroom due for an upgrade? Share with us how you will do such a project in the comments below.