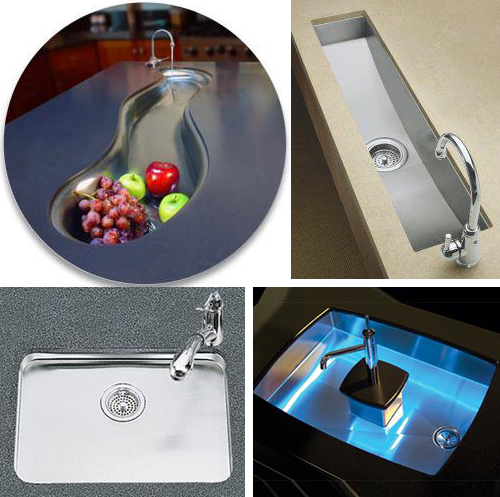 The new trend is emerging – kitchen is becoming an entertainment hub within the home. The newest designs in prep sinks and bar sinks help to achieve this. The prep sinks and bar sinks were always present. However, as kitchen trends are changing, they are finding a new purpose – these sinks are now also gathering places for guests. They are becoming a focal point in the kitchen.
You now find them in some rather untraditional places, on an island or peninsula. The prime location and versatile functionality allow these sinks to also serve as an entertainment hot spot. Drinks and appetizers are easily served from these sinks.
The below prep and bar sinks have been chosen for their great design – they are as beautiful as they are functional. We aren't talking about the common small round and square bar sinks. These are some unusualy shaped sinks of innovative designs and with new purposes. Fill it with ice, cold wine, beer, fresh fruits, or even flowers to attract your guests. The Mystic by Elkay is a perfect example of a multi-purpose sink.


Elkay Mystic
The Mystic undermount sink (shown above) was created with entertainment in mind. This sink is a perfect self-serve area for party guests. This sink would fit best in a long and narrow kitchen island. It is available in two sizes: MYSTIC2812C, 28″ x 14″ $2,004.60 and MYSTIC5014, 50″ x 14″ $1,895.40.
It is a great focal point for interactive entertaining as well as a versatile prep area in the kitchen. It is convenient storage for cold drinks and ice. It also creates a unique design statement with water running down its wavy shape.

Elkay Island
The Elkay Island undermount sink (ISLAND3828), shown below, should be installed on the custom oversized island or peninsula. Make sure to provide access to the sink from at least three sides to take advantage of the unique 360 degree swivel faucet. It measures 38″ x 28″ and is priced at $2,368.30. The centralized faucet location is unlike any other sink available. This sink is a must have for the busy kitchen.

Kohler Trough sink
We have established that installing a prep sink improves your efficiency and serves as an entertainment sink as well. It is a "great place to chill a bottle of wine". Of course, it has got to be very accessible, so location is everything. Kohler offers an entire range of bar sinks and prep sinks that would also be great for entertainment purposes. Their collection is available in many sizes and several interesting shapes. Here's an interesting idea from Kohler that we really appreciate; to install a narrow but long prep sink with faucets at each end. The dueling faucets double the functionality and provide even more usable work space.


As it says on Kohler's website, "The sink creates a centerpiece for the kitchen," says Rhys Lewis, Director of Food & Beverage at The American Club. "It allows anyone, whether you're enjoying a glass of wine, or whether you're involved in food prep, to have access to the sink." "The dual faucets allow two people to use the sink at the same time from either side of the island, and the narrow sink can double as a place to chill champagne and shrimp cocktails." Depending on your island size you can go with the gratuitous 60-inch or 22-inch sink with two faucets or one.
This trough sink measures 60″ x 8-1/4″. It is available for $1153.80. The basin depth is 5-15/16″.

This image shows the K-3157 installed close to the countertop edge, filled in with cold drinks and lemons. This represents exactly what we are talking about. Other options would be installing the Undertone sink on the higher counter or on the side counter. There are many ways that you can install it to gain the maximum convenience and create the most welcoming enviroment. The 25″ wire rack and wire storage basket are included with all Undertone narrow models.
There are also 43″, 33″ and 22″ sinks in the same series:
Kohler K-3156 Undertone 43″ trough kitchen sink, 43″ x 8-1/4″. $917.
Kohler K-3155 Undertone 33″ trough kitchen sink, 33″ x 8-1/4″. $801.
Kohler K-3154 Undertone 22″ trough kitchen sink, 22″ x 8-1/4″. $624. Basin depth: 4-7/8″.
Click here for more on Kohler contemporary kitchen sinks

Kohler Tray sink
Kohler K-3340 Undertone undercounter prep tray kitchen sink
This is another undercounter installation prep sink. It is ideal for keeping your work close at hand. Rinsing vegetables is a breeze with the generous surface area. It measures 21-1/4″ x 15-3/4″ and is only 2″ deep. The list price starts at $378.90. This sink also offers a less expensive way to create an serving area on a main island. It is a great serving sink for cold appetizers.

Kohler Pro TaskSink
Kohler K-3319 PRO TaskSink 15″ self-rimming sink
This sink is designed to be installed by the stove. It would be great for rinsing pasta. You could easily fill pots or drain water right next to the sink. This sink offers a compromise between a pot filler and a prep sink. Its petite size would easily fit in next to the stove for more efficient cooking. List price: $503.35 and up.
Franke Beach sink


Franke Beach BBX-160 Sink
This interesting sink from Franke presents a different idea about the entertainment sinks. The sculptural contours accomodate a staging area for wet foods. The organic shape supports a bowl for holding foods as you work with them. This keeps counters clean.

The sink is 18 Gauge stainless and requires a 27″ minimum cabinet. The main bowl is 6 3/8 " deep and the small one is only 3 1/8″ deep. The overall dimensions are 23 7/16″ x 18 1/8″.
Franke Titanium sink


Franke Titanium PRM-110-7 Sink
This model would definetely be a great choice for smaller spaces with a luxury appeal. This Titanium bar sink of an oval shape comes in three high quality finishes: Anthracite, Bronze and Gold. These unique finishes are sure to stand out in your kitchen. The sink measures 15″ x 7 7/8″, 5 1/5″ deep. This sink requires a minimum cabinet width of 11″.
Bates and Bates Sink


MBR 15 Hammertone Sink This last bar sink is for more traditional kitchens. It is finished in a Weathered Copper patina. The overall width is 16-3/4″ Dia. x 6-1/2″ deep. It is a subtle way to add character to your wet bar. The bronze finish is easily coordinated with other fixtures in the kitchen. The simple shape and hammered texture create an interesting accent piece for your bar.