So many ideas such little time seems to always be the first thought that may come to home renovations and/or home upgrades. Let's face it, home renovations always seem to be scary and time consuming. The truth of the matter is there are so many little things we can actually do to spruce up the look of our home without spending much money or time.
Essentially, your home is an extension of you and your personality. Therefore, upgrading the look of it will make you feel more connected and at peace with your living space. Little changes here and there can make all the difference. The following easy upgrades can be done do this weekend, giving your home the revamp it desperately needs.
Remove the Clutter
Over time we all tend to collect items we don't necessarily need just items we essentially want or have become used to. Removing the clutter from your home is an excellent way to really see the space you have to work with.
Many times, we fill the home up with so many items with end up with clutter everywhere and let's not forget that makes the home appear smaller than what it is. Keep in mind when in doubt, throw it out.
Rearrange Your Furniture
Believe it or not, the way your furniture is set up can make a huge difference in the appearance of your home. One easy way to spruce the appearance of your home is by rearranging the furniture you currently have. This will give the home an instant facelift.
Add Light
If you have a smaller apartment light is your best asset. The reason being light will make the home appear larger. It essentially opens up darker areas in the home. Adding a lamp or two may be the only upgrade your home needs to appear instantly larger and even more modern.
Touch up Your Walls
After you have painted your home the last thing you may want to do is paint it again. However, over time your walls will appear less vibrant and may even look dingy. In order to fix that and give your home, an instant upgrade. Take left over paint and touch up those areas you might have missed the first time or cover any lingering blemishes that are noticeable.
Add Color
Adding color to any area of your home can make a huge difference. It is also an excellent way to give any area of your home an upgrade without needing to do much. Consider painting an old cabinet a bold color, swopping out old cabinet handles for bright colored ones or changing the upholstery of old well- loved accent chairs for a more vibrant color.
Art
If an area in your home is looking dull or even boring adding pieces of art is the way to go. Art pieces can really bring out the beauty in your décor. It also helps bring character and individuality to your home. Consider adding pieces of art that are rich in vibrant colors. If you already have art pieces in your home that you enjoy consider, painting the frames they are in. Choose metallic tones such as rose gold to bring out and balance the vibrant colors you have just added to your home.
Upgrade Your Windows
Blinds are boring! If you are looking to upgrade the look of your home in a quick and easy manner upgrading your blinds is the way to go. Consider changing your blinds to Roman shades not only are they more customizable as they allow you to choose from numerous different colors and patterns. But, you can also mix and match different tones in different areas of your home.
Make a Statement
Choose an area in your home and make it your focal point. Choose a large item such as a large mirror or painting or even old vintage suitcases and redirect your entire décor around this piece. Doing so will give your home an entire new design perspective. It will also create a focal point for your home, which allows you to go simple in certain areas as there will already be a place for you to focus on.
Add Shelves
Empty walls can actually be doing your home a disservice. If you have any empty walls in your home, consider adding shelves. Shelves can give you storage on the walls where you can place candles, books and other nick knack items that you may enjoy. They also work wonderfully to bring another layer of beauty to your décor.
Adding Greenery Is Always a Good Idea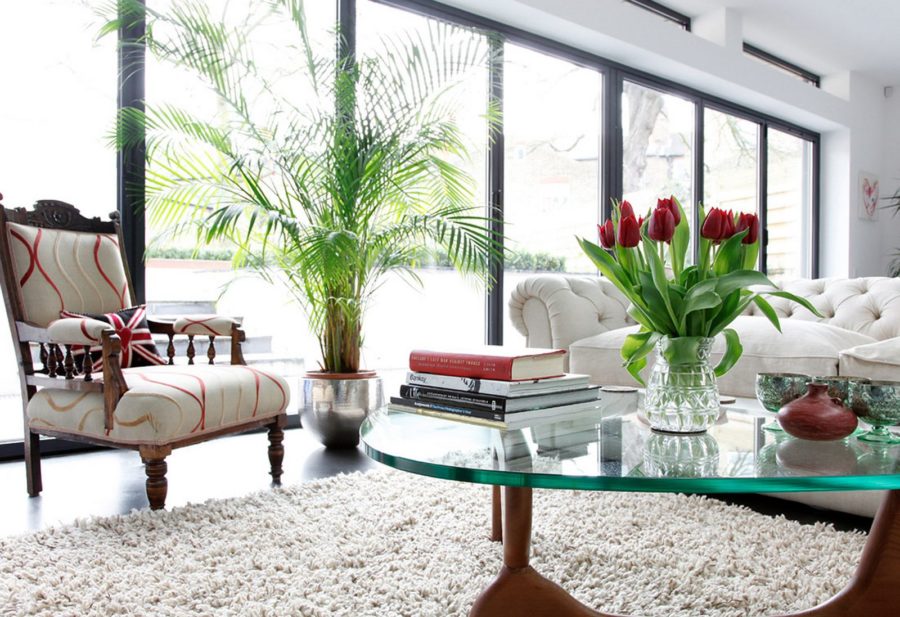 Create the perfect environment inside your home by adding greenery. Incorporating bits of nature into your home décor will give you a fresh look and feel to the décor you currently. Consider adding a variation of different home plants all around your home for added freshness to your home.
Although giving your home a much-needed upgrade may seem time consuming and even a bit stressful following these tips will help you make changes that will make your home feel revamped. The great part about these tips is you can make these changes right over the weekend.