Living in an apartment might seem a bit daunting due to not being able to decorate as you would like. Let's face it, not all apartment places allow you to remodel frequently, plus why would you want to? The space isn't exactly yours. However, with that being said, they're different things you can do to make your apartment space feel as unique to you as possible. Let's start with the kitchen, here are alluring apartment kitchens that instantly make space feel as modern and unique to you as possible.
Cabinet Pulls
What many individuals tend to forget is that cabinet pulls can be changed. You can simultaneously change every single pull you have in your cabinets and instantly give them a refreshed vibe. It will be as if you completely changed the aesthetic of the room without having to change much of anything. Consider using pulls with texture or appeal for the ultimate contrast. Whether you bring in leather ones or even ones created out of crystal. Keep it light and chic for the perfect contrast.
Use Contrast Paper
Sometimes a simple change of counters could be just what the room needs for a personalized approach. Though changing your counters can be pricey, and sometimes not exactly the right move for your home, sometimes the kitchen needs something new. You don't need to change your entire counter to create that appealing aesthetic, instead, you can use contrasting paper on top of it and change the look that way. With just a touch of patience, you can create a completely new look any time you decide to do so.
Repurpose a Cabinet
If you happen to have a filing cabinet just hanging out around your home and you have no idea what to do with it, it's time to repurpose it and bring it to your kitchen. The idea is to take your filing cabinet, paint it a unique color and allow it to become sort of a moving cart. Or you can take it a step further and make it into your new kitchen island. Ether of these ideas will brighten the room and give an unused item a new purpose.
Add a Lot of Greenery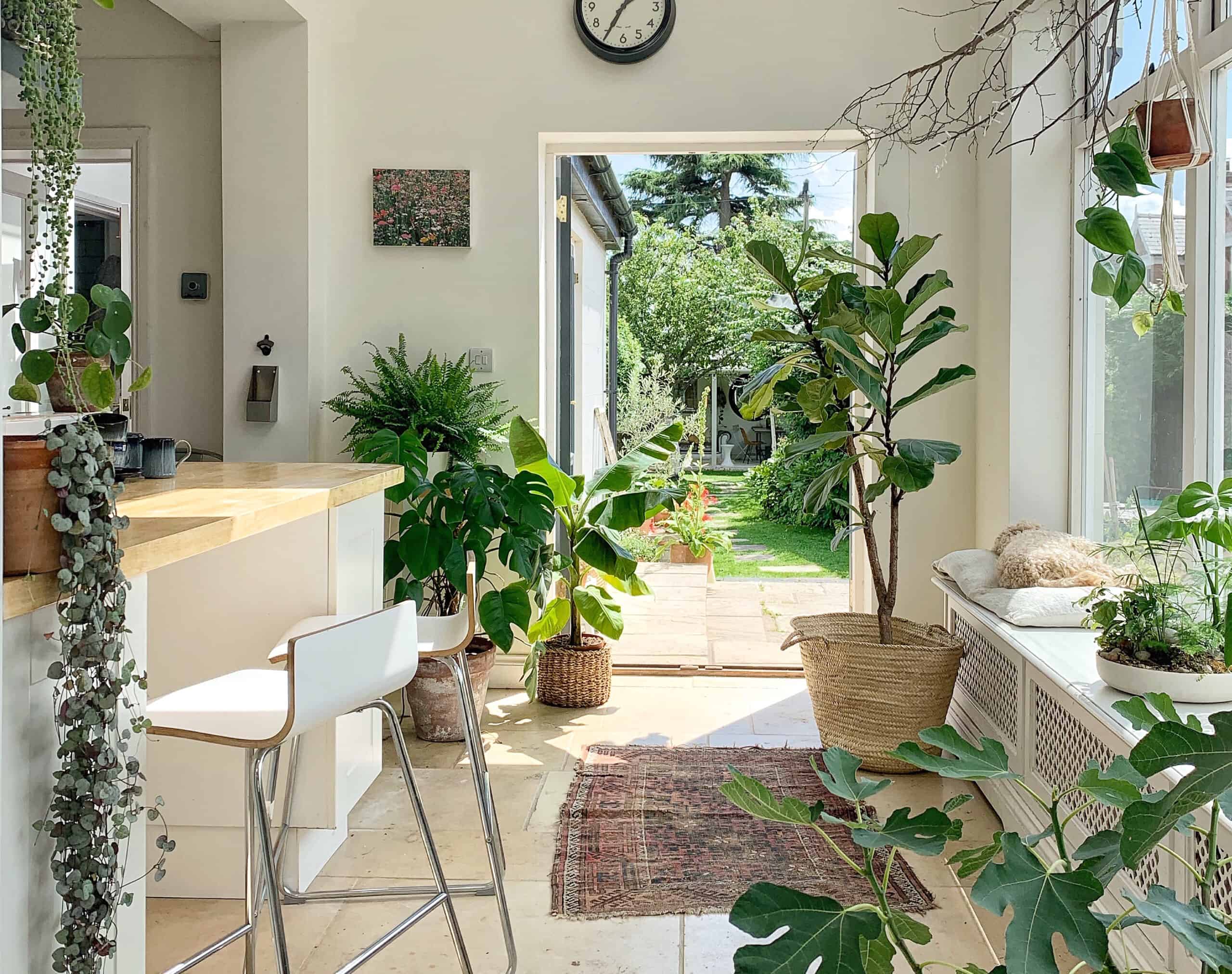 Those who love plants know they do something magical to a room. They add new life, freshness and filter the air all while looking quite appealing to the eye. There's something about them that makes you want to take care of the space overall. It's almost as if adding green bits will instantly revitalize you and the room. Sprinkle plants of multiple different sizes and allow them to be the focus of the room. It will be as if they came to life in a simple yet chicest manner.
Vintage Accessories
Sometimes all a room needs is a hint of vintage to have a little something extra. You can almost say a touch of vintage will take the room to the next level easily and effortlessly. Think of it as the perfect way to add just a dash of character without going overboard or overwhelming the room. Sprinkle a vintage caddy over here, a tea kettle over there and watch the room instantly take character.
Statement Lighting
Nothing and we mean nothing will make a bold statement quite like having a statement pendant. Whether you bring in a chandelier, a statement pendant or both, you want to ensure the light fixture used will make the room feel larger than what it is. Therefore, you want to place it in the center of your kitchen or right above your kitchen island. Pair it with other smaller lights and the room will be brighter and larger instantly. It's all about making the room feel new and fresh every time you walk into it.
Backsplash
When in doubt, bring in a backsplash, a backsplash instantly gives a room a modern twist. Though it isn't your home, you can create a chic one with tiles, wallpaper or even both. The idea is to go as bold as possible without creating an overbearing aesthetic that takes away from the room in general. Work with bold colors and patterns that emphasize your personality. It's all about making your personality come life, without taking away from the square footage of the room.
Paint a Chalkboard Wall
If you're able to paint a wall in your apartment, take full advantage and use chalkboard paint. Chalkboard paint will not only create a multifunctional space, but it will make the room feel modern and fresh. Having a chalkboard wall allows you to write lists, create secret messages to your loved ones and even draw an image or two. It's one of the best ways to embrace a smaller space while giving you a clear vision of personality.
Use a Tray
If you have a smaller kitchen, then you know getting creative is key, you truly want to make the most out of the square footage you have. To display all of your necessities you truly need to focus on creative ways that will enable you to do so. One of those ways being trays. Trays are great due to coming in multiple different sizes, textures, and appearances. With that being said, focus on bring in multiple trays that will hold your items neatly while still displaying them. It's all about keeping the kitchen aesthetically pleasing while still being immaculate and charming.
Add Artwork
What better way to bring your ideas, and thoughts directly to your kitchen than to work in art pieces? Adding stark pieces of artwork can instantly elevate a room. It's almost as if the room will instantly come to life with the ultimate hint of personality. Include art pieces that have sentimental value and those that are loaded with color for a bold appeal.
Do you live in an apartment? If so, share with us how you would decorate your kitchen apartment.