Yellow Goat Studios out of Australia produces some of the most magnificent – and unusual – lighting on the planet, bar none. It was difficult to just pick 20 pieces! Using so many different materials, and so many different styles, there's bound to be a special piece in their collection for just about everyone. And these pieces below are a mere sample of what is available so please be sure to visit their site (link at the bottom of the page) for the full range. From classic designs to art glass installations, these creative lights will delight and amaze you. Like Planet Earth, shown above. Inspired by a passionate plea to treat earth with the respect she deserves – and needs to sustain life — this chandelier is awe inspiring. You need a loft or a very large house but wouldn't it be the focal point and the talk of every party you gave? There are hundreds of art panels, all illuminated. You could look at this chandelier day in and day out and always find something new. And a bonus – you wouldn't have to worry about your furniture… no one will ever look down with Planet Earth suspended from the ceiling!

"The Girls" are just so campy, I can't stand it. Aren't they to die for? Masked marauders, Mardi Gras revelers, mysterious mavens. Made from full-size manequins, their masks are black gauze — there, but not there. Using compact fluoro lighting and an opal diffuser keeps the lighting soft. A really unique idea – and a work of art. At the same time, it's a light. A perfect marriage of form, function — and funky.


"Birdy" is a classic, if oversize, pendant design that is composed of just that, birds. The interlocking polypropylene pieces are individual birds, and they click into place to form this slightly retro looking light. Two feet tall, and three feet, 3 inches in diameter, Birdy would be equally at home in a child's room or in the kitchen.


They call this chandelier "Angels and Demons" and the spider web-like creation seems suspended in the air. Made with colored glass and crystal, it's illuminated by a down light from the ceiling plate. Isn't it just an incredible piece? Such an interesting combination of elements and design. I can imagine this in a white room – or against almost any color wall for that matter. Available in several colors and combinations, this goth inspired chandelier will make a statement no matter which room you choose to brighten.


It's a shower of radiant colors in this chandelier – acrylic pieces raining down from heaven and appropriately named, "As it is in Heaven". Reflections on the ceiling create the illusion of an underwater oasis, juxtaposed with colorful acrylic pennies streaming down from the sky. This fixture would be marvelous in high foyer, reflecting color (and fun) on the ceiling and the floor. Part sculpture, part light fixture, all style and substance. This is one of the most elegant offerings from Yellow Goat – and that's a high standard to meet.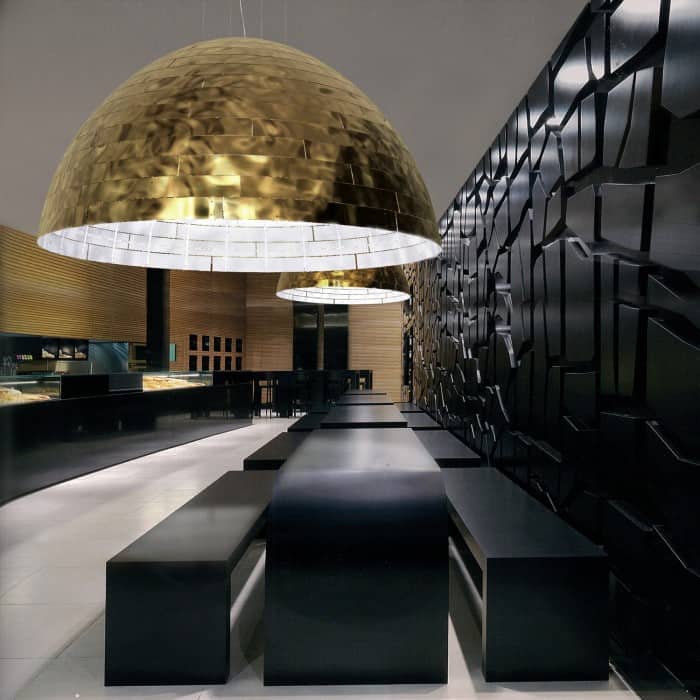 Over three feet tall and almost six feet in diameter, "Big Dome" is an impressively sized piece. (But not quite big enough to put a town 'Under the Dome' like Stephen King did!) This piece is made using one of the world's oldest boat-building techniques. But instead of stretching animal skin over frames, Yellow Goat has used high tech aluminum skin with brass finish. And while this chandelier could work in almost any part of the house, wouldn't it look particularly stunning in an industrial-style kitchen?


Now, this is a fresh take on a houseplant. "Hanging Basket" is created from copper and acrylic and of course, an unusual light source. Hanging stems support brass leaves and the whole thing explodes like nature's fireworks. Frosted bi-pin lights emerge from the ends of curved tubes for an integrated look. A stunning display of metal, nature and light – wouldn't this be an incredible fixture over your dining room table?


Named after those colorful birds with iridescent tails, "Peacocks" certainly has a lot to strut about. The design team has perfectly captured the look of those prized tail feathers – in a charming red. They hang effortlessly from a central mirror and are illuminated by a CFL globe. Upscale and at the same time understated, Peacocks will lend elegance to any room where you choose to display this riveting light. An eye-catching contemporary design, this fixture lives up to its name.


The triangular pieces of these fixtures are each digitally printed with a pattern on clear acrylic. The pieces are then gathered and formed together to emulate the lines of a billowing skirt — think Marilyn Monroe! Designed by DaSomm Choi, they'd be perfect as a single drop over a table or in the kitchen – or group them together for a chorus line look. Wherever you put this fixture, it will be blowing in the wind!


If you could read my mind — oh wait, it looks like you can! This "Talking Heads" chandelier/art installation is colorful, funky and fresh. What a great idea for a coffee shop, a kitchen, or anywhere people gather to chat. Exposed thoughts, word balloons, vibrant tones — what absolute fun.


It's difficult to imagine how they integrated so much motion into a stationary piece. Who knew what polished stainless steel wire and crystal could rise to? This "Bird of Paradise" chandelier is pure poetry in motion. The bi-pin lights, placed at the end of the swirls, do their job without overpowering the art. How many rooms can you see transforming with this chandelier?


How would you like this "Cheese Grater" chandelier in your kitchen? Variable patterns are cut from aluminum composite sheets and folded to create the 'cheese grater' look. The cut-outs provide an interesting design of shadows and lights. Of course, the kitchen isn't the only place you can use them. The quirky style will fit anywhere you need to jazz up a room!


"Dipped" looks like a giant mercury glass donut, dipped into a bed of crystal and glass. It's just dripping in style. Lit by recessed bi-pin lights, this piece really is nothing less than art combined with light. Imagine it hanging over a pedestal, with inches between the bottom of the crystal drops and the platform. It's the art — and the lighting, rolled in one. But of course, it would also be awesome used as intended, as a light fixture. Imagine it in a little girl's room, or a bathroom, or over a vanity table.


"Fat Fuzzy Thing" was clearly created to appeal to our sense of playfulness – and it certainly does. Available in a multitude of colors and sizes, it was originally produced in white. The red shown is a hot color – perfect for above the fireplace. It makes an interesting statement to choose a room that is stark and cold and add one of these lights – instant warm and fuzzy!


"Gotcha" showcases a frosted glass ball enclosed inside a container that looks like wire (but is made of polycarb and acrylic). Modern, slinky and stylin' – these chandeliers would look stunning in a loft or any industrial setting. The orb is like the life inside a cocoon – and it will indeed add life and focus to any space.


This "Dandelion Crystal" chandelier is an incredible mesh of light and lasercut clear acrylic. It looks like you can pick it up, blow on it, and have all the tiny crystal-like pieces blow off into the wind. With it's umbrella shape, it really defines any space it presides over. And because of its simplistic lines – it could go anywhere!


This line is called "Twinks" and while it looks like the acrylic discs from the 50s game, Tiddly Winks, it's actually designed after the Australian Eucalyptus plant. The disc-like leaves form around a central stem and create a visual shower of color in yellow, orange and red. The light vibrates from inside the cascading stems and colorful discs – suggesting both sunlight and starlight. A superb showpiece chandelier that deserves a place of prestige in your home.


A classic shaped chandelier, but one that uses unusual materials. "Amber" combines colored glass balls with acrylic 'Amber' suns and laser cut acrylic arms to create this unique fixture. It's available in assorted sizes and color combinations but no matter which you prefer – this exotic piece will be the talk of the table. I think it's the absolute perfect piece to finish off a retro-themed kitchen!


While the inspiration for this design is taken from Australian Aboriginal baskets – they are at home anywhere int the world. Called "Arnhem", they look like upside down baskets! Made from stringing colored crystals – red, white and green – on stainless wire, the effects are stunning. Use them on a covered deck or over the dining room table – or anywhere you want to brighten up the room. Can't you imagine these as the star of a Cinco de Mayo party?


What could be more appropriate for this age of technology than this stunning chandelier, made up of masses of tiny bits and named "Bytes"? Small pieces, with a hole in the middle and printed with a pixelated pattern are suspended in a random mass, or are they? The middle is a long opal light tube and it emits a warm, even light through the seemingly scattered 'bytes'. Almost 10 feet tall, this is one of the largest chandeliers in the Yellow Goat stable. This design house manages to create one winner after another. Did you find something here today that is a 'must have' for your own home? If so, head over to their website for more information: Yellow Goat