The kitchen is one of the most loved and used areas of the home, so why not give it the chance to be the main focus of the home by making it yellow. A yellow kitchen is the latest trend to be taking over interior decorating. Here are a few yellow kitchen ideas that will help not only brighten the space but brighten your entire home.
Mellow Yellow
If you are hesitant about adding a yellow hue to your kitchen a soft wash of yellow could be exactly what you need. The color is pretty pastel and works well with multiple different shades of wood and kitchen furniture.
Bright Appliances
Bright appliances can be the answer to all your color dilemmas. They are easy to change, come in multiple different vivid hues and make a splash anywhere they are placed. If you have an all-white kitchen this is perfect because it adds that punch of much-needed color while still allowing the white to make sense in the room.
Yellow Tidbits
Let's face it, not everyone is a fan of such a cheery color. Therefore, if you still want to use the color in your kitchen, consider using it in small doses. The idea is to add yellow tidbits here and there to add that punch of color. Keep the rest of the décor simple to allow the brightness of the colors to stand out.
Mustard Backsplash
Go bold and in your face, but still masculine with a mustard backsplash. The idea is to have a daring hue take center stage while still having that masculine feel to them. Pair it with a monochrome palette for the best outcome.
Yellow Cabinets
Give your cabinets the spotlight they deserve by having them painted yellow. A bold hue of yellow will make all the difference in how spacious your kitchen appears. Pair the yellow cabinets with bright and sunny flowers for the perfect seamless combination.
Funky Tiles
Tiles are pretty much a kitchen essential, but funky tiles are a trendy option. Opt for funky tiles that come in bold hues. In this case, consider funky tiles that create a pattern and have yellow in them. The bold color paired with other vibrant shades will work especially well in a kitchen with a neutral palette.
Matching Trim
Frame your kitchen space with a yellow trim that accentuates your current décor. The key is having yellow already incorporated in the kitchen and having the trim be the perfect touch of color that makes sense.
Contemporary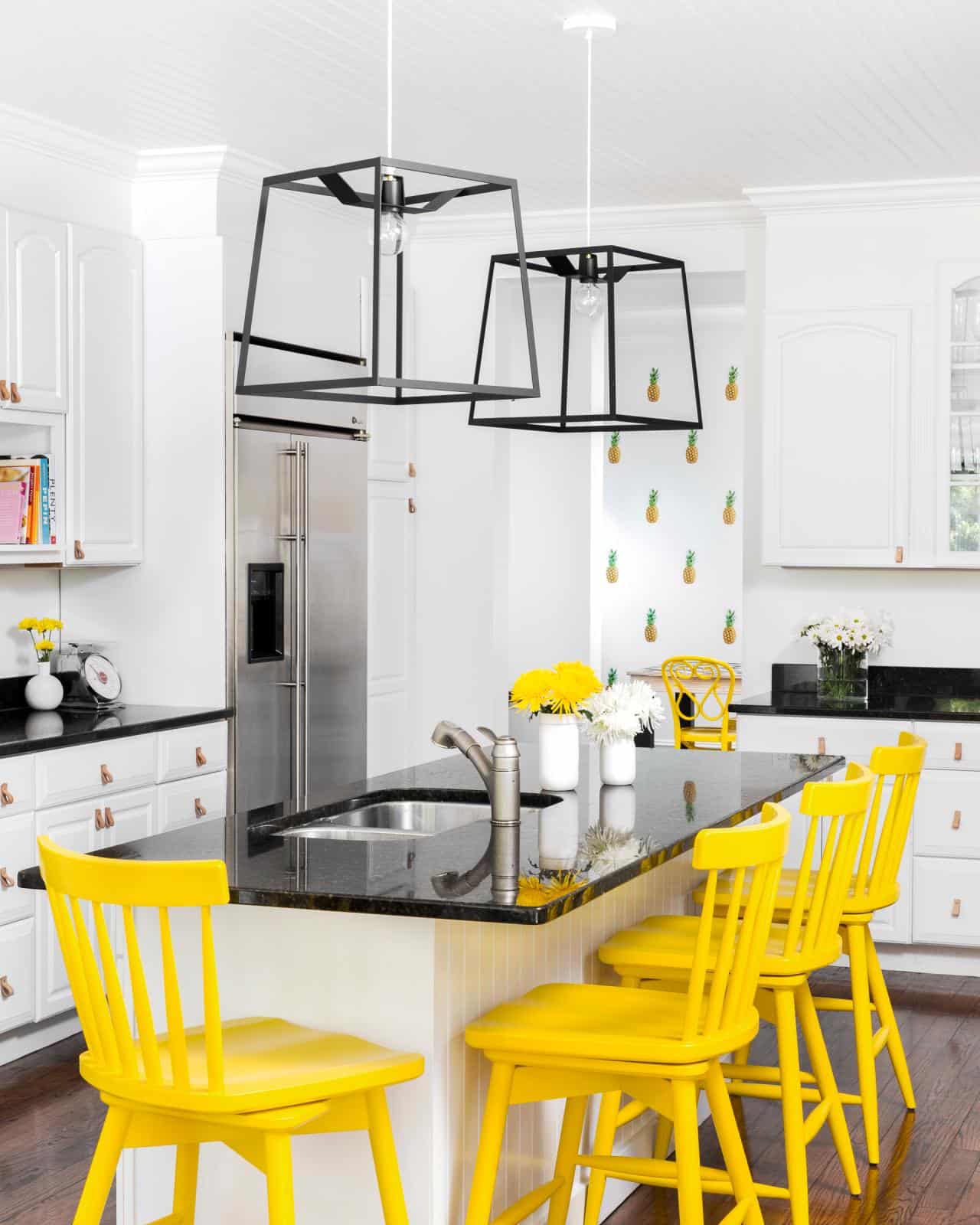 Yellow bar stools could be just what your kitchen needs for that contemporary look that simply works. The idea is to have the pop of color make sense in the room. Use bold yellow for a bright touch or pastel yellow for a softer hue.
Artsy
Get artsy with a yellow bold art piece that brings your kitchen back to life. The idea is to work in the vibrant color softly in an artsy kind of way. Have one large art piece or multiple different smaller pieces for the perfect layout.
Lemon Hints
Want a removable shade of yellow in the kitchen? Add lemons. Lemons are not only a simple of good luck, but they are also a bold hint of color that can be interchanged whenever you choose to do so. This is a great way to add the vivid hue without compromising your décor.
Yellow chairs
If you have your dining table as part of your kitchen décor add yellow chairs or even gold for that touch of yellow that makes sense in the kitchen space. The beauty is maintaining the space simple, but with the yellow pops of color that bring out the elegance in the space.
Do not be afraid of such a vivid hue instead embrace it and add it to your kitchen.