Wallpapers are notorious for helping transform a room, it adds personality, all while creating keeping the space as sleek as possible. Having wallpaper is all about showcasing a new style without having to decorate every inch of the room. It's all about precision decorating. Keeping that in mind, we have put together a set of bathroom wallpapers that are as engaging and charming. The following wallpapers will not only inspire your new home update, but it will make sure your bathroom becomes one of your favorite areas in your home.
Monochromatic
Your décor doesn't always need to involve a multitude of colors, sometimes you simply need a monochromatic wallpaper to make a difference in the room. Whether you use a bold color or a pastel one, the options are completely up to you. What you do want to keep in mind, is using the same colors repetitively to ensure your wallpaper is loved throughout.
Paint-Inspired
When you want to conserve the architecture while still being modern using a wallpaper that is paint-inspired is the way to go. Not only will you be creating almost a magical space, but a splattered wallpaper will be as modern as it gets without disrupting any décor you might already have. Pair with sleek flooring, and a modern mirror for an overall contemporary touch.
Mix and Blend
Tiles are a classic bathroom element, so much so that you can almost say they're a signature element that makes the space truly come to life. Take your tiling to the next level by mixing in a fun wallpaper. It's all about creating a contrasting approach that feels friendly yet doesn't take away from your tiling. Think of it as the perfect form of upgrading traditional tiles that need a hint of freshness.
Rustic Meets Elegant
Who doesn't love a good rustic display? We certainly do, particularly when you blend in your rustic bits with sleek elegance. It's all about using a wallpaper that has a rustic touch while using as much layering as possible. You want to have the wallpaper speak for itself while still being warm and cozy due to the other pieces you decide to layer. When it comes to the cabinetry you want to go for a softer appeal, allowing it to sit back while the wallpaper speaks for the room itself.
Floral Swirl
When in doubt consider a floral wallpaper. There is something magical yet feminine about a floral wallpaper. It brings a fun display while incorporating a large selection of colors. It's one of the best ways of bringing a colorful touch to your bathroom. Furthermore, with floral wallpaper, you get to have fun with your display as you can incorporate any hue you would like in the décor.
Repetitive Pattern
There is nothing quite as stabilizing in a room quite like adding a repetitive pattern. Having a pattern that will repeat constantly will ensure you get the most out of the room. It creates structure while still being fun. Its one of the best forms of using wallpaper that creates a grand approach to the room. Consider bringing a bold pattern for that daring approach that feels sleek yet unconventional.
Modern Marble
Though marble has always been a beautiful touch to add to the bathroom. This year we are getting modern and we are loving it. The key is working with modern marble, it's a sleek form of incorporating color without taking away from the marble aesthetic. It's all about having that traditional touch, yet with colorful charm.
Ceiling Statement
Why stick to the walls alone, when you can brighten the ceiling as well? From having an eye-catching vanity to having a ceiling statement. You want to have the entire room feel grandiose with a touch of ceiling allure. Not only will the room have a sleek touch, but that hint of texture coming from the ceiling will further enhance the room's charm.
Black & White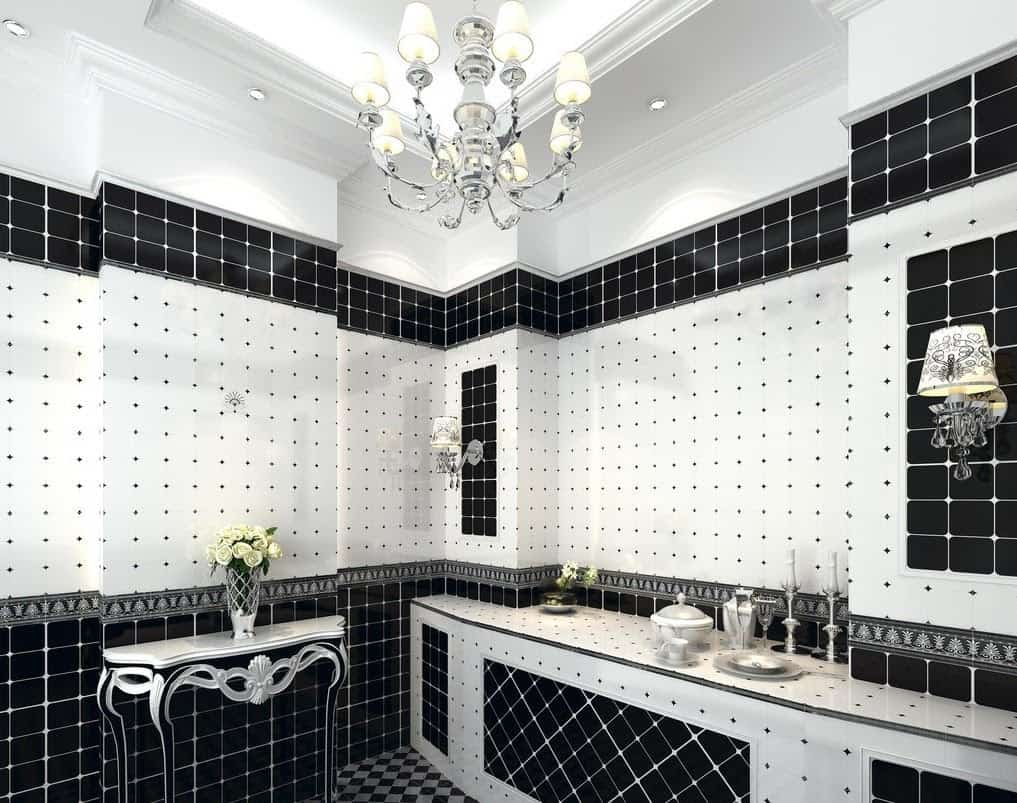 Keep it simple and timeless with a black and white wallpaper. Whether you have a sleek black and white wallpaper, or you went completely out of the box, it is completely up to you. You want to have as much of an infused white and black aesthetic as possible. The brighter and bolder your wallpaper is better. It's the perfect way of bringing a classic touch with a hint of freshness.
Ombre Vibes
Ombre has been huge this year and there is no sign of stopping any time soon. Having an ombre wallpaper is the perfect way of making a statement in a smaller room. Its all about using shades that not only work together beautifully but they add character to the room. Pair with industrial touches to make that ombre approach feel as fresh and current as possible.
Which of these wallpapers inspire you? Share with us below.