Located in Queenstown, New Zealand, this house was designed by Kerr Ritchie Architects based on various criteria that are clearly reflected in the design. The first one was to have beautiful lake views from the day areas, especially kitchen and lounge. The second one was to have enough privacy from the street both indoors and outdoors. Given the slope of the terrain, the house was designed on three levels. The street level is semi-buried and serves as garage. From the garage a flight of stairs leads up to the main entry area. The main floor is raised from the street level at the front in order to insure privacy, but is at the ground level towards the back, so that the owners can enjoy the back garden, protected by the two v-shaped sides of the house. The two bedrooms with en suite bathrooms situated on this floor have both direct access to the back yard, with it's wooden deck and hot tub. The side of the v that faces the lake has an extra floor with a bedroom, bathroom and office corner. The house has a dark wooden outside shell, while the inside is bright thanks to the big windows and the lighter colors used for the interior design.

Located on the ground floor, the lounge has beautiful views on the lake through sharp angle windows. A gas burning fireplace is integrated in a wood paneled wall. The room is made cozy with deep leather sofa and armchairs.


The kitchen and the TV room form a compact wood paneled block. The TV room is a booth with red walls and carpet that can be closed for better sound insulation by a pair of wooden sliding doors. The kitchen uses one of the walls of this block for the built in cabinets and appliances, in front of which there is a cooking and eating island counter. The lake and mountain view is magnificent from behind the kitchen counter, a privileged spot in the house.


A vertical wooden screen connected by random horizontal parts flanks the wooden staircase on the interior side, from the ground floor level to the upper floor.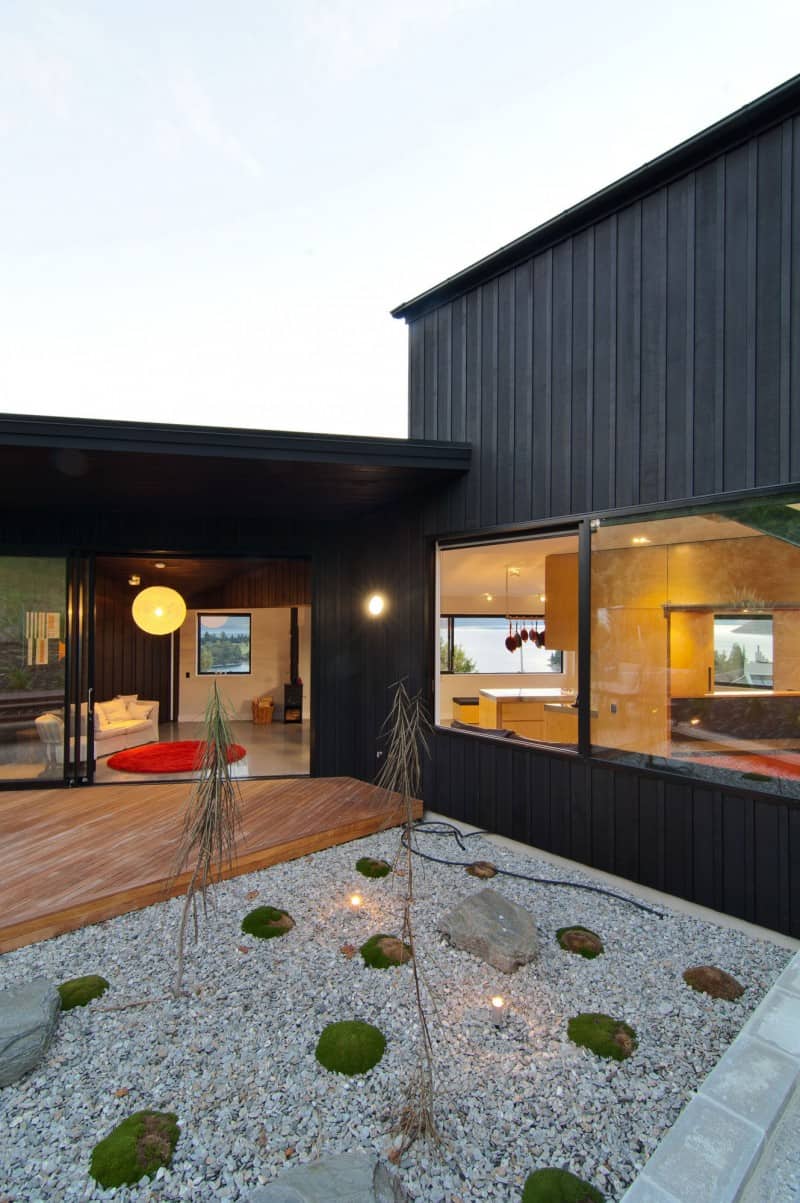 The v-shape of the house encloses a private garden towards the north.