Inspired by the barn that originally occupied this prime pastoral property in Weert, the Netherlands, SPOT Architecture created this unusual house with a most interesting spin. From the outside, Villa Laar features an almost commercial aesthetic that's most uncharacteristic of conventional residential structures, while indoors it is as warm and welcoming – a true definition of "home."

The home's front facade is largely closed off, maximizing privacy. The expansive brick exterior and high roof pitch echo a traditional farmhouse form, but there's much more to this house than meets the eye. The architect designed this cool house in reference to the path of the sun. The east side of the structure opens to the sunrise while the evening sun enters through the large glass walled patio on the west side. Just beyond the patio, views of the garden invite nature indoors.


Inside, more of that barn influence shines through with exposed wood beams and an open vaulted ceiling topped by skylights, flooding interiors with natural light while extending sightlines up as far as the eye can see. What an amazing sense of space!


A stunning suspended fireplace, polished floors and cool white walls give this open space a contemporary edge.


Upstairs, a catwalk style hallway overlooks the two storey living area below.


We love the "glass house" feeling you get in here, thanks to the open concept design, expansive glazing and endless views out – and up!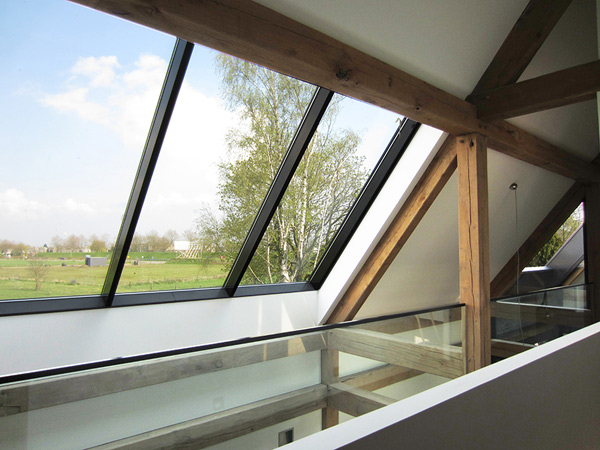 Despite all the traditional persuasions present here, the overall feeling is one of a contemporary lifestyle surrounded by the sweet simplicity of beautiful design.


SPOT Architecture