When designing a home in an area filled with the natural beauty of trees it stands to reason that as many trees as possible should be saved. Travis Price Architects took it one step further and saved the trees in the exact location the Hayes residence was to be built by featuring the trees encased in glass, which allows them to continue to grow through the house without being affected by heating or air-conditioning.


Located in West Virginia in the Berkley Springs area, the home not only wraps glass around the preexisting trees but also around the exterior of the home, allowing the natural landscape to permeate the home both inside and out.

Aside from the trees that slice through the main social zone, more trees create a focal point on the deck between the main house and the guesthouse.


The main house contains the dining, living and kitchen areas as well as a bedroom with red tiled ensuite while the guesthouse includes a bedroom with blue tiled ensuite.


Both volumes are set on a base lifted off the uneven terrain by short footings, this base wraps the home on all four sides offering outdoor shelter under the extended roofline.


While the land drops steeply below the home, the base creates a level surface for the home to sit on.


On the low side of the land a short flight of stairs is hidden behind a short concrete wall covered in slate tiles.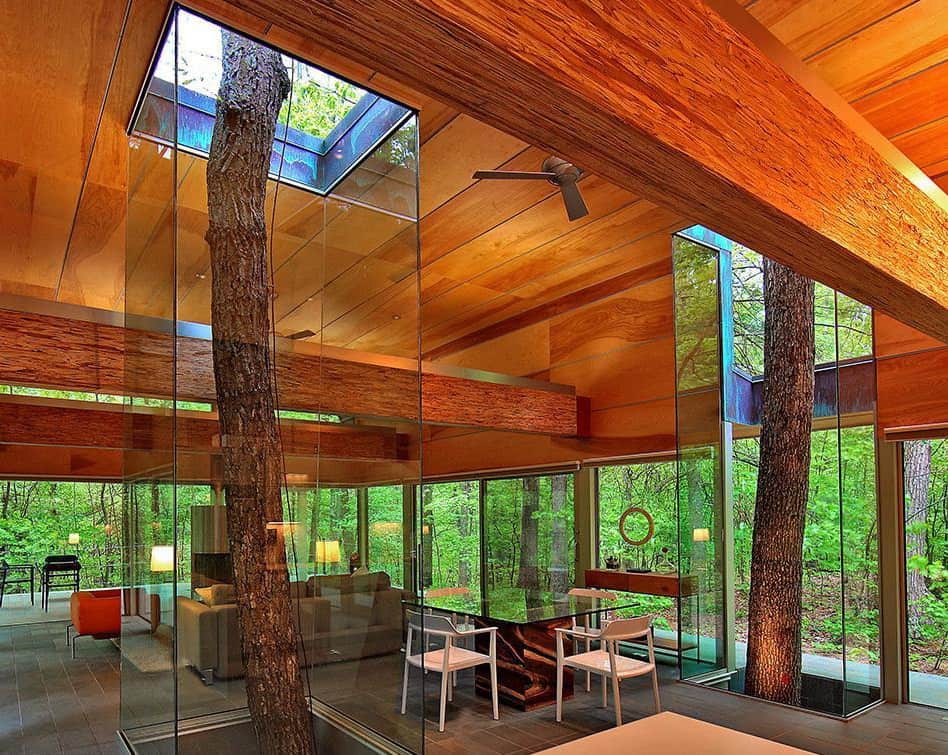 Travis Price Architects
Photography by Ken Wyner
If you are inspired by homes that are designed around trees you would want to check out the design where a tree pierces the roof of a brick home.