Matt Fajkus Architecture designed Tree House (located in Austin, Texas) as a place of balanced shade, dappled sunlight and garden views of the beautiful oak trees that wrap the property. One of the Oak trees was almost centrally located within the site of the structure and that one tree became the focal point and muse of the final design as it wraps around the tree in a deep U-shaped formation.
Photo by Brian Mihealsick

The entry to Tree House is positioned in line with the primary oak and each interior zone radiates around it, creating a relationship with it that is both organic and functional.
Photo by Brian Mihealsick


The 2-story home is designed using a composition of materials that are tough enough to withstand the indoor outdoor lifestyle of the homeowners while at the same time completely sophisticated within a relaxed and restrained aesthetic.
Photo by Brian Mihealsick


The same restraint show on the interior has been extended to the facade with a street presence that is almost humble in its presentation.
Photo by Brian Mihealsick


The second story sleeping volume is stucco and is meant to abstractly resemble a restful tree house in the oak canopies.
Photo by Brian Mihealsick


Peaceful and restrained as the exterior facade is, the home still flaunts its cheekiness with a bold butter yellow front door popping against a backdrop of dark grey siding.
Photo by Brian Mihealsick


The width of the front door has been chosen to allow for easy access of the owner's motorcycle.
Photo by Brian Mihealsick


Inside the home the polished concrete flooring creates a hard but beautiful surface for the motorcycle and homeowner's to enjoy.
Photo by Brian Mihealsick


Directly across from the foyer a wall of windows opens to the inner courtyard, framing the sculptural view of the oak tree that is the muse for the home's layout.
Photo by Brian Mihealsick


The windows have been designed as playful apertures that invigorate the courtyard at night.
Photo by Allison Cartwright of Twist Tours


During the day, the oak provides shade for both the outdoor living space and the interior zones. In winter when daylight is at a premium, the fallen leaves of the deciduous tree open the courtyard to the sky above and winter sun lightens and brightens the home naturally.
Photo by Brian Mihealsick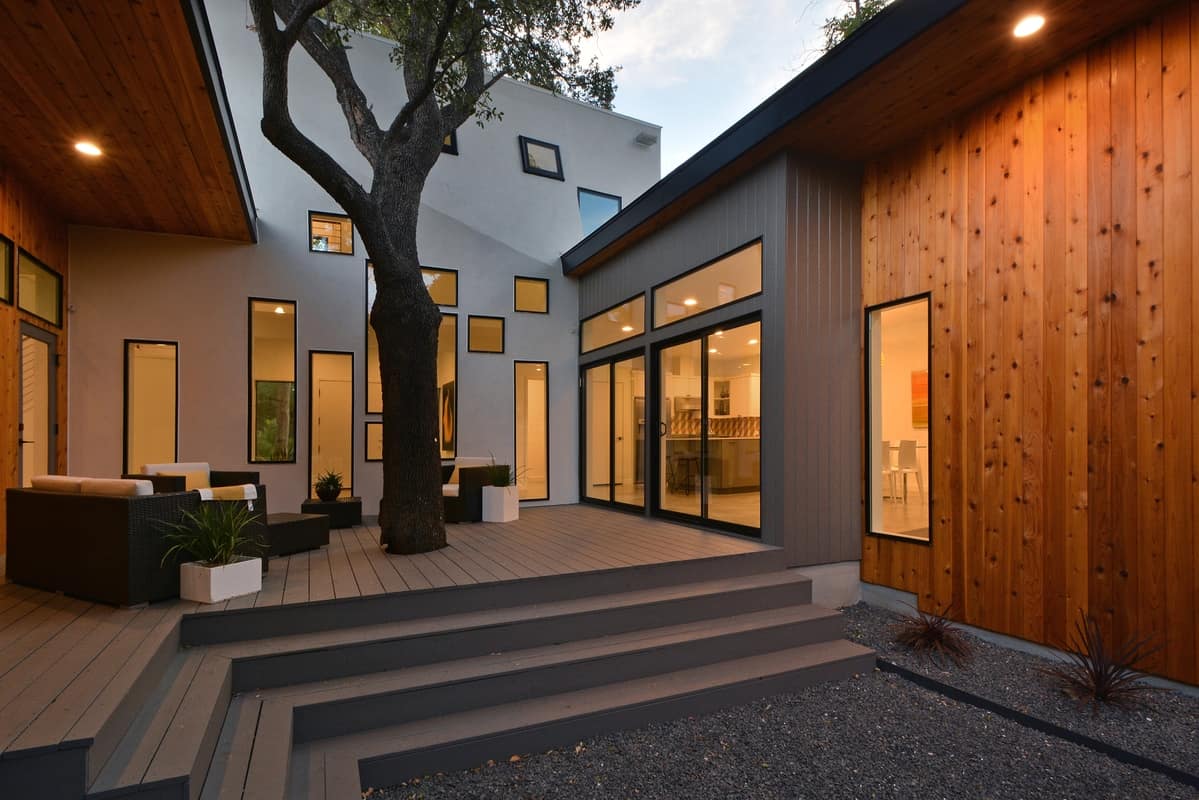 The interior design of of Tree House has been carefully calibrated to not only allow internal views of the oak filled garden from every zone but also to maximize the passive sun/shade effects of the deciduous trees.
Photo by Allison Cartwright of Twist Tours


The social zone is contained on the main level of Tree House and runs down one wing while a home office, family room and the master suite create the plan for the second wing. All but the home office, powder room and utility spaces have a view to the courtyard.


Although the sleeping zone of the master suite is fully exposed to the backyard, the social terrace is contained within the U of the home's plan and is completely separate from this vantage point. Creating a connectivity to the backyard views is the tongue and groove wood ceiling that continues outward, morphing into the home's soffits.
Photo by Allison Cartwright of Twist Tours


The warm tones of the knotty wood ceiling layer in a contrasting softness to the the concrete floors and since its on the ceiling, the homeowner's dog can't scratch it with its claws.
Photo by Brian Mihealsick


The Master Bath may not have a view of the oak trees, but it still features garden elements via the two planters below the skylight within the shower stall.
Photo by Brian Mihealsick


The social zone in the other wing culminates in the living room and begins with the kitchen. A wide open plan, there are views to the garden from every vantage point but interior detailing as not been ignored – check out that amazing backsplash.
Photo by Brian Mihealsick


The living room is a couple of steps down from the dining and kitchen area and an integrated board formed concrete planter spans the distance from the steps to the exterior wall. Keeping the plantings well lit is a repeating form up above that frames a skylight.
Photo by Brian Mihealsick


As comfortable as the interior social zone is, on a sunny day or evening, the courtyard is the place to be. Here, the U shaped terrace acts as a natural amphitheater for large gatherings and performances.
Photo by Bryant Hill


While the two wings of Tree House are single story, the front of the home has a second volume that contains the two children's bedrooms and a bathroom. Access via a stairwell positioned behind the home office and before the master suite, this portion of the home is kept private from the more active areas.


From a distance the stairwell appears to be a statement of white and steel.
Photo by Brian Mihealsick


Its only when you arrive at the stairwell that the intricately exciting risers are visible, repeating the pattern of the kitchen backsplash visible in the distance.
Photo by Brian Mihealsick


Its amazing how well Matt Fajkus Architecture incorporated a park like setting into a small city lot, and in so doing maximized mother nature's innate ability to create shade for the summer and light for the winter, taking into account the need for vertical space as the tree canopies continue to grow.


Photo by Brian Mihealsick
Matt Fajkus Architecture
Photography by; Brian Mihealsick, Bryan Hill, Twist Tours