They say one man's trash is another man's treasure, and nowhere is this more true than in the Upcycle House, designed by Danish architecture firm Lendager Arkitekter. This recycled house is an experimental abode that aims to reduce carbon emissions through the use of recycled and upcycled building materials (like two shipping containers that form the basis of this house). The thinking behind this? While building systems have become much more efficient in the way they operate, these forward-thinking architects are now focusing on the construction and materials side of things. This eco sustainable house takes a serious bite out of CO2 emissions (86 per cent, compared to conventional homes!), but it was also designed and built to prove it is financially feasible – in this case, 1,700,000 Dkk (Danish Krone) or US$ 310,321 – which is within budget for some Danish families. Eco conscious and economical – the way of the Danes' future.


This sustainable architecture project is a one-off here in Nyborg, Denmark, but the plan is to build a whole community of these experimental homes. Owner of Lendager Architects, Anders Lendager, comments on the results of using recycled materials: "We initially thought that a reduction of 65 per cent CO2 was unrealistic, but when we ran the Life Cycle Assesment on all materials throughout the entire project, it turned out that we had reduced the CO2 emissions associated with construction with 86 per cent, compared to a benchmark house. With that in mind, we are surprised that no one else is working on this. Why is it not included in everything we do as architects? Why is it not included in the building code that a certain percentage of building materials have to be recycled?"


The main structure is made of two prefabricated shipping containers, while the roof and facade cladding is made from recycled aluminum soda-cans.


The deep roof overhang provides shade and thus, passive cooling to interiors.


The corrugated steel facade boasts an industrial look.


Functioning windows in the facade and clerestory, combined with an open layout, create passive ventilation throughout the house.


Come on in and check it out!


The glazed verandah is finished with recycled bricks – a lovely rustic-style aesthetic feature, but the bricks also absorb the sun's heat, which can be transferred to the house when interior temperatures drop.


The glass enclosed terrace welcomes you inside the 1,390-sq.-ft. house, featuring a spacious living room connected to the kitchen, a master bedroom, three smaller rooms, a bathroom, utility room and a passive cooling chamber. Adjacent to the kitchen is a greenhouse, and a south-facing terrace rounds out this small, smart house design.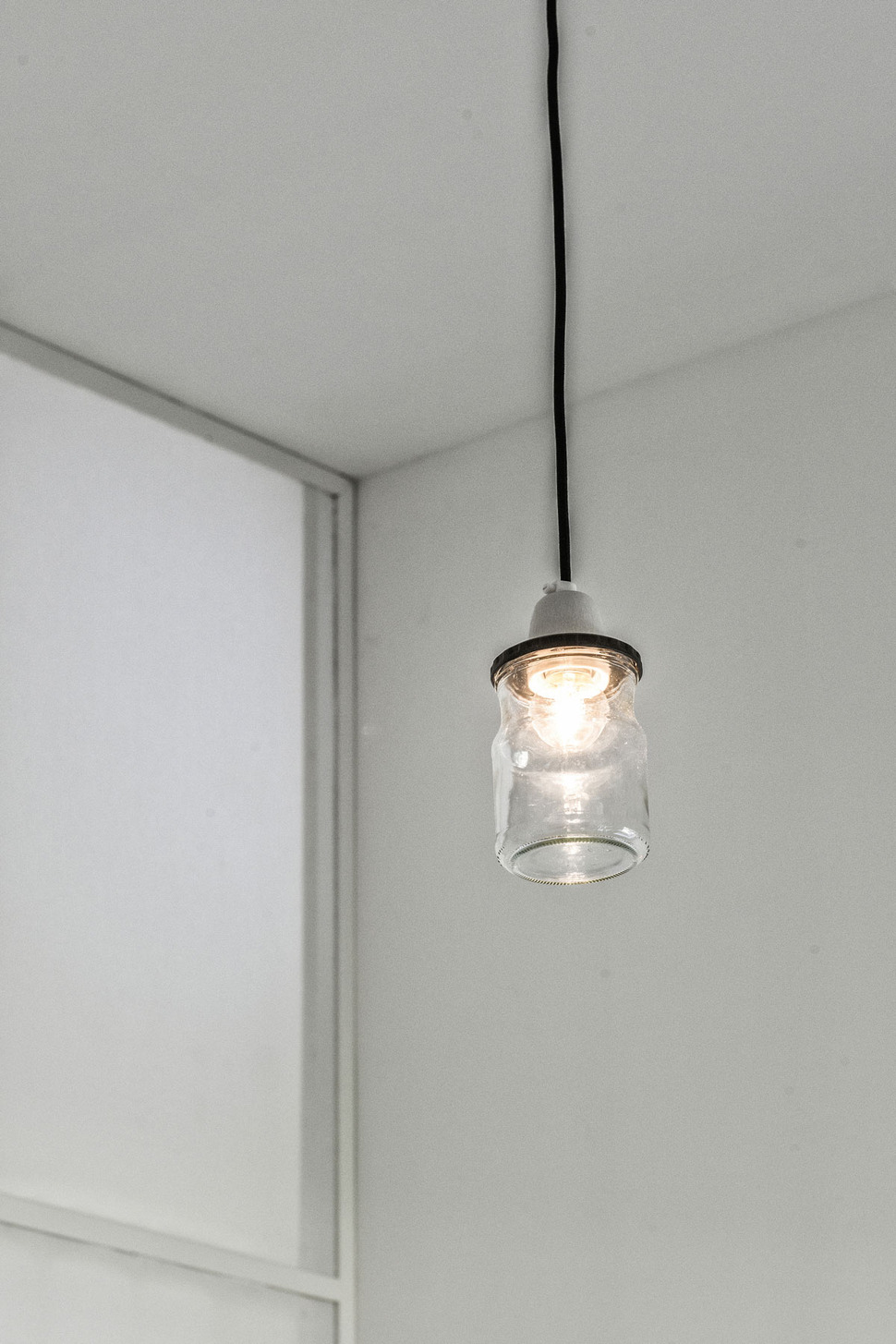 Bright ideas abound in this abode!


While the house is constructed using recycled materials through and through, its aesthetic doesn't stray too far off the mark of your usual residential design.


Innovative flooring is an unexpected element underfoot. The kitchen floor is finished in champagne corks, and the bath tiles are made from recycled glass.


By looking at the finished product, you'd never think that this house is built from a pair of shipping containers, and a bunch of waste materials!
Here are some behind-the-scenes shots of this work in progress…


Floor plan:


Elevations:


Here's a closer look at the home's recycled elements and how they all came together:


Lendager Arkitekter
via Arch Daily
photo credits: Jesper Ray, Polfoto