Designed by HonoMobo, these prefab shipping container homes come in 3 different sizes and layouts making them the perfect choice for a Laneway Home, guest suite, or as a stand alone mini home perfect for a lake front or forest getaway. In fact each unit is solar photo-voltaic ready.


The HonoMobo shipping container homes can be used for a home business, an in-law suite or as rental units.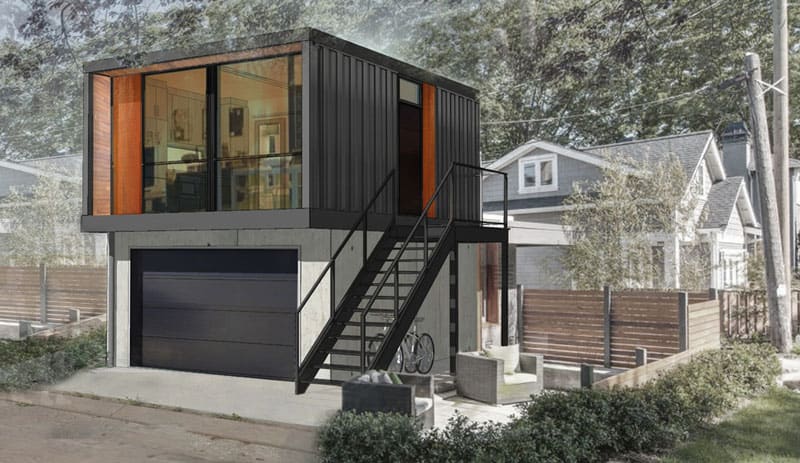 HO2 is the smallest studio unit. Designed to fit above a single car garage it can also be placed on the ground and can even be stacked on a second unit.


The efficient layout of the 352sqft HO2 makes the space feel larger then it actually is.


The HO3 is comprised of 3 containers and has an interior space of 528sqft. This larger design even has a 21ft expanse of glazing for that sought after indoor/outdoor connectivity.


The HO3 even has a small foyer, a private bedroom, private bathroom and a social zone that includes a large kitchen island with bar seating.


The HO4 is the largest of the three designs at 640sqft and is made from 4 containers. Like the HO3 it has a long expanse of glazings with an uninterrupted run of 20ft.


A 2-bedroom design, the HO4 is designed to sit on top of a 2-car garage but is also a great stand alone unit.


The 3 designs are also able to be stacked in a variety of configurations to create a multi family dwelling.


HonoMobo.
Renderings supplied by HonoMobo.
Shipping containers are an under utilized idea when it comes to residential living but slowly more an more architects and designers are starting to embrace the idea of affordable living within these upcycled units. While the Honomobo designs are prefab, there are a number of shipping container homes with unique designs. Some showcasing the natural finish of its corrugated steel shell and others are tweaked with art as an added layer of creativity.