With graffiti going mainstream and artists taking to creating what is now called "Street Art" around the world, more and more homes are starting to celebrate this newly respected art form by enlisting artists to tweak their house facades. The best examples of house facades tweaked by artists are those that treat the art and the architecture as one singular unit, working with each other rather than competing with each other – using the home's facade much the same way an artist would use a canvas.


Architectural firm Kavellaris Urban Design Group collaborated with artist Samantha Everton right from the beginning to create the facade of "2 Girls", a surreal home located in Melbourne, Australia. The facade features photo art from Masquerade from Samantha's "Vintage Dolls" series. Source

Maria Umievskaya has always been fascinating with ancient Asian art and that fascination led her to create a series of artscapes on Japanese homes with minimalist, white facades. Two of her finished pieces are the Cube Court House by Shinichi Ogawa & Associates on the left and House on the Hostert by Uwe Schroeder Architeckt on the right. Source


Nespoon is a well known street artist that went to the Perth Public Festival in 2015 and painted this amazing barn style home with her signature doily art using stencils.


This artsy 3-storey home is built from 31 shipping containers so the street art vibe is strong in the building material itself. That being said Todd Miller of Ziegler Build wanted to celebrate that vibe by including a traditional, more gritty type of street art on its facade. Source


Homeowner and artist Kat O'Sullivan went a less traditional route with her artsy facade and painted her home in a series of eye popping hues, creating an overall graphic pattern that is reminiscent of comic book art.


Her home is quite the statement next to the natural landscape that surrounds it. Source


Richard Woods is well known for his colorful wood grain used in furnishings so when he had a home built for himself by dRMM it seemed a natural progression to use the same colorfully painted wood grain panels on his home's facade.


Hidden Trophy is a graphic facade installation by r1. that appears to be made from a carefully created series of panels but in actual fact, the panels are 100 street signs with a reflective chevron pattern. The reflective quality of the panels means this graphic is visible even at night – as long as a light shines on it.


Here's a video on the making of Hidden Trophy


The facade on Art House One is a study of abstract art right down to the mail box on the site's corner. Source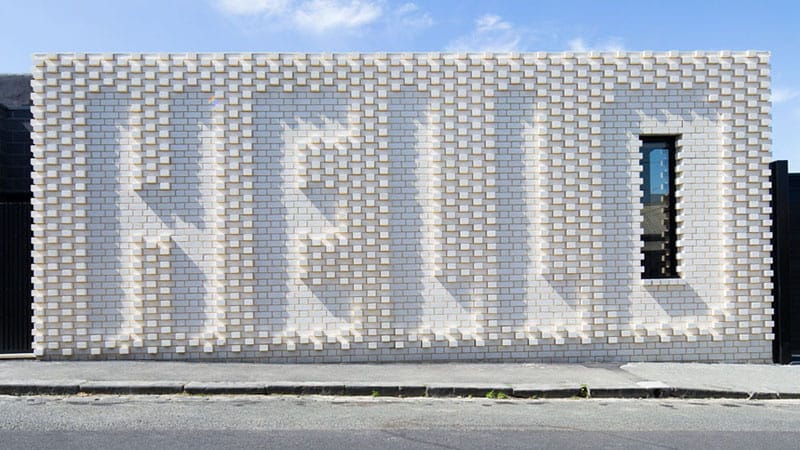 Hello House by OOF Architecture was created in collaboration with artist Rose Nolan. The idea was to create an artistic statement that was friendly – I think they achieved their goal, don't you? Source


While the previous 9 examples of artistically creative facades are all finite creations, the Zero Energy Home by BLAF Architecten is covered in chalkboard paint so that the homeowners can have an ever changing display of art.
Not all home facades need to be covered in art to create an artistic statement, using a mirrored facade presents an ever-changing picture and that's pretty creative too!