Japanese architecture firm Keisuke Kawaguchi+K2-Design created this unusual natural house in Daisen, Yonago City, Tottori, Japan. Taking shape as a trail of skewed volumes set amidst towering cherry and pine trees, the home's connection to the earth is immediately evident, from its organic silhouette among the treetops and looming mountaintop, to the choice of finishing materials, and even the way it was designed and constructed, making a minimal impact on the mature forest surrounding it. A central courtyard lets the trees pass through the architecture itself as well as around it, past glass walls that invite the lush foliage in. Here's a sneak peek at this sophisticated spin on wood, concrete and glass.


The home's various volumes seem scattered and broken, each placed at a slightly skewed angle along its linear plan.


The connected volumes are part of a whole, but visually separated through their different angles and roof pitches, which echo the branches and foliage that surround it.


Not only is this house inspired by the trees, it was also planned around the existing forest, rendering it virtually untouched in the midst of construction.


The trees are a central figure for this home, both in terms of inspiration as well as in their physical presence, integrating with the architecture as they rise through the courtyard and thus, become part of the house design.


This natural setting has also inspired the home's earthy interiors, where wood makes a rich and dramatic backdrop for living, just as it does outdoors.


Overhead, wood ceilings are slanted, like the exterior roof lines – a mirror image to the rich wood floors underfoot. Wood and stone details solidify nature's presence at every turn.


This delicious wining and dining area makes an intimate spot for hosting swanky soirees or quiet family dinners, with the ever present forest looking on. The L-shaped bar overlooks the glass walls, visually expanding living space beyond the home's walls. Lining the back wall, built-in wine storage and glassware display is indeed something to toast!


The slanted wood ceiling remains uninterrupted throughout the space, leading you through a long and lean hallway toward the bedroom retreat.


If it's nature you're after, this bedroom is a dream come true. All you need to do is look through the wall-to-wall, floor-to-ceiling glazed facade and let it all soak in. Or, slide open the glass wall to experience it firsthand without ever leaving the comfort of your suite.


The upper level office is simple in its style, but offers plenty to look at through its large picture window. How's that for inspiration?


The setting sun casts a cozy, intimate air on this stunning forest home.


The changing light outside completely transforms the look and feel of these always dramatic, always striking interiors.


Even from its gently glowing glass exterior, the home's organic richness oozes through.
Section: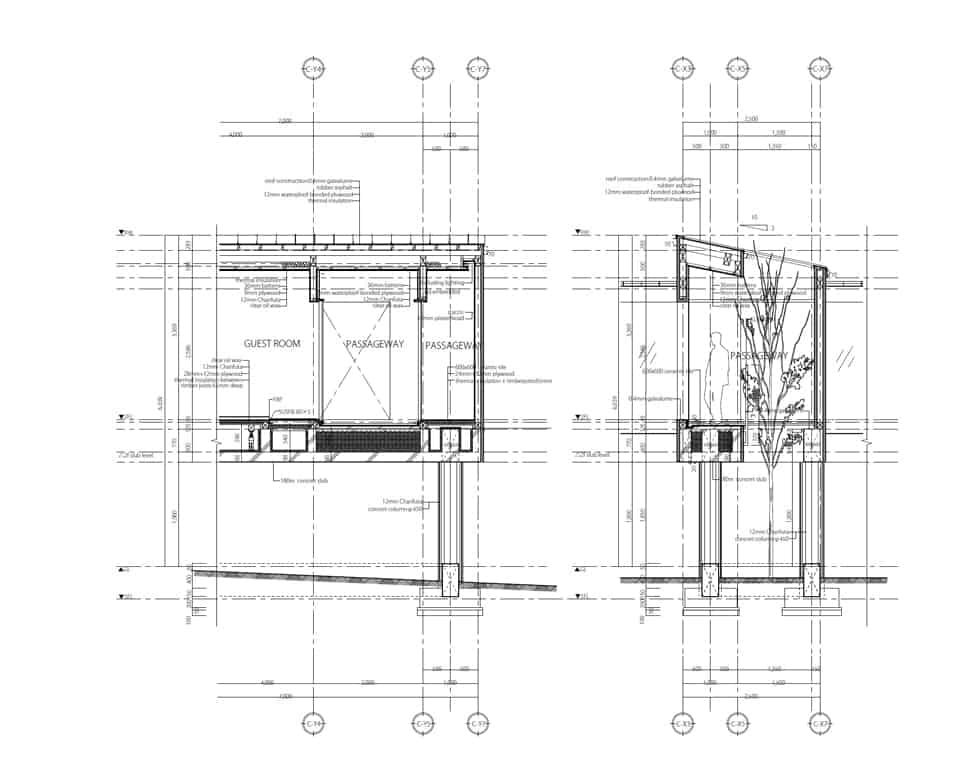 Elevation:


First floor plan:


Second floor plan:


Keisuke Kawaguchi+K2-Design
via Archdaily
photo credit: Koji Fujii – Nacasa & Partners