This simple yet stunning linear mountain house designed by Studio B Architects takes a cue from its snow-covered surroundings – elegant, earthy, and always enticing. The clients, based in Hong Kong, requested that every tree possible be saved to maintain the very reasons they selected this spot – privacy, and its pristine Alpine atmosphere. The architects thus designed this long, lean house at an elevation of 9,500 ft. with minimum disturbance to the land and maximum views. At the heart of this L shaped house plan, an interior courtyard unifies nature and architecture. If we didn't know better, we'd say this glass and wood house hovers above the blanket of snow and trees, luring us in with its chalet charm. Check it out.


The elongated layout of the house seems to float above the uneven rocky terrain, launching into the snow-capped mountains and treetops on the horizon.


Simplicity is key to this ski resort style home – a long, lean line with two levels, lined with terraces and topped by a rooftop deck. Lots of windows create a crisp, contemporary exterior that is as cool as its snowy setting.


The expansive glazing ensures interiors that are flooded with natural light and views.


Equaling the wide use of glass, wood on the home's facade and interiors serves to warm up its looks with a mountain chalet style.


The open layout is ideal for entertaining large groups or intimate gatherings alike. The ultra modern kitchen is surely the focal point of the public spaces, positioned on the upper floor to make the most of the surrounding vistas.


The heavy stone wall features a hot focal point – a fireplace feature that warms up the home, both in looks and in temperature.


The folding wood staircase wraps around the stone wall, leading down to the lower level where bedrooms and private living areas are tucked out of sight.


Look up through the open stairwell and behold! Sculptural lighting elements are utilized as much for their functional purpose as for their artistic appeal.


A sweet retreat indeed, perfect for a some self indulgent "me" time.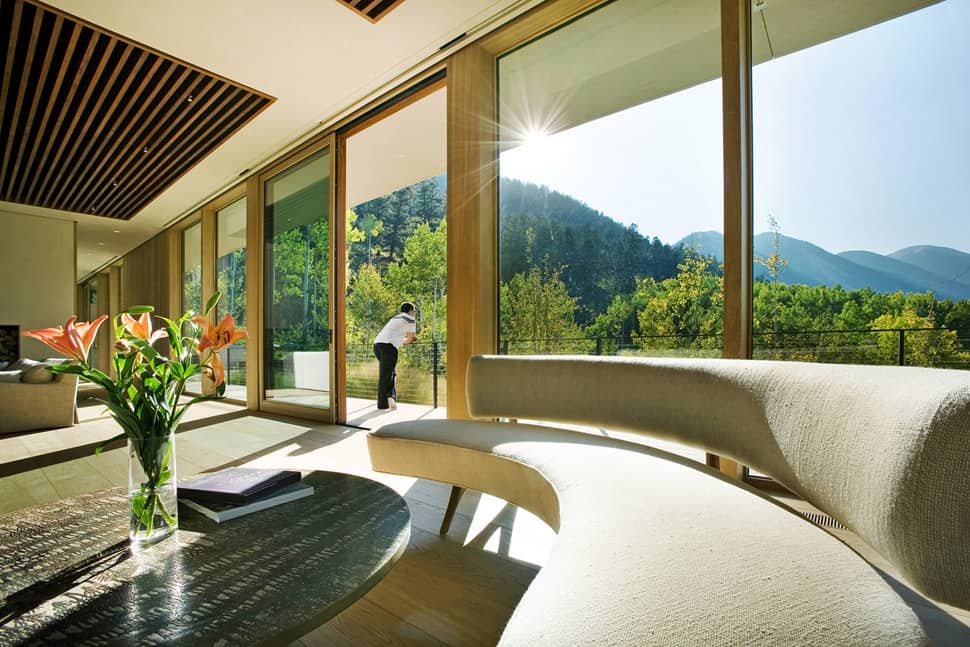 While this Aspen abode is a true winter wonderland, it is certainly a stunner through all the seasons. Spring and summer time views infuse this cool, contemporary style home with warm, fresh greens that completely change its look and feel.


And by virtue of the home's design, nature is always within easy reach.


The home is organized in an L shape, which allows for a private central courtyard encircled by the house itself. The landscaped garden and a pair of pools reflect the surrounding landscape.


By night, this house is pure magic, tempting passersby (if there were any!) with its alluring, warm glow.
Site plan of the 24 acre property:


Lower floor plan:


Upper floor plan:


South elevation:


West elevation:


Studio B Architects
via Arch Daily
photo credit: Derek Skalko