High in the mountains of Austria, this wood clad house in East Tyrol is certainly a far cry from tradition. Dubbed the Ufogel, this unusual home features a timber-shingled facade and an irregular shape that leaves you wondering where the roof ends and walls begin. The wood spills inside this cabin design, where walls, ceilings, floors and furnishings all echo "earth." Of course, with these breathtaking mountain vistas framed by the strategically places windows, nature is always a focal point.


The snow-covered mountains give this cabin style home a magical setting, but regardless of the season, the jagged, wood clad architecture complements nature beautifully – and vice versa!


The slope-side setting lends itself well to the home's protruding form with a front-facing window that seems to launch you into the landscape.


The traditional homes that surround Ufogel simply highlight its architectural intricacies.


You're welcomed into an intimate wood interior that embraces you like a warm hug. A wood-burning fireplace feature is visible from the entrance, luring you in with its heat, and its charm.


This fireplace is a fab focal point and a functional element as well, serving the living area and the kitchen, where a stainless steel countertop and backsplash delineates the prep area.


The kitchen is overlooked by a dining area, complete with what else? A wood table finished in the same materials as the floor, walls, ceiling, seating area, and stairs leading upward, giving this large open space a cohesive look and feel.


A window hovering above the dining area illuminates the living space in its entirety, and lends its beautiful views to every aspect of this interior.


This is an amazing spot to cozy up with a hot drink and some cool company – complete with cushions and scenery!


The meeting of the two angled windows gives interiors a great view!


Head up stairs, past the window and pause for a second to take it all in.


The stairs lead to a bedroom loft, with a demi wall that offers privacy and views.


The continuous wood grain accentuates the curving walls in this loft area.


There is a separate, smaller sleeping area within this slumberly section of the home, separated by a privacy curtain.


Integrated clothes storage… in keeping with the home's open concept design.


The bathroom is also wrapped in wood, with a glass wall dividing the sink and prep area from the shower.


Stainless steel sink has an air of efficiency about it, echoing that of the kitchen area.


The glass-walled shower…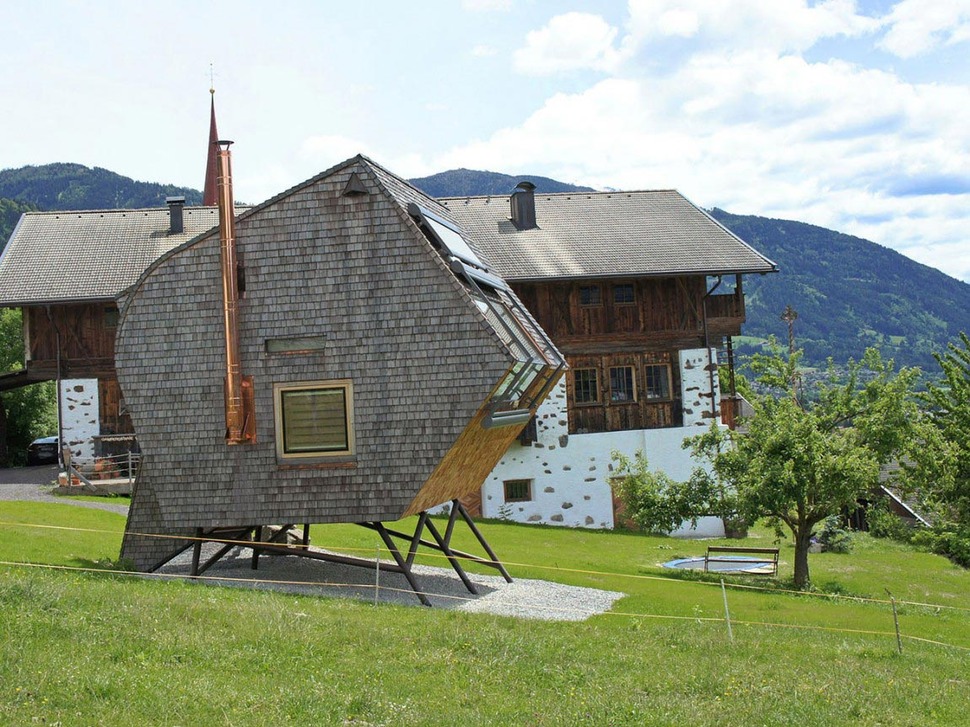 The mountain house is equally charming in the midst of a lush summer setting as in the white of winter.


Ufogel