Though the kitchen is one of the most loved and used areas of the home, it is also one of those places where clutter can occur quite quickly. Whether it be due to too many chefs in the kitchen, or maybe an over the clutter of items, the kitchen can become a bit overwhelming especially the countertops. Keeping that in mind, we have put together an easy guide to help you keep your kitchen countertops in tip-top shape all-year-round.
Keep a Junk Bowl
Many of us have an extensive amount of items that we deem necessary for the kitchen. Whether that be an abundance of mixing spoons or spatulas, those items are necessary! However, keeping them can create clutter and that's not something you want! The easiest form of getting rid of the mess is by keeping a junk bowl. Junk bowls allow you to place everything inside of them without looking messy. Just a simple bowl that holds your items.
Bring on the Plants
While this might not be a decorating hack it sure gives the room an airiness to it, while still being functional. Think about it, when adding plants considering bringing in spices that you use on a regular including; cilantro, bay leaf, mint and more. Having these around will ensure your counter is taken up by items that make sense to you and your cooking style.
Seasoning Rack
Just like having plants is a great idea, having seasoning racks is even better! Having a seasoning rack works extremely well, due to allowing you to showcase your favorite products that you cook on a regular. Consider having a spinning rack so you can have everything on hand while being perfectly organized. If you want to save space you could place it on the wall instead of your countertop
Embrace the Idea of Jars
Mason jars are hot right now and there is no sign of them slowing down any time soon. Therefore, we recommend using them to your advantage in your display. Place mason jars in multiple different sizes and with labels on them in a corner of your countertop. You could even have seen through ones so you don't miss a beat and don't have to open every one of them to find out what you are looking for.
Use Your Island
The idea of having a kitchen island is not only exceptional, but it helps embrace having more space for you to store things. Additionally, since most kitchen islands are placed in the middle of the kitchen you won't want to keep any clutter on it as it will make the space look messier.
Keep it Simple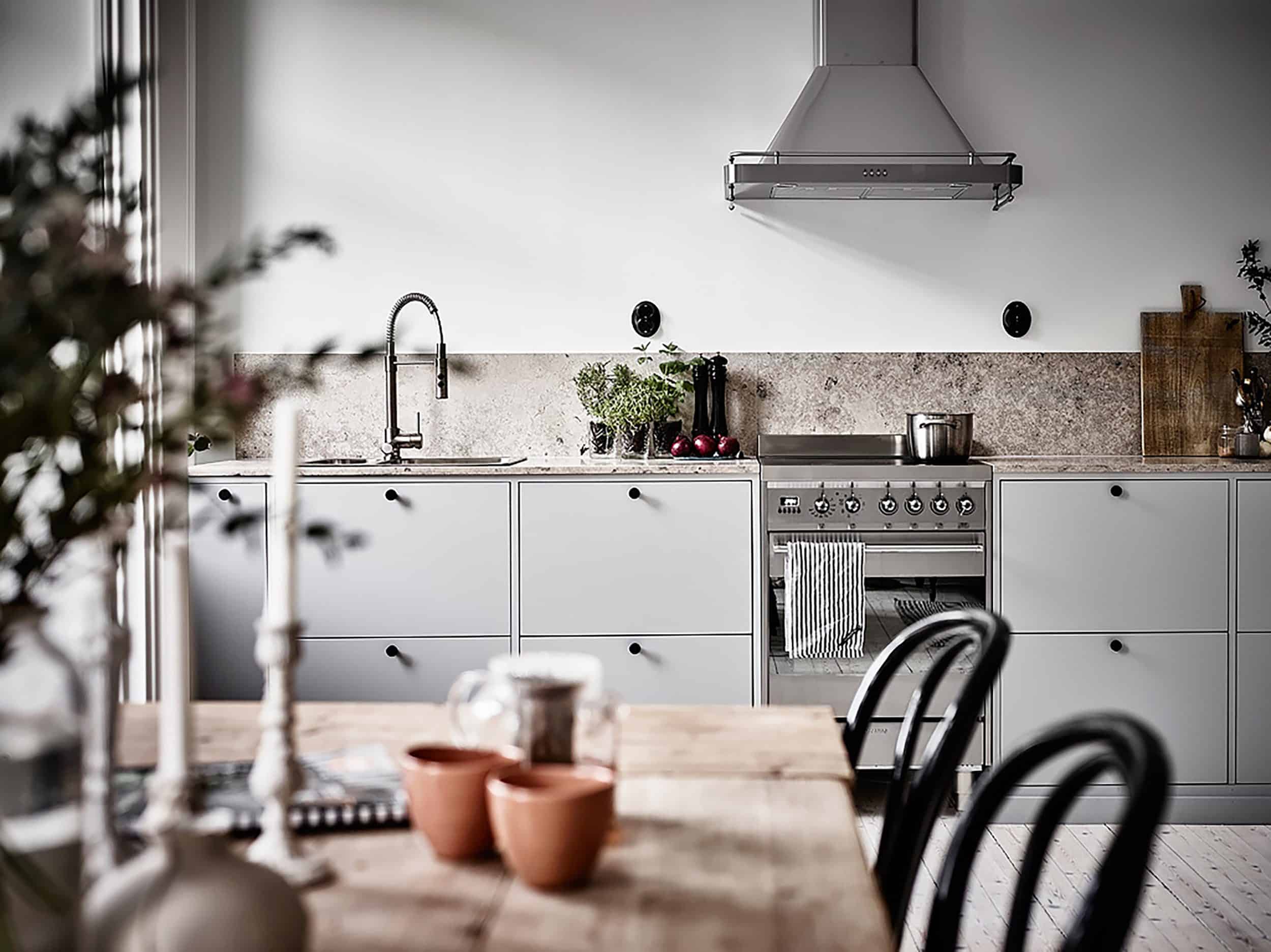 The simpler you keep it the easier it will be to keep the kitchen sleek and clean. It's the easiest form of making the kitchen feel as grandiose as possible.
One of the biggest and best tips we can give you when it comes to keeping your countertops in tip-top shape is keeping it simple. Keeping it simple will ensure you get the most out of the room while keeping the space as clean and clear as possible. Furthermore, it enables you to truly priorities, what you need to be displayed and what can go inside of the cabinetry.
Bring on Shelves
If you feel you are getting overwhelmed with the items on your countertop its time to bring in the "big guns"- shelves. Shelving works due to how much they can hold while still giving the room an air of modern. The feel grand without really being grand. Furthermore, you can easily place them on the wall or above your stove to make an impact that is budget-friendly.
Divide and Conquer
In the instance that you have a large counter space, you want to mentally divide it. Having it mentally divided will make figuring out how to display your most used items extremely easy. Furthermore, it's one of the best ways of truly minimizing what you have. It helps you visually see what fits and what simply won't work no matter how you display it.
Large Wire Baskets
Wire baskets are great because you can fit things into them easily without disrupting your decor. They are pretty great at storing items such as fruit, vegetables, and even other tidbits. Have one or two for the perfect outcome that doesn't take up too much unnecessary room.
Hanging Baskets
Anytime you can keep items away from the counter yet have them appear as if they are on the counter, you want to take advantage. The best way to do this is by hanging baskets underneath your larger cabinets. Having this aesthetic will make it look like it's on the counter but it's not. A win-win for all.
Do you have any tricks up your sleeve? If so, share it with us below.