Create a sleeping area that is not only calming, and relaxing, but it will showcase your personality on display. Having a white bedroom may cause you to think you cannot showcase your personality since the color white is neutral. However, having a white bedroom is never boring it is actually the contrary. Having a white bedroom gives you room to expand on what other colors and decorative ideas you can use to bring the space to life. The following soothing white bedrooms with a twist will make you reconsider the color of your current bedroom décor.
Neutral Color Palette
As the title states, this is an article on how to decorate a soothing white bedroom but with a twist. Having a white bedroom does not mean you cannot have color. Instead of having a bold contrast in the room have a neutral palette instead. The neutral shades of taupe, gray, powder blue, and even pink will maintain the room with the white effect but with a simple neutral color palette twist.
A Hint of Contrast
The beauty of a white palette is that any color works well with it. However, nothing works quite as well as giving the room a hint of contrast by adding black furniture. Although, the rest of the décor may be white the pops of black furniture will stand out and give the room a personal touch.
Bring on the Texture
Texture is great, and it works even better with white hues. You can have an all-white bedroom and have textured pieces that stand out from the rest. Add a textured curtain or bedding for a bold yet subtle and delicate twist in the classic space.
Powder Blue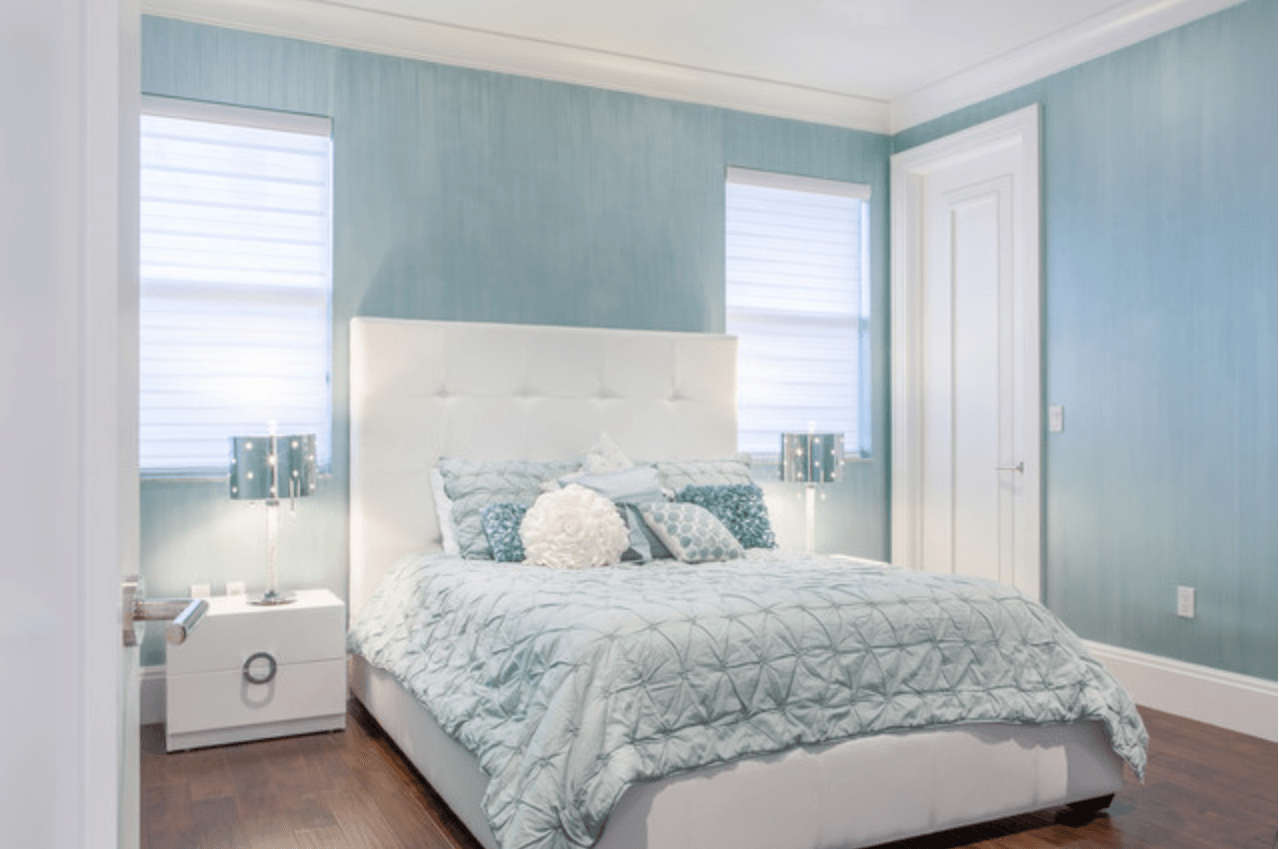 Powder blue is a breathtaking color. This is mainly due to its ability to work well with all hues. Add a powder blue pillow or blanket on top of your bed for a sweet twist that is captivating in a unique yet subtle manner. You can even paint a wood dresser powder blue for a punch of direct color in the room.
Vintage Rustic Twist
Add a twist of vintage to your white bedroom for a beautiful country feel that is charming. In order to add a vintage rustic twist, you want to have multiple different wood furniture items. You can even have a gallery wall in the room that features quotes, and/or country inspired images.
Layers of White
White comes in numerous different shades. It is one of the colors that has the most diversity in it. For this reason, it is easy to layer different shades of white in one single room. This can be by taking different shades of white and spreading it around the room from the walls all the way to the upholstery on your accent chair the idea is to have a large mesh of shades of white in one single room.
Flowers are Always Great
In all white bedroom, adding a twist is simple yet adding the correct kind of twist is easier said than done as too much of a bold color can disrupt the relaxing feel of the room. The perfect way to add color to a white bedroom is by adding natural elements such as flowers. Flowers are great because you can interchange them for any color you may like at any time. Consider having pastel tone flowers in different areas of your bedroom for soft touches of color throughout the entire room.
Mix Patterns
As stated above white comes in multiple different shades. Therefore, the same concept goes for texture. Mix different white textured items in the room for a focal point in a neutral way. This is a great way of adding a modern touch to your bedroom simply by incorporating 2-3 patterns in one single space.
Add a Fur Item
Yes, you read that correctly instead of having an accent chair have a fur chair or any other fur item that catches your attention. Fur in a white bedroom will elevate the appearance of it and give it an elegant twist. If you decide to add a fur chair it will double as your accent chair because of the texture it provides.
Metallic
For a twist that is subtle, yet trendy add a metallic twist to the room by having a metallic light fixture or even metallic door knobs. Although, these are very subtle things they make a huge impact when you are in the room. The idea is to keep the main focus of the room being white, but having little bits of color and texture here and there. Doing so adds the perfect twist in the white space.
To conclude, an all-white bedroom can actually be exactly what your home needs for the perfect relaxing space. Which of these will you be adding to your white bedroom décor? Please let us know in the comments below.