Located in a traditional neighborhood of Cehegin in Murcia, Spain – a place known for its high density housing – Grupo Aranea Architects built up to create a new penthouse suite for a young musician. His mother and sister already lived in the building and by renovating the home to include 2 new floors as well as a rooftop deck, the son was able to have not only his own personal place, but also a home that overlooks the surrounding town.


To take advantage of the views, the new penthouse Casa Lude doesn't open to the streets as do the rest of the homes but rather looks out towards the Burete Mountains and the San Agustin Hill.


An outside stairwell leads up to the rooftop deck – a perfect place for a musician to get inspired.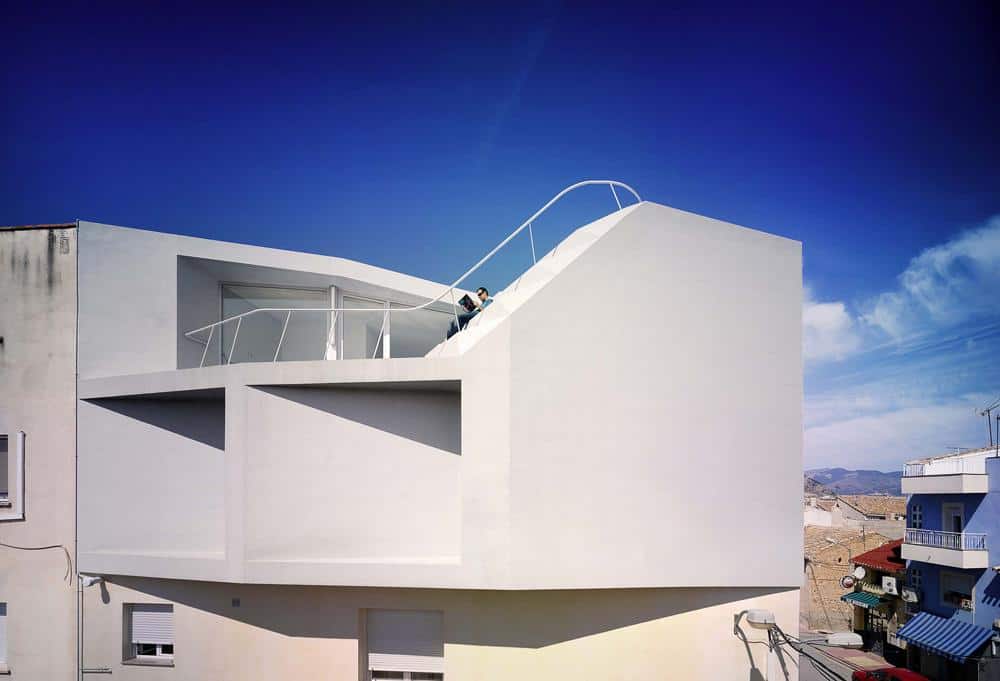 The stairwell doubles as a place to relax, enjoy a book or catch a few rays.


Each third step extends into a platform for sitting or lying down and a simple handrail extends up to and along the rooftop deck. Opposing splayed legs for extra strength support the handrail.


Each platform holds one small planter and each planter takes on a sculptural effect against its gleaming white backdrop.


It really is an amazing view.


What a great place to play guitar.


Inside the home is where the louder instruments are kept.


As modern as Casa Lude is, it still retains the traditional introverted exterior the rest of the neighborhood has with minimal windows on its exterior walls.


Even though there aren't many windows, the home stays light and bright with its bright white walls, and pale flooring.


Casa Lude has a continuous floor plan that ebbs and flows from the bedroom to the living room to the piano area to the dining room with the kitchen behind the piano, near the entrance.


The 2nd floor is where the office is located.


An al fresco dining area is on the rooftop deck.


Each floor has a variety of contemporary angles and ceiling heights that the homeowner can fill with music whether playing piano, the guitar or the French Horn.
Grupo Aranea
Photography by Jesus Granada