Many may say the kitchen and the bathroom are the most used spaces in a home, however, in all actuality, the laundry room will get the most use. If you are lucky enough to already have one in your home, it may be time to get it a quick makeover to bring your space back to life will make it feel bigger. Here are a few chic small laundry room ideas that will inspire you.
Barn Doors Pop
Many times, when you have a laundry room, its doors tend to be an afterthought. But as of recently, we have come to love the idea of making it a staple. Change up your traditional doors to barn doors with a pop of color. Paint your barn doors a vivid hue such as orange, green, red, and/or blue for that classic beauty. Your guests will be mesmerized by the color while wondering what treasures hide on the other size.
Sky Blue
Prevent your small room from feeling cluttered by creating a whimsical, charming oasis. In order to create this oasis, you want to add hues of sky blue paired with shades of white to create the perfect balance. You may even want to incorporate a bold wallpaper with multiple different shades of blue for a rich contrast.
Masculine Elegance
For a masculine elegance, you want to use darker hues and pair them with brass-like metallics. We love the idea of tucking your appliances away in a cupboard and/or wall storage for a classic aesthetic while still having everything you need.
Open Shelving
Open shelving is the perfect complementary addition to a laundry room because it gives you an airy feel while having everything you need at the tip of your hands. The key is working with numerous open shelves throughout the room to have that openness that expands the space without taking away from it.
Mix Patterns
The laundry room shouldn't feel like an "extra room" it should feel like another addition to the home. Therefore, what better way to bring a pop of beauty to a simple room than by adding mixed patterns in. Use patterns with similar colors to bring it all together.
Rustic Touch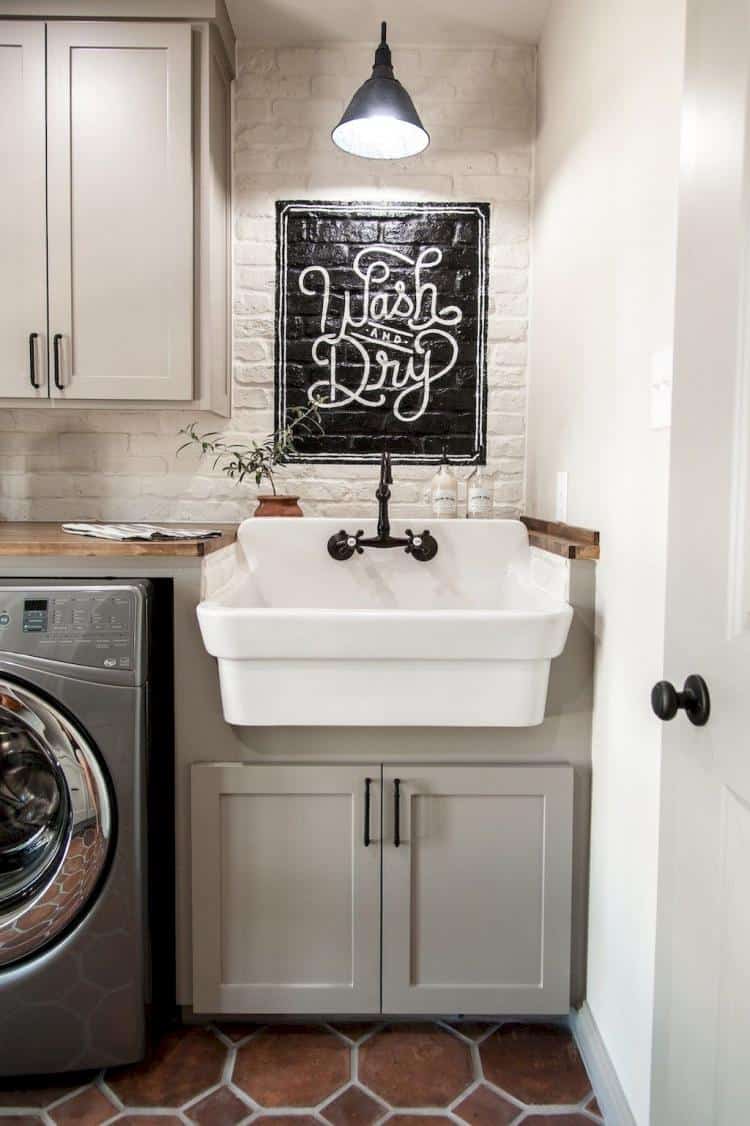 Rustic has always been a top favorite decor option due to its simplistic manner. Use neutral hues and add wooden bits for a classic rustic touch, that brings the room back to life. This is perfect for smaller rooms due to its expanding feel.
Patten Flooring
Bring on the pops of color, with tiled patterned flooring. Tiles make any space better, especially when they are laid out in a fun display with bits of color. Choose an intricate pattern and work with colors that are simple to allow the flooring the focus it deserves.
High Tech Appliances
Why settle for traditional appliances when you can use high tech appliances instead. High tech appliances have the versatility to be smaller in size while doing a lot more all at once. Additionally, you may consider mounting your appliances one on top of the other for a more compact appearance.
Crisp White
What better way to expand on the space than to use crisp shades of white. White is not only expanding, but it adds to the appeal that the space is extra clean.
Pops of Color
If the space feels a bit "boring" or less modern, you may be in need of color. Adding pops of color throughout the space is an excellent way to upgrade the area while still keeping the integrity of the main decor.
Give your laundry room an upgrade with one of these ideas. Which of these is your personal favorite? Please share with us your thoughts below.