This cool seaside house located on the Mornington Peninsula in Victoria, Australia was a joint effort of Australian architects Tim Spicer Architects and Col Bandy Architects. Dubbed the Rest House, it is aptly inspired by the serene seafront life, from its stunning vistas to its boat-style silhouette. This raised house plan offers the perfect vantage point to take in the views of the sparkling seashore, inviting light and landscape in through its glazed facades. Check it out.


From Tim Spicer Architects, "The Rest House in Flinders is the result of a long-standing friendship between the clients and architects. Their shared love of sailing and the Australian coastline inspired the form of this house situated by the sea. Its butterfly roof mimics a boat's hull, its angled walls protecting the garden from the prevailing southerly winds that whip off Bass Strait. The building and landscape have been designed to seamlessly integrate, utilizing the slope of the land, the surrounding vegetation and views of the valley and ocean."


To make the most of the surrounding scenery, the home's exterior features large expanses of glass. Sliding doors to the north, east and west connect interiors with the outdoors.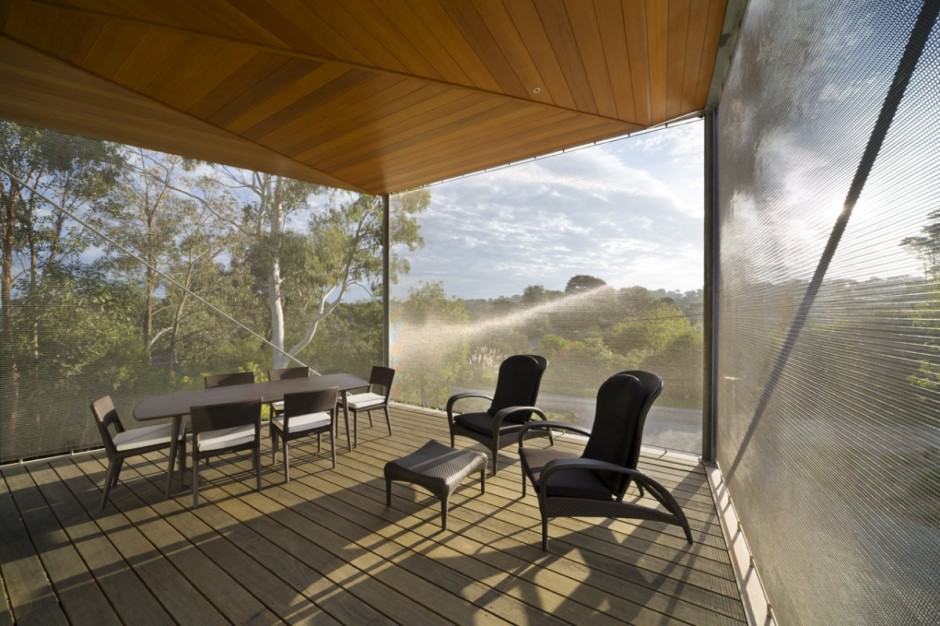 A cantilevered deck enclosed in stainless-steel mesh provides a protected viewing area to catch sight of the valley below.


A naturally durable palette of materials – concrete, glass, corten and galvanized steel – were chosen in response to the salty seaside setting. Each material is highlighted in the design.


From its contemporary style exterior, and in spite of its natural muse, interiors have a distinctly modern edge. Of course, nature is never far off, whether it be by outdoor views, alfresco living areas, or the organic material palette to contrast the contemporary elements.


The stairs lead up to the main floor housing the social spaces – kitchen, dining and living area – spilling onto an outdoor entertaining area and garden at the easterly side of the home. Meanwhile looking westward, the living room opens to the enclosed desk. This wonderfully open, spacious living room enjoys views in every direction, rivaled only by the fireplace feature which sits smack dab in the center of it all.


Continue through the private passage from the living area to the master bedroom, where a modern angular window frames snapshots of the lush, leafy garden.


The adjoining ensuite bathroom is a spa-inspired space perfectly suites to this home called "Rest House" – the spot to indulge in some sweet "me" time.


An integrated water tank forms the base of the terrace above.
Tim Spicer Architects
via Contemporist
photo credit: John Gollings