Yes, you're seeing red. That's because we've found 11 examples of red exterior homes and wanted to share them as a group. Red is such a bold color – and it can be a very large leap of faith to commission a red house. Or paint a house red. Although paint is one thing, you can do it over if you have to, but siding? Not so much. But calm that fearful mind – red can look great, as you'll see from the house samples below. They are mostly cherry red, or fire-engine red – the quintessential hues of choice. And then there's the Ferrari-red high gloss house. Which is your favorite?


Red exterior is popular! Just check out this red weeHouse by Alchemy Architecs – it's one of their most-asked-for prefab model. The "Corncrib" style siding is red stained pine and it was inspired by local Northern Minnesota wood cabins and the image of a tugboat. The white birch trees and a red home … isn't it a picturesque vacation home idea?!

This contemporary barn style home has a red brick exterior.


This red exterior home is modern cubist. Source


This home looks like a traditional red barn – lots of room in here! Source


This container home has a great shade of red on its exterior! Source


Another container house with a great red exterior! Source


This red exterior house makes such a statement in the snow! Source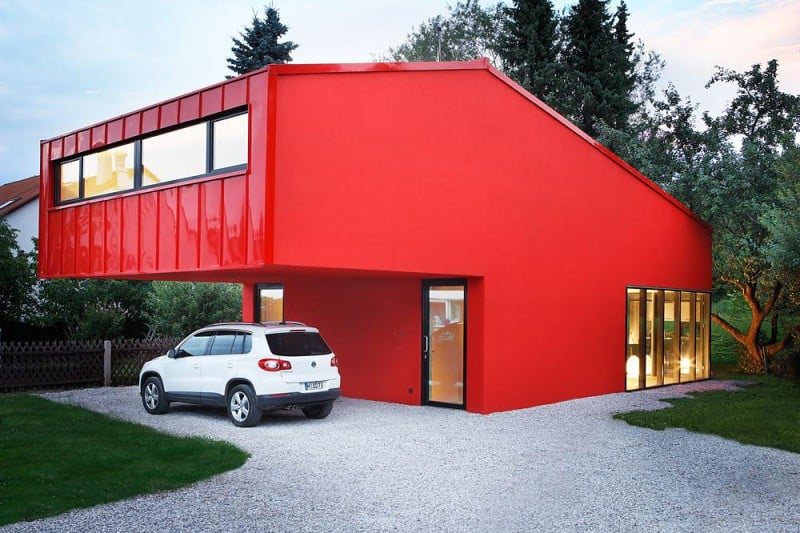 There's a high gloss Ferrari red exterior finish on this red house! Source