Some of us are luck enough to have a pool in our backyard and then some of us are even luckier and have enough ground for a pool house too. Big and small, modern or cottage-inspired, we're sharing them all. Check out 35 swoon-worthy pool houses to dream about and, one day, build for your family.
Homestead Structures shows off this beautiful pool house. It has a traditional style and acts as a miniature version of the family home which is great for those looking for something simple and polished.
We found this tid bit of inspiration on Pinterest and we love its "holiday" style. Complete with a bar and enough room for a restroom if you'd fancy, this small space has all the luxuries you could want without using too much ground.
Check out this fabulous design from Outdoor Solutions. It's got a rustic theme but one that's quite grandiose in style. It's like a getaway you'd take in the mountains but it's right in the backyard!
The Barn Yard Store shows us another more traditional design when it comes to pool houses. This is a great route to go when you want to match up with the main house and it's a bit bigger with it's patio and kitchen intact.
Here's a more open pool house that you can still fit a restroom or storage space inside. It becomes a great place for grilling out and entraining throughout the warmer months of the year. (via)
We're loving this quaint little design as well. It's traditional but it's perfect for families that love to entertain and spend their summers outdoors. Just pull right up to the bar and grab yourself a snack and an ice cold lemonade! (via)
This design has a bit of that rustic, cabin feel as well. If you're inspired by mountain style and organic textures then this is something you may want to consider when building your own pool house. (via)
California Home Design is where we found this modern beauty. If you, again, are inspired by organic beauty and texture but you want to keep your home contemporary and on par with present trends then this is a design you want to resonate with.
Here we see a larger, more traditional pool house in the process of being built. Again, this is reminiscent of the main home and has all the cozy accents you'd get from a classic family space.
Here we see a pool house a bit closers to the main property. This works if you don't have as much land to play with and want to keep all the essentials close by. Again this one matches the main house, and we love that cohesiveness.
This design has a bit of a beach vacation vibe. It's neutral and has a southern tropical style that can both match the main house and offer up a bit of poolside luxury as well.
Check out this luxury space. With all the spa flair that you could muster, this modern design is full of beauty and easy vibes.
Amish Mike gives us a great design for those that love a country home. This red barn look is quite charming and gives us a warm, welcoming and family-friendly feel. Use this as inspiration for those with a lot of land to play off the rustic, farm style.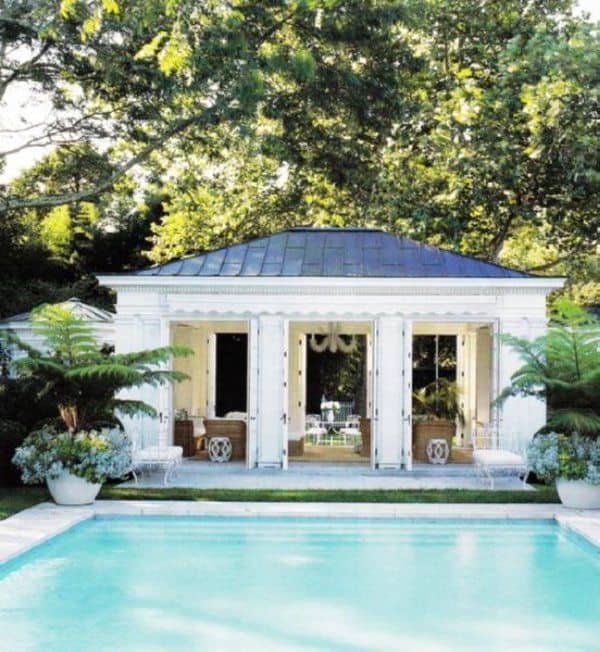 We love these quaint and feminine designs. It's open but gives you the luxury you'd want when it comes to an at-home poolside escape.
Brooks & Falotico goes all out with this design. If you have your eyes set on something more grandiose and luxurious in terms of function and entertainment, this is the kind of scheme you may want to dive right into.
In the most literal of senses this is a pool house. Your guests can stay out in this space and have all the function of the main house but with their privacy and a beautiful view of the pool ad backyard.
This design is a it more unique because it's not as expected or kitschy. You've gotten deeper neutrals and a lot of coverage giving it a vineyard vibe. (via)
Laurel & Wolf brings us a beautiful design full of eclectic elements and bono spirits. We love the open windows and doors, as well as the styling with its flowing fabric and textural blending.
Again, we fell upon a smaller design that is both quaint and welcoming. It's got a certain cottage vibe that's unmistakable and would be beautiful near your backyard garden and small, family pool.
Vanilla & Ebony presents another beautiful cabin-flavored design that we're swooning for. We love it's textural elements, we love the warm lighting and we really love the sitting space that it presents in the front of the house.
American Post & Beam doesn't disappoint with this beauty. This one can be used as a guest house and too offer up all the function of a vacation space while pairing nicely with the main property.
Here we have another bohemian design that's full of life, function and eclectic décor. It's an open style so guests can come and go freely but have what they need in a pool house: coverage, seating and a place to grab a drink!
One of the most traditional styles of the bunch, with this design we learn that even your suburban home can offer up space for a pool house. This mini creation matched the property and pumps up the value as well.
Could this space get any more beautiful? Contemporary in all the right ways, this design has a certain sophisticated and artistic edge that we're absolutely swooning over.
Pinterest always inspires, as we've gushed about before, but this one really struck up. With its distinct English, vintage style and Victorian edges, we're loving the uniqueness that this brings to a backyard pool.
We found this one on Pinterest too. It gives us a beautiful and clear example of how you can easily match up your pool house, using it for storage or function, to your main property and have a seamless look.
We went weak at the knees for this innovative design. It's a glass house, it's a modern house, it's a contemporary, artistic piece that's filled with so much bold talent.
Smaller, but modern and forward-thinking in design, we've fallen for this pool house too. It mixes contemporary style with organic beauty quite nicely. (via)
House Beautiful shows off this barn-style pool house that we're loving as well. It's chic but it's also homey and made to feel welcoming and perfectly on-trend.
Our Boat House gives us a unique design to feature. Look at those sliding doors that open right up to the kitchen, an essential to the most functional and luxurious of pool houses!
The Well Appointed House has a beauty up their sleeve too. Just look at this grandiose and Victorian-inspired design, from the details on the windows to the peeks of décor inside.
Camille Styles shows off a beautiful, black and white pool house that couldn't be more elegant or chic. We're loving the contrast, timeless feel and feminine sex appeal.
One of the smaller pool houses on the list, this one works for traditional homes with smaller background. Again, easily used just for storage space or shaded seating.
Here we have a Mediterranean-style pool house that again can also be used as a full-functioning guest house. If you have the land and the vision to execute something this grand, do it!
Pinterest brings us this bout of inspiration for when it comes to the guts of the space. Add a TV and a fire to entertain all year round.