The Gatineau Hills Home in picturesque Quebec, Canada finds a beautiful balance between modern and natural – not an easy combination to come by. But leave it to Canadian architecture firm Christopher Simmonds Architect Inc. to reveal a natural house design that embraces its earthy surroundings while opening the door to a contemporary aesthetic, so to speak. The floor to ceiling windows invite the ever changing landscape of trees and mountains indoors, where a warm wood ceiling overhead and rustic hand-scraped wood floor underfoot wrap you in nature's best.


The home was just finished this September – just in time to take in the brilliant colors of the changing autumn leaves. The facade of natural reclaimed wood on the upper level, white cement board lining the lower, and large expanses of glass throughout are the perfect package for this chic forest home.


This slope house features a walk-out basement level that is flooded with natural light and views – not really a "basement" in the conventional sense.


The vertical windows lead the eye upward, loosely echoing the vertical lines of the surrounding trees.


An upper-floor balcony lets you experience nature first-hand, on every level of this home.


C'mon on in!


Inside, you'll find the home teeters between natural and contemporary, with elements like its wood ceilings, hand-scraped wood floors, and the ever-present views at every turn. Warm sunlight spills in and flows freely through the open concept main living floor.


From the architects, "The open ground floor, with its interconnected spaces, allows sunlight to flow through uninterrupted, showcasing the beauty of the natural light as it varies throughout the day and by season." The bright white walls (not that there's much wall with all these windows!), ceilings, kitchen island and furniture lends the home its contemporary edge.


A modern fireplace feature warms up this cool space – both in looks, and in temperature!


While the top of the kitchen island is finished in a white surface, its face echoes the that weathered country wood aesthetic visible in the ceiling, floor and views outside.


A built-in shelf along the back wall serves as a backsplash and storage for kitchen essentials.


With dinner cooked, there's no nicer place to serve it up than this stunning dining area, complete with a fireplace feature front and center. The floor comes level with the grassy ground just on the other side of the glass walls, giving interiors that indoor-outdoor feel.


A simple stairway features windows that offer a lovely focal point as you ascend and descend through the home's three levels.


The bedroom with a dreamy view…


And of course, the bathroom doesn't fall short on scenery either, visible through the glass walls, complete with a walkout to the balcony. The wall to wall mirror doubles the views and the light!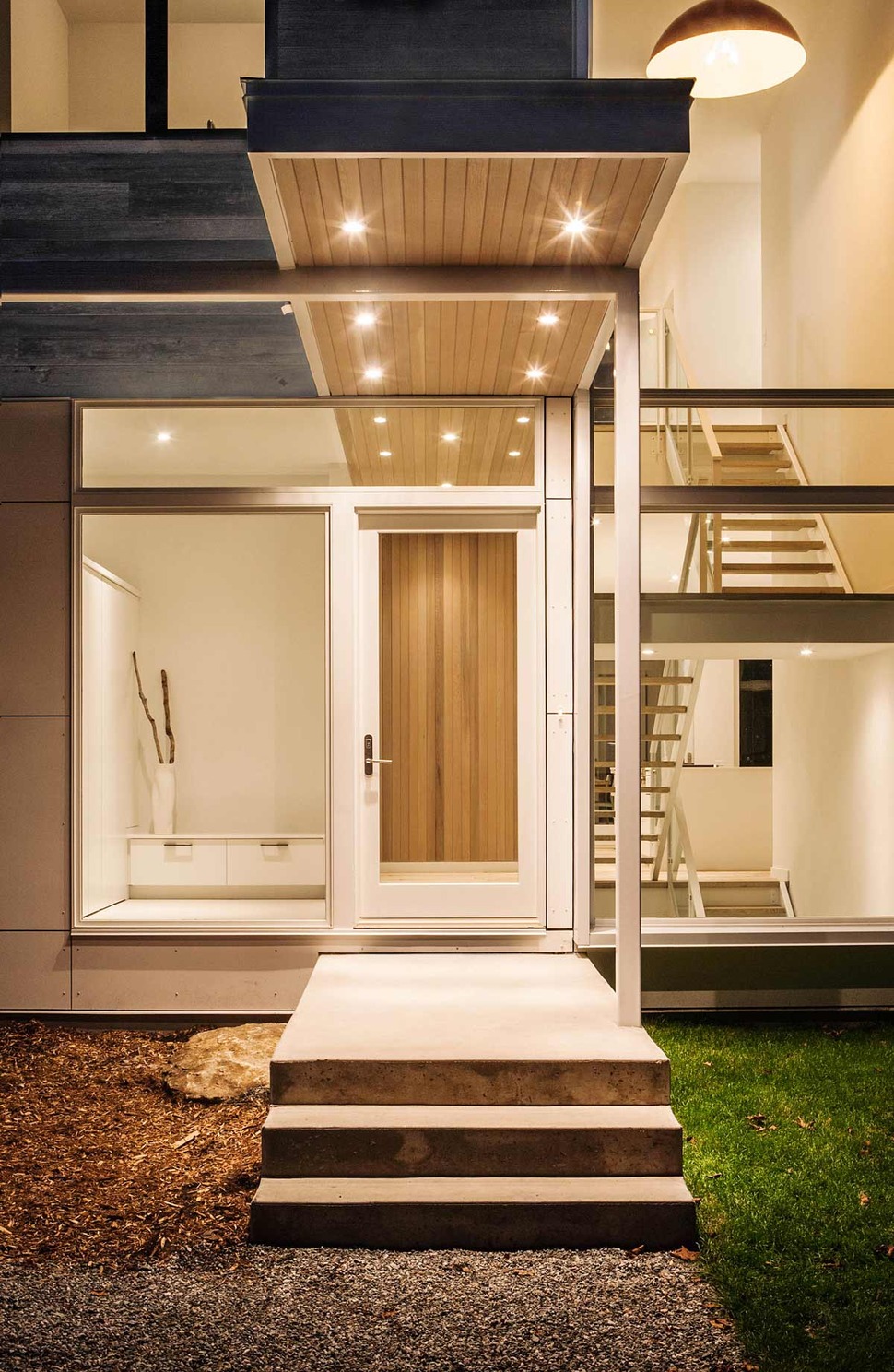 By night, the home glows warmly through its expansive glazing.


The lovely lantern effect lights up the forest at dusk.


Outdoors, a sunken concrete pool nestles into the slope, finishing this perfect picture of modern living in the Canadian woods.
Christopher Simmonds Architect Inc.
photo credit: Peter Fritz Photography