Usually the ranch style house designs all look very similar with their pitched roofs and wooden posts. But these few are outstanding from the inside out. Featuring distinct shapes and architectural details they incorporate modern design solutions and unusual interiors. And while some of them may not look like much from the first glance, their insides definitely deserve a little bit of attention.
Olivia Newton-John's Former House in Malibu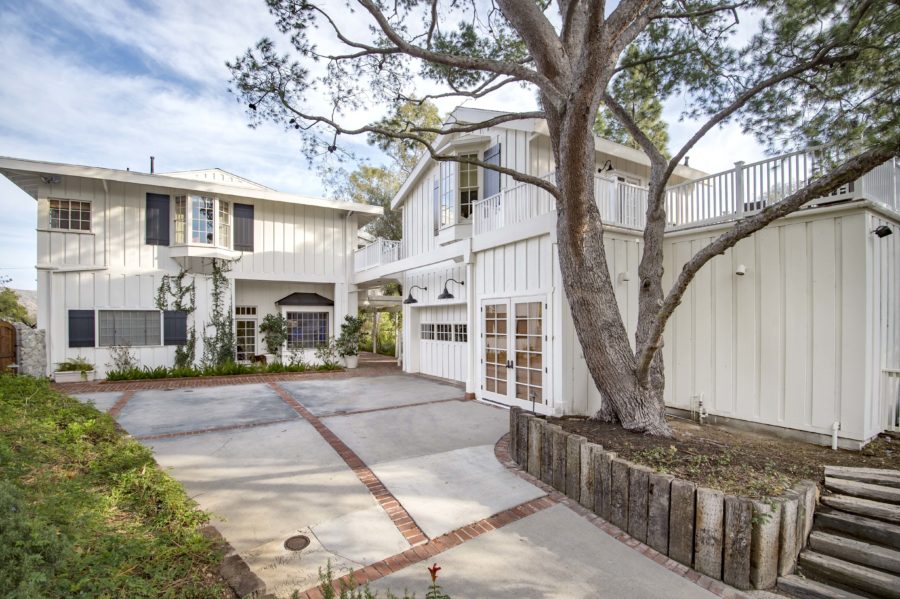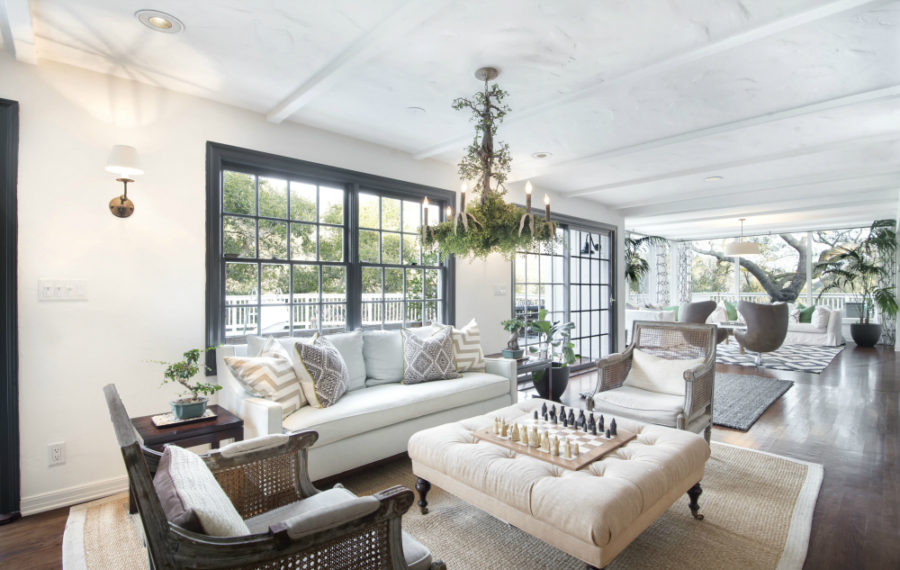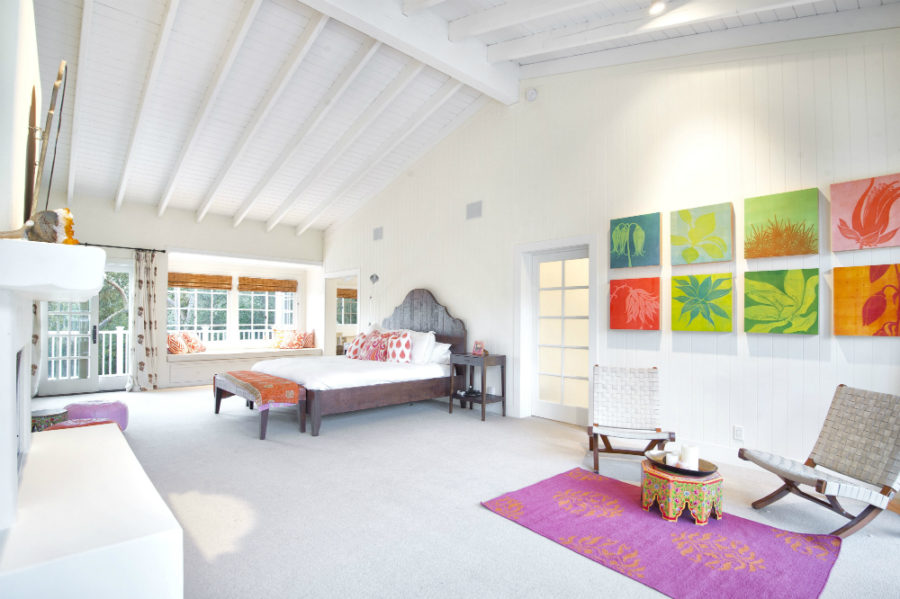 Olivia Newton John's former ranch style house in Malibu was listed at $7.5m early this year offering generous 5 bedrooms and 5.5 bathrooms. Located in just minutes from Santa Monica the white wooden estate looks sweet and cozy inviting to step through its French doors.
The matching white interiors contrast beautifully with the hardwood floors and the dark ceiling beams. Numerous windows in every room allow the light to bounce from every surface making for a very light and airy atmosphere.
House library that doubles as a study and a home office is an exception to the all-white interiors with its grey open shelving that outlines the entire room. While the multiple outdoor areas come in very numerous different styles. Among them are a medium swimming pool, a greenhouse, and a few pergolas.
Colorado Ranch in Rocky Mountains
This more traditional ranch style house sits in the foothills of the Rocky Mountains on 785 acres of green land. At a steep price of $18.5m the house offers 9 bedrooms and 6 baths, multiple stone fireplaces, an office, and covered porches.
Divided into five residential structures the Colorado ranch also features a multipurpose building that accommodates a fly shop and storage space for fishing gear besides the living quarters.
Equally traditional, interiors feature the vaulted ceilings, rustic accents and hickory floors among other luxury details.
Abandoned Farmhouse Converted Into Ranch House
Fixer Upper's Chip and Joanna have converted this abandoned farmhouse into a Southwestern-inspired style home filled with rustic accents and natural colors.
Sitting on a 2,000-acre farm land the old building that was abandoned for more than a decade posed quite a challenge for the designers. But the result is a neutral ranch style house contrasted with the stylish black-framed windows with natural wood shutters.
Interiors filled with stone and wood feature beams and pronounced wooden window frames. In the kitchen the stone walls are complemented with the terracotta tiles and rustic cabinets while in the bedroom the headboard is replaced with a wall of wooden planks.
Ranch House in São Paulo
Located in São Paulo the Ranch House by Galeazzo Design is an interesting mix of the Mediterranean and ranch styles. Using bamboo, wood and stone the architects filled the house with intriguing details and accessories as well as luxury amenities like spa, gym, sauna, and even a private restaurant with a small performance stage.
Living room's bamboo ceilings work nicely with the stone inclusions while the wood and tiled flooring complements the complex interior design.
The house is filled with light due to wall-length windows that are also used to create a connection between the living room and the restaurant area.
Ranch Style House in St. Helena, California
Sitting in the middle of St. Helena winery's vineyard this modern ranch style house is a remodeling project of Jean Larrette Interior Design. Standing out in the green landscapes with its white exterior the house opens up to the outdoors with wide folding glass doors and numerous windows.
In the backyard there is a medium-sized swimming pool with a wooden deck and a fire pit. And all around the green trees and lawns are sprawling for miles and miles.
Interiors features a mix of styles in their furnishings and accessories. In the living room and dining area the decor is more traditional while the kitchen and home office bring a modern streak to the house.
White Ranch House in Florida
This mid-century modern house is a little over half a century-old but thanks to its pristine white exterior it looks like new. The manicured bushes and lawns that surround it only strengthen that impression.
Interiors are anything but neutral though. In the living room the dark blue takes center stage while the kids rooms burst with bolder brights.
Prints and patterns add a little dimension to each area, even the seemingly neutral dining room. And the statement accessories make the interiors feel more luxurious.
Ranch House in Phoenix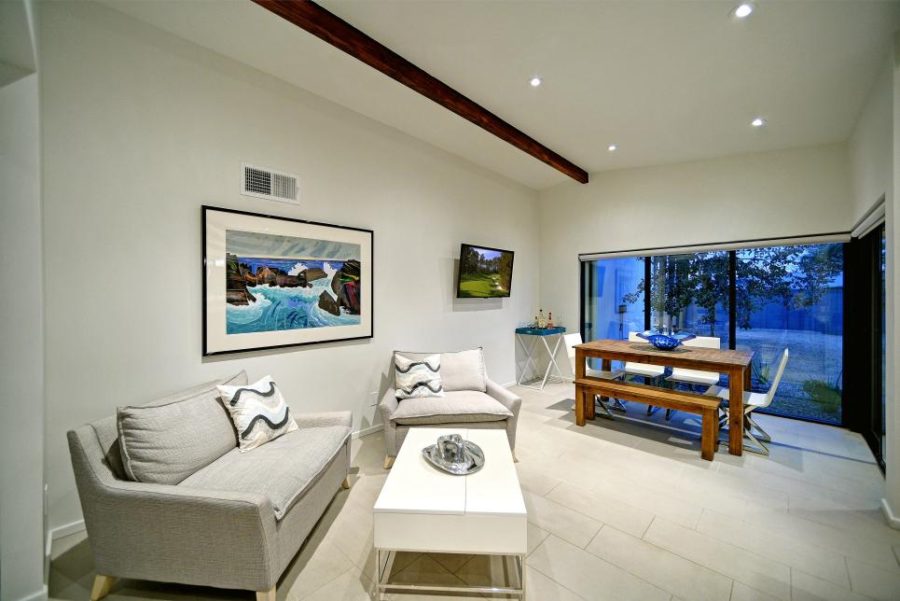 The Ranch Mine revitalized this ranch style house with modern interiors and floor-to-ceiling windows. If not for the wooden beams it'd be hard to tell it's not a recent modern construction.
In the main room contemporary open layout makes for a light and airy look. The open L-shaped kitchen filled with sleek stainless steel accents and glossy grey cabinets looks incredibly stylish and modern.
Bedroom and bathroom are connected with a wide entrance instead of a door while a narrow deck fronts the bed that faces a retractable glass wall.
Modern Ranch-Style Home in Dallas, Texas
This Dallas 1954 home is an epitome of the mid-century modern design. Created by the architect Charles Dilbeck the $4 m property sits near the Dallas Arts District surrounded with lush green trees and lawns.
Its four bedrooms are complemented with a state-of-the-art kitchen complete with wine coolers and a formal dining room.
Besides swimming pool the outdoors feature a cabana that could be make the living quarters in its own right. There's an entertaining room and a screened dining porch not to mention a kitchenette and a full bath.
Jackson Design's Mediterranean Ranch House
Another ranch style house with Mediterranean elements was a work of Jackson Design and Remodeling. Its incredibly attractive red roof nicely contrasts with the white exterior and black framing and posts.
Interiors are heavy on the wooden accents and furnishings, which dictates a neutral color scheme. Though the modern furniture balances out the traditional rustic design.
Terracotta tiles and a brick fireplace make for an unusual look in the living room while the bathroom looks every bit hotel-like.
Hupomone Ranch Near Petaluma, California
What can be more ranch style than a barn, right? Architecture firm Turnbull Griffin Haesloop have built a barn house that became the Hupomone Ranch near Petaluma, California.
The white barn-like building is filled with light thanks to the numerous glass inclusions and just like the real thing it features a mezzanine in the living room.
Albeit being designed in modern even minimal style the house features a lot of country rustic accents and industrial accessories that amplify the feeling of the country living.
Ranch style house designs don't have to be boring. There is a certain aesthetic, yes, but each residence needs to have its own personality. Take note of how the architects modernize the ranch style homes to not only look more interesting but also fit the modern lifestyle. And how other architectural style elements can really make for an outstanding house design.