Nautical décor is always a top favorite for many due to its easy-breezy yet charming aesthetics even during the cooler months. However, if you really want to embrace a nautical theme the best way to do so is to incorporate it into your decorative style during the summer months. The following nautical ideas for summer will inspire your next big style change.
Color Coordinate
When it comes to using a color scheme blue and white is the way to go. However, the key is color coordinating your entire space with these two colors. They are subtle, and charming while providing a range of different options to choose from including bold patterns and simple prints.
Mismatched Fabric
Yes, you read that correctly having mismatched fabric is in! The idea is to use two-three different fabrics that come in similar patterns or hues and working them into the space. To keep the nautical vibe throughout use sailor inspired designs.
Blue Glass Tiles
Blue glass tiles or sea glass is perfect for an under the sea appeal that can be used in the kitchen as a hint of color or in the bathroom. The colorful glass brings out the subtle appeal of the space while adding in some colorful charm.
Dark Wood and Blue
We love the aesthetics of using dark wood and pairing it with different hues of blue for a classic nautical vibe. The blend of colors work seamlessly together while having a modern effect in the room. We love this décor option for a guest bedroom, and/or even the kitchen.
Stairway Accent
For a cool, multicultural effect on your stairway add a nautical, worldly touch. We love the idea of adding a blue, bold wallpaper and adding picture frames with metallic frames. The metal frames add a little touch of extra that is simple.
Ocean Shimmer
Incorporate ocean hues and pair them with shimmery metallics for a well-rounded combination. This specific combo makes perfect sense in any room that needs a hint of feminine beauty. You may want to consider using a shimmery accent tile wall to bring in the aesthetics in a simple manner.
Whimsical Touch
Lighting is extremely important in any room, it sort of sets the stage for the rest of your décor. Choose a nautical light fixture and add it to the room as the main highlight. Doing so will add a whimsical touch while still being easy to decorate around.
Crisp White
White is one of those hues that never goes out of style due to its versatility. Use a crisp white hue and pair with pastel shades of blue. You may even want to add a classic nautical art piece to fully embrace the concept.
Bring on the Stripes
Stripes are a classic touch to nautical décor. There is something seamless about them that simply brings that strong nautical feel into any room. Use bold stripes in simple hues such as white and blue to bring it all together.
Pattern, Pattern and more Pattern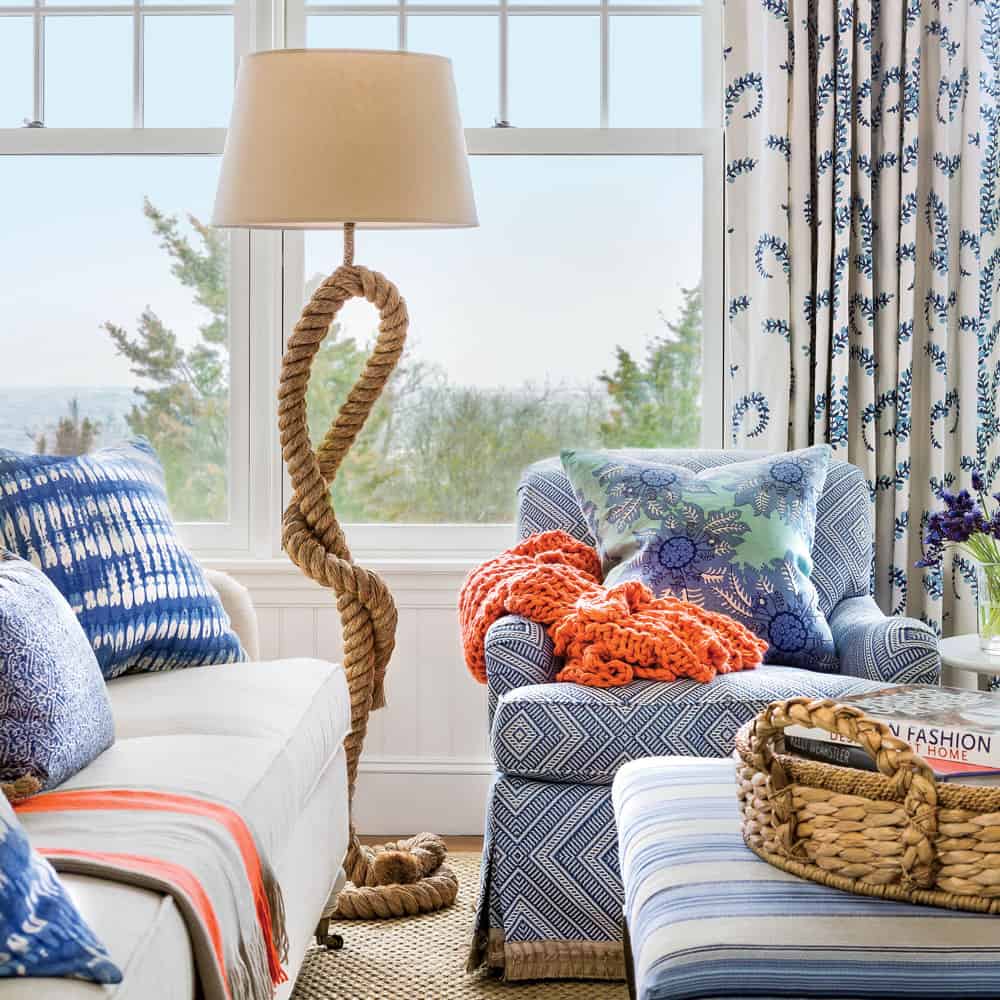 Nothing screams nautical quite like utilizing multiple different patterns in one single room. Doing so will bring forth the beauty of the room without looking overcrowded. The key is using similar colors with bold patterns that complement each other.
Bring a bit of summer house fun with these inspirational décor options. Let us know below which of these is your personal favorite.