Using washstands or freestanding washbasins instead of common bathroom sink vanities can be a great space-saving solution, and with this selection, we present several interesting fixtures that would fit perfectly in a modern bathroom.
Modern Washstand Ray by Michael Hilgers
What an incredible freestanding washstand. We've seen this fixture around and have been looking for the designer and finally found him. It looks so modern and at the same time, almost 'cowboy'. Must be the varnished steel wire that braces the legs – and can be used as towel holders. Very country and also very city. It's a lovely deep sink – the farmhouse feel – but then there are the sleek lines of the fine porcelain. You can really make use of a small area by leaving the space below the sink open like this. And I can see it in almost any bathroom – a modern setting that plays off the sublime lines of the sink itself, or an old farmhouse restore. Can't you see two of these, side by side, in your master bathroom? More information: Ex-t.
Marble Washbasin by Teuco

If you're looking for a marble washbasin that will give your bathroom the sleek elegance you need, have a look at this beautiful Milestone washbasin available at Teuco. Designed by Carlo Colombo, Milestone is created in a monolithic fashion out of marble. The design is modern and simple yet very striking. Its architectural simplicity makes it a wonderful understated basin for the bathroom that additionally seems like a pleasure to use. We like the contrast of the marble against wood in the product images shown here. Likewise, the basins against a glossy dark material would be increasingly dramatic. Go to Teuco to learn more.
Washstand Calice from Regia – a modern classic

An extraordinary style adaptable for a range of bathroom interiors, the Calice is a modern washstand from Regia. The form, which tapers in the middle and flares at the top and bottom, is pared down and minimal. However, in the burnished gold and silver finishes Calice would fit perfectly into a transitional or traditional bathroom. It will fit into the environment, complementing gilt-framed mirrors and ornate antiques. In crisp, modern white it's a real contemporary classic – furthermore, it can even be whisked into the futuristic realm if you choose the transparent, juicy glass option to match Regia's fabulous Jolie bathtub. Curvy and appealing, the Calice washstand by Regia looks great in so many settings.


Source
Colored Washstands Ninfo with Stainless Steel Basins from Hastings

Ninfo from Hastings Bath Collection is constructed of duralmond (resin and crushed almond shells). This contemporary hip washstand is floor-mount and available in multiple colors. The basin is made from stainless steel.
Models shown (right): RAP LGRN NINX (light green), RAP LPCH NINX (light peach).
Dimensions: 10″ dia. x 13″ W x 5″ D x 33″ H.
Price: about $1,600.
Manufactured by Rapsel, Nito and Tulli Zuccari, the Hastings Contemporary Bathroom Collection features fixtures that have become centerpieces in some of the most luxurious bathrooms in the world. Hastings.


Source
Freestanding Washbasin Sharp from Artceram – an unusual architectural element

As multifaceted as your personality, the Sharp freestanding washbasin from Artceram resembles a precious gem. The surfaces are cut with precision to reveal an unpretentious grace in the fixture's many faces. A strong presence in your bathroom – Sharp will attract all the attention. Eight triangular surfaces intersect to create a 'web of points' which is fashioned when the basin is rotated on its base. Artceram is known for engaging top designers to produce pieces that refuse to compromise on style. Rendered in crisp white, the glacial elegance of this washbasin is a sight to behold.


Source


Source
Translucent Onyx Washbasin from Stone Forest

Stone Forest creates hand-carved stone sculptures which combine the elegant simplicity of Japanese style with contemporary design. The integrity of stone gives their carvings a radiant mass or presence not realized using man-made materials such as cement or cast stone. Since each piece is hand-carved using hammer and chisel, the individual character of the rock as well as the inspiration of the stone-cutter lend each washbasin a unique quality. In a world of impermanence, the timelessness of a hand-carved basin can bring a suggestion of eternity to your home.


Source


Source
Washstand Vanity Hall from ArtCeram

A thought-provoking hole dominates the design of the Hall washstand vanity from ArtCeram. Conspicuous by its absence, the middle of the ceramic vanity tapers in, eventually giving way to a drop-shaped hole. Soft and elegant, Hall is appropriate for any modern bathroom. The shape of the basin echoes the shape of the hole, dipping down in smooth, sloping ceramic. The faucets can be installed directly onto the upper surface of the basin, or the basin can be left uninterrupted with freestanding faucet installation. Available in two colors, you can choose from either white with a dark hole or dark with a light hole. A modern classic that will beautify your home for years to come – the Hall washstand.


Source
Wooden Freestanding Washbasin Bug from Ellebi

The Bug wooden freestanding washbasin from Ellebi boasts a distinctive silhouette that is bound to be the focal point in any bathroom. Likewise, the choice of natural wood as the material cannot help but arouse curiosity… a one-piece fixture where even the sink is made of wood is a highly unusual find. The smooth, gently tapering form represents the top notch, innovative Italian design. The high-quality natural wooden surface glows from within with polished vitality. A piece of individual art for your home, this sculpted basin reveals your attention to detail and desire to fill your home with beauty. From Ellebi, Bug is an iconic item that makes a strong statement.


Source
Barrel Washbasin from Antonio Lupi

A beautiful serene addition to luxury bathrooms, the new Antonio Lupi Barrel Washbasin has a natural seductive charm. Designed by Carlo Colombo, Barrel is honed from a solid block of Onyx, Jutta or Sinai Stone. The freestanding washbasin has a solid, soothing and monolithic presence. The carved stone reveals the natural beauty hidden within its hard surface. In the Onyx version the variation in thickness around the basin allows variations in light, which illuminate to reveal warm golden colors above the dark base. Like a pillar candle, the Onyx glows with light for a sensual warmth. The Jutta version has a lovely light finish that compliments minimalist interiors while offering the organic beauty of its golden grain. Gorgeous basins that shine with a natural spirit, Barrel designs are available for $12,250 in Jutta and $18,000 Onyx.


Source
Black and White Art Washbasins from Regia

Color, the basic component of Regia products was traded in for black and white only, with these new art washbasins. Great expression is achieved even when the color language is suddenly restrained. But these new designs manage to express more with less. Their shape appears to peak above the floor and rises harmoniously. The material seems to be sculpted and the designs discreetly incorporate patterns that let their personality shine through. The material from which they are made is tecnoglass white screen with black or tecnoglass black screen with white. The singular expression of these unique products is admirable. These artsy freestanding fixtures from Regia present a new standard in their range of products.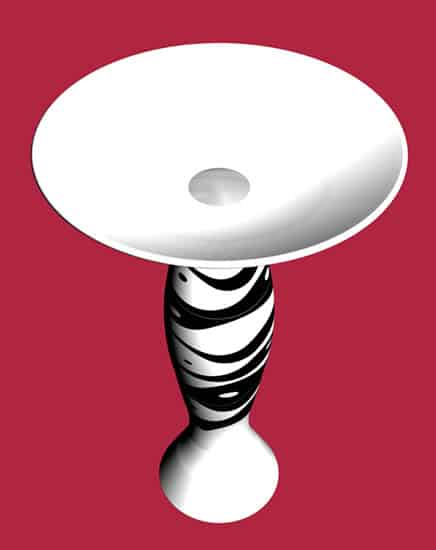 Source


Source
Free Standing Wash Basins from Kos

Kos offers the Lab 03 wash basins as the ultimate, multifunctional alternative in modern-day bathrooms. Their free standing design allows for a convenient installation anywhere in the room, and even outdoors. Clearly minimalist, the basins come with an innovative twist – a built-in towel rack. Their pure geometry, softened by the gentle curves of the corners and only slightly interrupted by the towel rack, makes them very contemporary. A good example of how a small design detail matters, the rack in this case, can make ordinary bathroom fixtures truly not ordinary. Visit Kos for more information.


Source


Source