Arca, by Atelier Marko Brajovic is located in the Brazilian Costa Verde Rainforest near the Pereque waterfall that borders the Parque da Bocaina. A prefab 2-bed getaway, the design is a half barrel shaped dome and a self supporting volume whose continuous roof design allows for the elimination of interior supports. And since the barrel shape is the support, both ends where able to be completely glazed to maximize the views of the surrounding natural landscape.


The barrel shape was made with a Galvalume sheet, which is a composite of carbon steel, aluminum and zinc.

It took only 1 week to assemble the Galvalume modules on site and if need be they can just as quickly, and easily be disassembled and moved to a new location.


Since the dome is prefabricated, impact to the surrounding rain forest was minimal.


The floor of the dome is elevated via concrete pier footings, allowing cool breezes to pass underneath the structure creating a passive cooling effect for the interior zones.


Wind driven roof turbines remove any collected heat from the inside.


Both ends of the Galvalume shell open up to decking, sheltered by the extended roofline.


On one side, the deck is located just off of the kitchen and dining areas.


The kitchen is a compact design.


The exposed Galvalume shell creates a strong industrial aesthetic, which has been countered by the use of Eucalyptus boards used throughout the interior.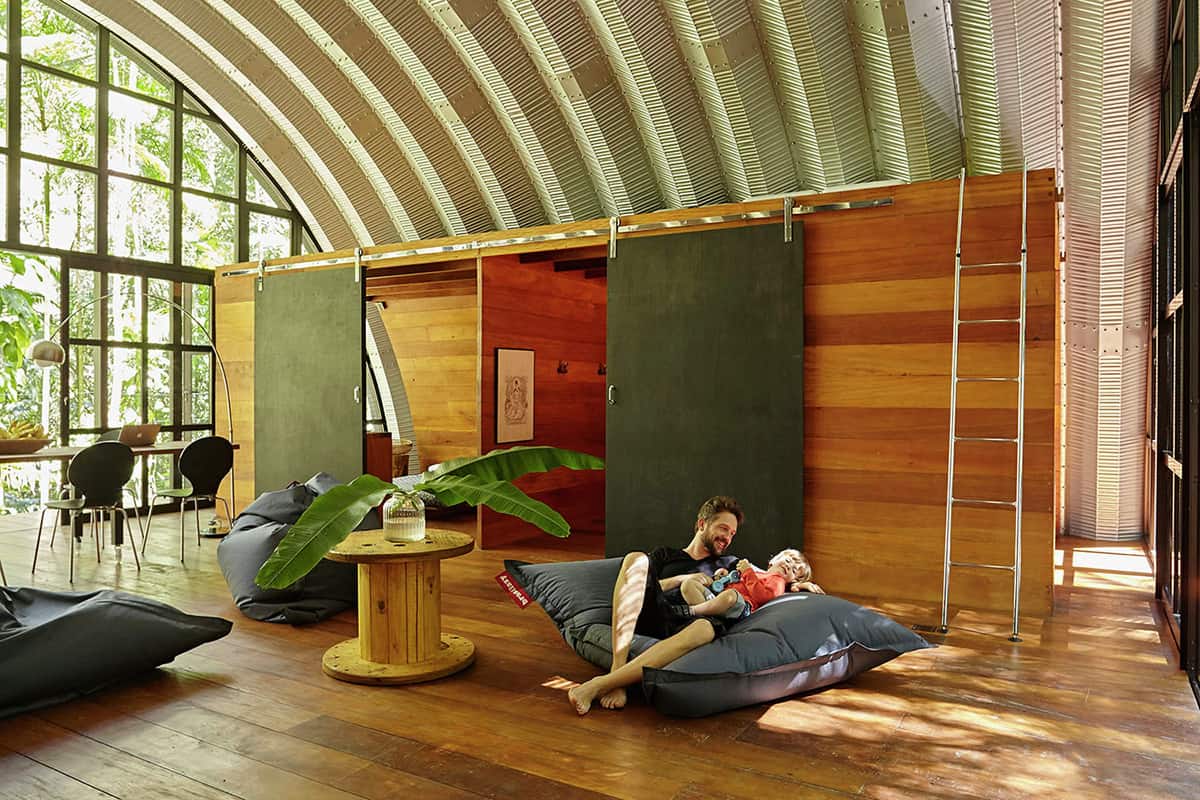 Oversized doors on sliding barn door hardware add a little extra drama to the prefab.


Behind one of the sliding doors is a bedroom outfitted with a desk – although I am not sure how much work can get done with such easy access to the deck!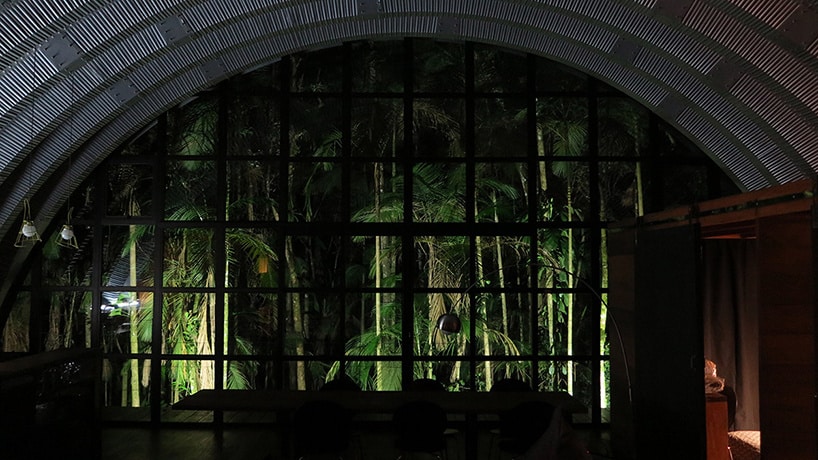 At night, the nearby landscape is lit up to reveal the stunning landscape.


What an incredible place to go and decompress from the hustle and bustle of city life.


Arca's glazed end walls create a such fantastic connectivity to the rain forest that if it wasn't for the grid pattern you might forget you are even inside.


The layout of the prefab home plan.


The half-barrel roof profile.
Atelier Marko Brajovic.
Photography by Atelier Marko Brajovic.
I think its amazing when a prefab house leaves almost no footprint on the surrounding landscape and whether that prefab home is in the rainforest or it's a remote off the grid waterside home, the final result really leaves you with that "lost in nature" aesthetic.