The Italian company Effeti Cusine, prides itself on ergonomic designs of fine materials and craftsmanship. They believe that new technologies should be applied to make life simpler and better and that style should cater to ones needs. Effeti creates practical kitchens that are a versatile and enduring investment; rather than a short lived fad.


Effeti Italian kitchens centre around two specific concepts; that of a modern work station area within the kitchen and the need for attractive functional storage. These aims create kitchens which are a pleasure to work in. The work stations ensure that your culinary endeavours can be completed within a single space, while the unique storage options keep everything easily within reach. Despite these common themes Effeti create distinctive unique kitchens that tempt your desires.


The Misura kitchen features round cabinets and ergonomic curving work surfaces for a natural work environment. The focal point of the Misura kitchen is a circular workstation where the hobs and sinks circle around you. Whether incorporated into a wall unit or a free standing island, it creates a central point from which you can reach everything. The gleaming stainless steel countertop provides a smooth seamless surface that's easy to wipe clean, while adding a bright contrast to the wooden cupboard doors. The curving worktop edge is matched with unusual concave doors. Behind their smooth fronts circular carousels make efficient use of the available space, keeping everything with in easy access.


Continuing the curved trend the Misura kitchen features a frosted pillar cabinet. The curved door provides maximum protection from damp and humidity while providing a massive amount of storage. The light frosted material creates a light and airy storage area that softens wall corners. The Misura is available in lacquers, laminates, and wood cabinets to create the atmosphere you desire.


The l'evoluzione kitchen creates a futuristic style with its gleaming white cabinets and sleek island unit. By redefining traditional kitchen heights, l'evoluzione features more rational and functional cabinets that offer a sophisticated elegance. While the large sliding doors make fluid movement a defining characteristic of this contemporary kitchen.


The island incorporates the vital kitchen functions, keeping the hob and sink within a central area for a modern kitchen work unit. Paired with a free-standing steel extractor that leans over the surface, the l'evoluzione embraces modern technological innovations. The l'evoluzione wraps its central work station and large storage cupboards in a shining modern minimalism.


Continuing the sophisticated modern trend is the Profile kitchen. A dramatic modern kitchen work unit, the Profile deconstructs the kitchen to its basic parts. The long island is simplified to a C-shaped edge, which magically lightens to the whole unit. The stainless steel counter-top is only a few inches thick, but supports heavy gas hobs and suspends thin steel sinks.


The unusual shape creates an intriguing tension as it appears to defy gravity. If desired the space beneath may be enclosed by frosted glass doors or bright steel divides. Truly a modular unit, the Profile can be free-standing or wall mounted, and can easily be paired with other Effeti kitchen lines; like the Misura frosted pillar to provide more storage. A modern Italian kitchen work unit, the Profile creates a strict professional kitchen yet offers a dramatic individual style.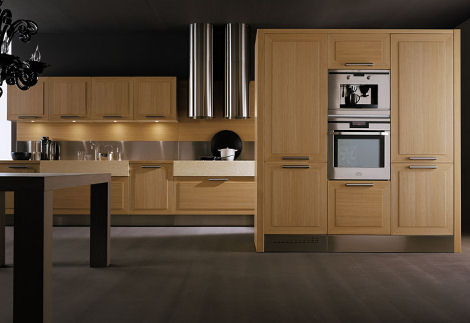 Finally the Diamante kitchen uses unique materials to define its gorgeous work spaces. Rich wood cabinet doors lend a warmth and familiarity to the Diamante kitchen. Each door frames a raised panel that strongly defines each cupboard. By mixing materials the Diamante kitchen defines its areas of use. Smooth metal doors pull to reveal rolling vertical pantries. The pantries provide an easy visual assessment of the contents, while the smooth metal doors add contrast to the warm wood cabinets.


In the workstation area Diamante uses Thebes marble to define the sink and hob. The rough natural stone is both hard wearing and brings a dedicated serious air. The Diamante mixes traditional stone and wood with modern technology and design to create a balanced serene kitchen that's a pleasure to use.


Though each kitchen offers a different character and personality, the key features shine through. Dedicated work space in a central area, large storage units that bring items to you, and a professional quality that is an investment, Effeti Kitchens bring modern Italian innovations home in style.